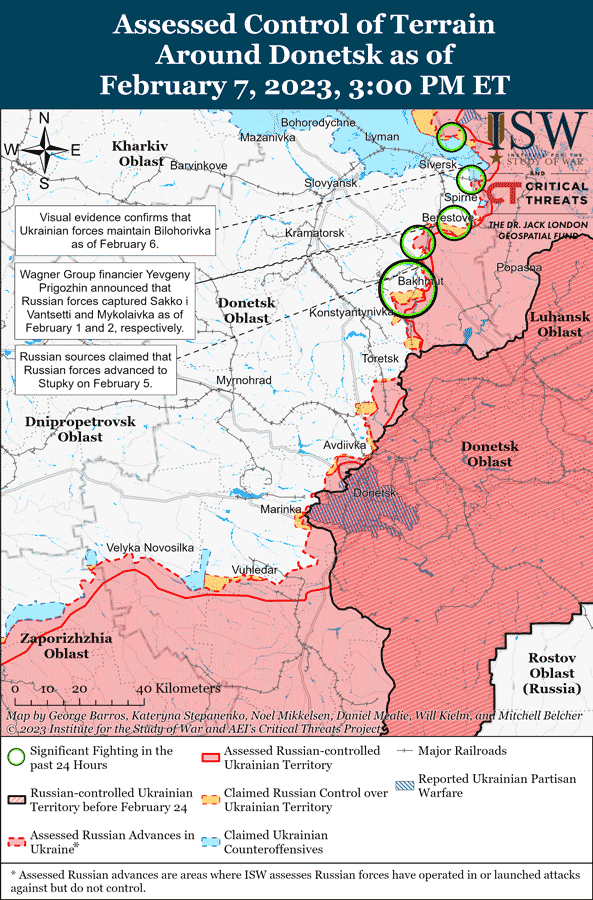 Donetsk Battle Map. February 7, 2023. Source ISW.
 
Editor's Note
Russia is likely rushing to launch a decisive offensive in the Donbas in an "unrealistic timeframe and likely without sufficient combat power," according to the latest assessment by the US-based think tank Institute for the Study of War.
Russian military command may be rushing to launch a large-scale offensive operation to conquer Donetsk Oblast in an unrealistic timeframe and likely without sufficient combat power. The UK MoD assessed on February 7 that Russia has highly likely been attempting to launch a major offensive operation to reach the Donetsk Oblast administrative borders since early January 2023 but had only been able to gain several hundred meters of territory per week.
The UK MoD attributed such a slow pace to Russian munitions shortages and a lack of maneuver units that are necessary for a successful and rapid offensive. The UK MoD noted that Russia is unlikely to build up the combat power necessary to substantially affect the outcome of the war while Russian military command continues to demand for unrealistic and sweeping advances.
ISW similarly assessed on January 28 that Russian leadership may be once again planning a decisive offensive based on erroneous assumptions about Russian military capabilities and likely lacks the combat power necessary to sustain more than one major offensive operation.
ISW also observed the Kremlin signaling preparations for an early 2023 offensive in December but assessed that the time and space relationship may hinder Russian rapid and large-scale advance aspirations as Ukraine heads into a muddy spring season unsuitable for maneuver warfare.
Read also:
Russia remains unlikely to deliver sweeping advances as leaders demand – British intelligence
Russia's state-run corporation to create another military company like Wagner – Ukraine's Intel
Tags: Donetsk Oblast, Russian offensive