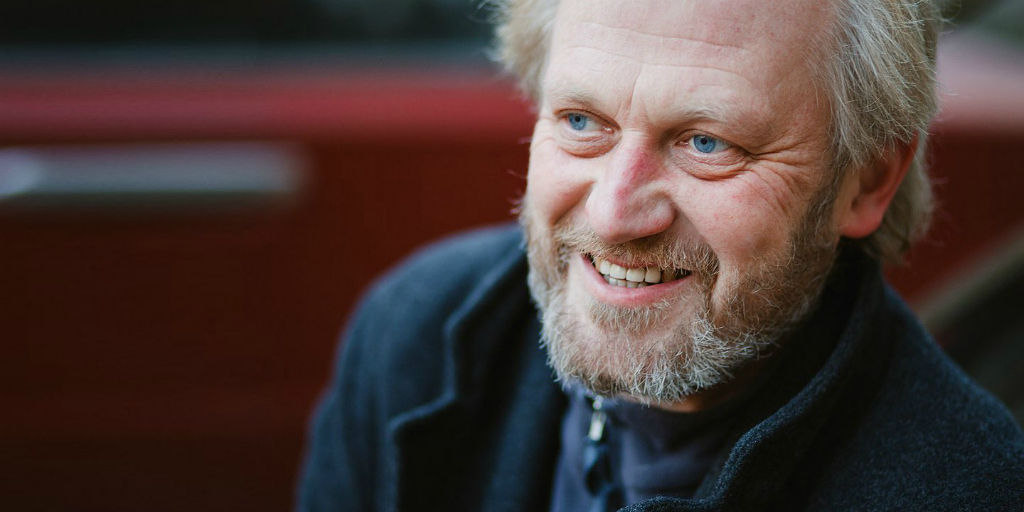 Taras Prokhasko. Photo source: vezha.ua 
Editor's Note
Spring was slow, blooming, anxious, and pivotal. Then we realized that we'd withstood the worst of it–and that Ukraine would still exist. This time, Ukraine was not alone, Ukrainian writer Taras Prokhasko writes of the war spring 2022.
In winter, it's always quite difficult to recall what spring was like. After many months of this war, it is even more difficult to recreate what happened beforehand from memory. But we have to try, not only because there is no today without yesterday. But we have to try. At the very least, to get ahead of future dreams. To prepare for them. To have at least some meaningful markers to navigate the dreams and to know how to get out of nightmares without panic.
A drawn-out psychological experiment on Ukraine's humanity lasted nearly three winter months, with troops being moved along the border, military training exercises taking place and the mounting threat of danger.
All of this happened at the same time as Covid, which not only brought about large-scale changes in public and personal lives at the time but also made us accustomed to daily statistics of losses, granting authorities special powers and requiring citizens to exercise particular self-discipline.
It also affected brain physiology, and the end result was quite hypnotic.
But something crucial became clear even then: this time, it seems, we are not alone. We were not left to our own devices. Visits, forecasts, assurances, warnings, intelligence information, and recommendations combined to form a bouquet that Ukraine had never received before in its entire history.
The first month of 2022 had a distinct flavor of four things that can be grouped together as mobilizing.
First, there was the daily flood of landmine reports.
Second, there was a hasty search and minimal arrangement of premises that could be used as covers and shelters.
Thirdly, a multi-faceted information attack on the topic of "bug-out bags".
And fourth, preliminary steps for the formation of Territorial Defense Forces.
Regarding the latter process, its refinement was accompanied by arguments about a possible guerrilla war and total resistance when foreign intelligence published a version with a possible coup d'état, a pro-Russian government, filtration camps, and liquidation lists. The impression was reinforced by the ever-changing exact dates of the invasion.
Created in three days, Ukraine's territorial defense ruined Russian plans to capture Kyiv
The first reserve knew that the unfinished business was about to begin. The rest were making foreign passports for themselves and their children, converting money to cash, losing weight, and treating their chronic illnesses.
A few days before the invasion, we talked about what to do when it finally happened. I imagined that the digitization of social communication would be the primary feature of the modern world. As a result, I assumed that in a modern war, the enemy would do everything in its power to disrupt mobile services. Furthermore, they'd cut the power grid to keep us in the dark, without water, and so on. I advised everyone to agree on alternative methods of contact with relatives and loved ones while there was still time. It had to be the same as it used to be: locations, terms, and conventional signs.
Later it turned out that I was completely wrong about the nature of the upcoming war. In the end, despite the long front lines, vast territories of almost instantaneous Russian troop entry, and regular shelling of random, superficially speaking, cities and towns, the war remained localized.
In the first moments of this war, the first explosions occurred not far from us. What was happening in the city in the morning was a huge relief: there was no panic, everyone went back to work, and the stress of anticipation turned into active agitation.
Then came the actual, and now almost forgotten, spring.
Queues formed at registration points for the Territorial Defence Forces; Czech anti-tank hedgehogs were strewn across the streets; and sandbags were used to fortify defense structures. People manned roadblocks with hunting rifles; a curfew was imposed; military patrols were armed with assault rifles; and massive amounts of drinking water and food were collected for the Army.
On the third day, a significant exodus broke out with women and children fleeing to the border. Thousands of cars and buses made their way west and south. For several hours, the city was deserted, only to be repopulated by tens of thousands of refugees from the east. The evacuation trains arrived without any schedule. We met these crowds at the train station, fed them, and took them to the city and nearby villages.
How the Lviv train station welcomes Ukrainian refugees fleeing Russia's war | Photo report
Thousands of jars, boxes, and bags containing household supplies, clothing, and warm blankets were delivered to reception centers. In the months that followed, the city resembled a network of walking paths used by rich and poor refugees. The wealthy fended for themselves in restaurants and cafes. Artists and intellectuals who left Kyiv and Kharkiv were classified separately. The city had never seen so many musicians, artists, translators, journalists, and directors in one place.
Tulips bloomed at the beginning of March. Floriculturists, who wait all year for these weeks, took their entire harvests, which appeared to be their last, to the streets. And it was incredibly moving.
This is how you begin to see with exceptional clarity how all of your personal splendor is intertwined with the great and powerful flow of history.
Russia's war accelerated crystallization of Ukrainian identity – Vitaliy Portnikov
There were also escapes to bomb shelters, camouflage, tracking of spies, saboteurs, and fire spotters, and restoring trust in the security services. Everything happened quickly, and even those who had escaped the shelling soon stopped responding to air raid sirens.
At the same time, we all became experts in unusual goods: thermal imagers, helmets, body armor, telescopes, tactical backpacks and gloves, hemostatic agents, and many other things–all of this was sought out, purchased, and sent to our guys on the front-line.
Spring was slow, blooming, anxious, and pivotal. Then we realized that we'd withstood the worst of it–and that Ukraine would still exist. Everyone, even those who went to war, bloomed that spring.
And in the middle of that spring, just as the alcohol ban went into effect and even the most delicate of women switched to drinking moonshine–which turned out to be enough–all other toasts disappeared except for one: To victory!
Meridian Czernowitz's "State of War" is an online anthology of essays by Ukrainian intellectuals about the Russian invasion of Ukraine. One hundred Ukrainian authors will recount their own experiences, impressions, observations, and feelings in one hundred texts. The creation of the anthology takes place within the framework of the USAID-backed Deepening the internal cultural dialogue in Ukraine project. ©Meridian Czernowitz
Related:
Tags: Ivano-Frankivsk, Russia-Ukraine war, Ukrainian writers