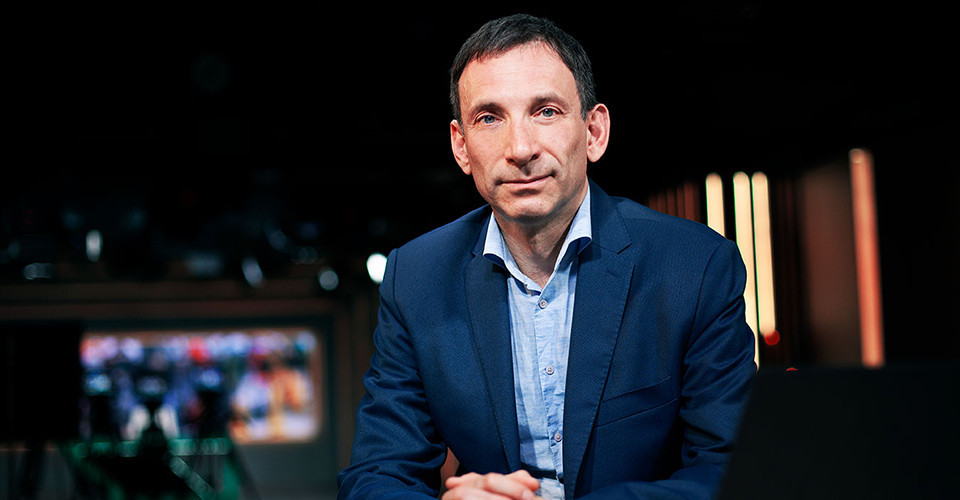 Vitaliy Portnikov. Source: hromadske radio 
Editor's Note
In his essay, Ukrainian journalist and writer Vitaliy Portnikov claims that 2022 Russia's full-fledged war against Ukraine consolidated Ukrainian identity and united the Ukrainian people. However, a similar crystallization is currently taking place within Russia itself.
In the days following Russia's full-fledged attack on Ukraine, one European news channel repeatedly aired a cutscene preceding the news about the war. In it, a girl forced to flee from shelling and bombing told reporters: "I don't know what he wants!"
This misunderstanding of the true goals of the war is demonstrated not only by those who were taken aback by Vladimir Putin's heinous attack. I have frequently encountered similar misunderstandings in political and expert circles outside of Ukraine. Russia's war against Ukraine is primarily explained by the Russian president's irrationality, personal hatred of Ukraine, fear of fully realized Ukrainian statehood, and other similar motives.
Meanwhile, the foundation for Ukraine's conflict with Russia was laid not even by the declaration of Ukraine's independence on August 24, 1991, but also by the very collapse of communist ideology. We seem to forget that before 1991, Ukraine was an independent state from 1918 to 1920. The Bolsheviks were only able to return it to the empire when, instead of the ideology of Orthodoxy, autocracy, and the nationality of the "triune nation" of Russians, Little Russians, and Belarusians, they put forward a class ideology and created a bogus Ukraine under their red flag. But, once the communist gloom lifted, Ukraine returned to its true statehood, not the one fabricated by the communists.
And what about Russia? Russia, of course, went back to the concept of a "triune nation," which was very popular among party officials, KGB officers, and the capital's intellectual support of the regime even before the collapse of the CPSU. Vladimir Putin consolidated these long-existing ideas about his society in the past to dictate the future of Russia.
Another point is that Russian authorities were always convinced that Ukraine's and the rest of the Soviet republics' independence was a temporary phenomenon. With the assistance of political and economic levers, the imperial state would be restored sooner or later.
Their main task was to keep the future provinces on a short leash and prevent them from joining alternative political and military alliances, primarily the EU and NATO. Hence, Russia's shift from political and economic pressure methods to military force was an entirely predictable response to the final stage of Ukraine's nation-state development. Ukraine, not even an EU member yet, simply signed an association agreement with the EU in 2014, which meant it was moving away from Russia's sphere of influence. Ukraine becoming a member of the EU or NATO is unthinkable for Russia.
But what did Putin achieve with his attack on Ukraine? First and foremost, it is the crystallization of identities.
For Russians, Ukraine is the land of "historical Russia," which should eventually become a part of it.
Ukrainians believe that their state must be liberated from occupation.
Formation of Ukrainian identity accelerated during the war
Differences among Ukrainians are beginning to fade against the backdrop of the war. Until recently, we could see a group of people who had a clear vision of Ukrainian statehood. At the same time, there were those who were inclined to agree with Vladimir Putin's assertions that Russians and Ukrainians are "one people," as well as those who were not interested in their identity at all. The war significantly weakened, if not completely destroyed, the camp of those who believed Ukraine and Russia were "one people." In their personal and shared grief, those who had never considered the fact that they were Ukrainians were forced to confront questions about the causes of the war and Putin's and Russia's guilt.
This is the formation of identity, which always accelerates during times of crisis and hostility. Despite this, many ethnic Ukrainians still speak Russian in private and are far from the reality of traditional cultural self-identification. But the key words here are "still," because this cultural self-identification, to the Ukrainian language, to a shared understanding of the history and prospects of state and civilization building will undoubtedly occur.
Nothing unites people more than the prospect of total destruction, the possibility of national defeat, or, on the contrary, common victory. At the same time, it should be noted that similar processes are currently taking place not only among ethnic Ukrainians but also among representatives of the country's other national groups, most notably ethnic Russians.
Russia's war has achieved the opposite of what it intended: Ukraine is united
However, a similar crystallization is currently taking place within Russia itself. When Russia is defeated in the war, this process will only accelerate.
We still don't know whether the failure of Putin's plan will result in increased aggression in Russian national consciousness or the success of more moderate and cautious forces in Russian society. However, it is clear that this collapse provides a direct path to potential national unity around one's national idea. And, of course, this concept will shape the consciousness not only of ethnic Russians but also of representatives of other nationalities who seek to remain in the "hermetic" Russian state. This is primarily about the consciousness of ethnic Ukrainians in Russia.
Before the war, ethnic Ukrainians with Russian passports could maintain their national Ukrainian identity by singing Ukrainian folk songs in friendly company. When the war is over, their folk songs, and they themselves will eventually become Russian.
The conclusion from this is quite simple. It was Putin's war that finally interrupted the centuries-long diffusion of identities in the spaces of the former empire, turning it into a crystallization and, as a result, a true battle of identities. The civilizational chasm between Russian and Ukrainian identities appears to be the primary – and long-term –result of this heinous war.
Meridian Czernowitz's "State of War" is an online anthology of essays by Ukrainian intellectuals about the Russian invasion of Ukraine. One hundred Ukrainian authors will recount their own experiences, impressions, observations, and feelings in one hundred texts. The creation of the anthology takes place within the framework of the USAID-backed Deepening the internal cultural dialogue in Ukraine project. ©Meridian Czernowitz
Related:
Tags: Russia-Ukraine war, Russian identity, Ukrainian identity