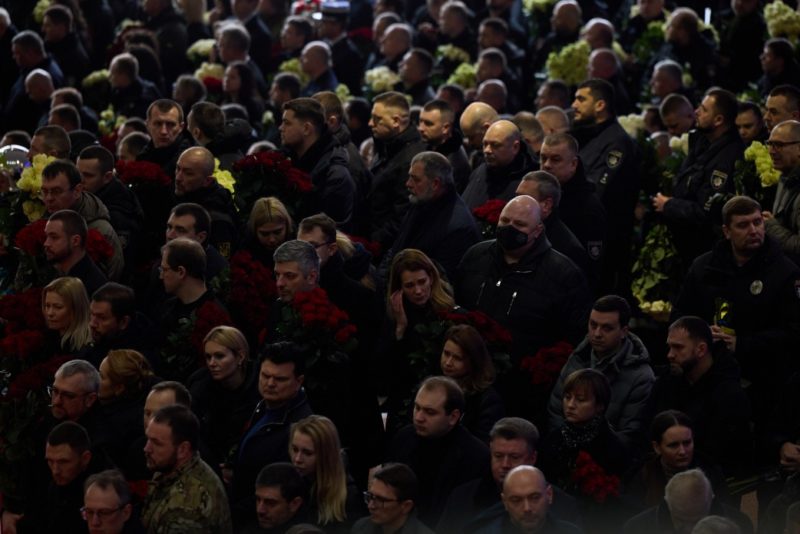 People coming to the funeral ceremony. Photo by Presidential Office 
The funeral ceremony for those who died in the tragic helicopter crash in Brovary, Kyiv Oblast, started in Kyiv today, on 21 January.
The President of Ukraine Volodymyr Zelenskyy, his wife, heads of the parliament and the government, several ministers, politicians, and heads of the security forces came to say goodbye to the dead. The queue of Kyivians who came to say goodbye to the dead stretched to 500 meters.
As was reported, the helicopter with Ukrainian officials crashed in Brovary near Kyiv on 18 January. Ukraine's Minister of Internal Affairs Denys Monastyrskyy, the Deputy Minister of Internal Affairs Yevhen Yenin, and State Secretary of the Ministry of Internal Affairs Yurii Lubkovych were among the passengers of the crashed helicopter who died. In total, 16 people were killed in the accident.
The funeral ceremony for those who died in the helicopter crash in Brovary near Kyiv on Jan 18 started today

Ukrainian internal minister & other officials were killed in the crash. President, ministers and thousands of Kyivans came to say goodbye.
📷OP https://t.co/W7UtuhQp6Q pic.twitter.com/lN0ML1iY7Y

— Euromaidan Press (@EuromaidanPress) January 21, 2023
Helicopter crash kills Ukrainian interior ministry leaders, children in Kyiv suburb (updating)
The crash may have been caused by weather conditions (thick mist) and a pilot's mistake, according to one of the versions that Ukraine's National Police considers. The investigation of the catastrophe is underway.