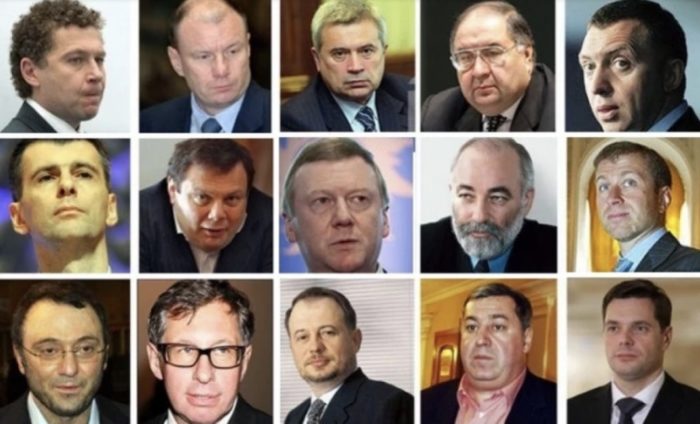 Russian oligarchs, an illustrative image/ Source: Sibkray.ru 
Ekonomichna Pravda reports, citing the findings from the FinCEN report (the Financial Crimes Enforcement Network, the bureau within the US Department of Treasury), that before Russia invaded Ukraine on 24 February 2022, Russian oligarchs transferred assets to their children and business partners to avoid sanctions.
The report states, "This Financial Trend Analysis (FTA) describes financial intelligence about the movement of Russian oligarch-related funds and assets with a nexus to the US around the time of Russia's unprovoked military invasion of Ukraine, including likely attempts by Russian oligarchs and elites to conceal their assets, property, and financial activities."
The FinCEN draws attention to the fact that several Russian oligarchs transferred beneficial ownership of their companies, trusts, or accounts to their children, other family members, or close business partners around the time of Russia's unprovoked military invasion of Ukraine in late February 2022.
Some ownership transfers occurred just before the imposition of sanctions against several oligarchs related to the Russian invasion by the US, the EU, the UK, and others.
According to the report, financial institutions have indicated that the transfer of ownership may assist oligarchs in avoiding sanctions or seizure of their assets by law enforcement. Some oligarchs have sent large remittances to their children. In particular to those studying in the US. These transfers have funded large US purchases, usually real estate and luxury goods.
As per public records, one Russian oligarch was linked to several shell companies. Possibly in an attempt to avoid potential sanctions, he transferred ownership of several of these companies to his business associates around the time of the invasion.
"On February 24, 2022, the day of Russia's unprovoked military invasion of Ukraine, one of the oligarch's Cyprus corporations was transferred to a business partner. The Russian oligarch has also made suspicious transfers that are believed to represent the possible movement or transfer of assets he controls, such as art, aircraft, yachts, and other property. As payment for the upkeep or maintenance of the oligarch's assets or property, the ex-wife and several of his known associates made some of these transfers. In March and April 2022, the oligarch transferred to his children beneficial ownership of a number of trusts and businesses," the report indicates.
FinCEN does not identify Russian oligarchs or the amounts they transferred to avoid sanctions before the war.
Read also:
Ukraine's court arrested seven luxury hotels as Ukraine continues seizing Russia's and oligarchs' property
Estonia to introduce legal blueprint for handing Ukraine seized Russian assets – Bloomberg
EU seeks tribunal for Russian war crimes in Ukraine, proposes plan for confiscating frozen Russian assets
Tags: Russian assets, Russian invasion of Ukraine, Russian oligarchs, Sanctions against Russia