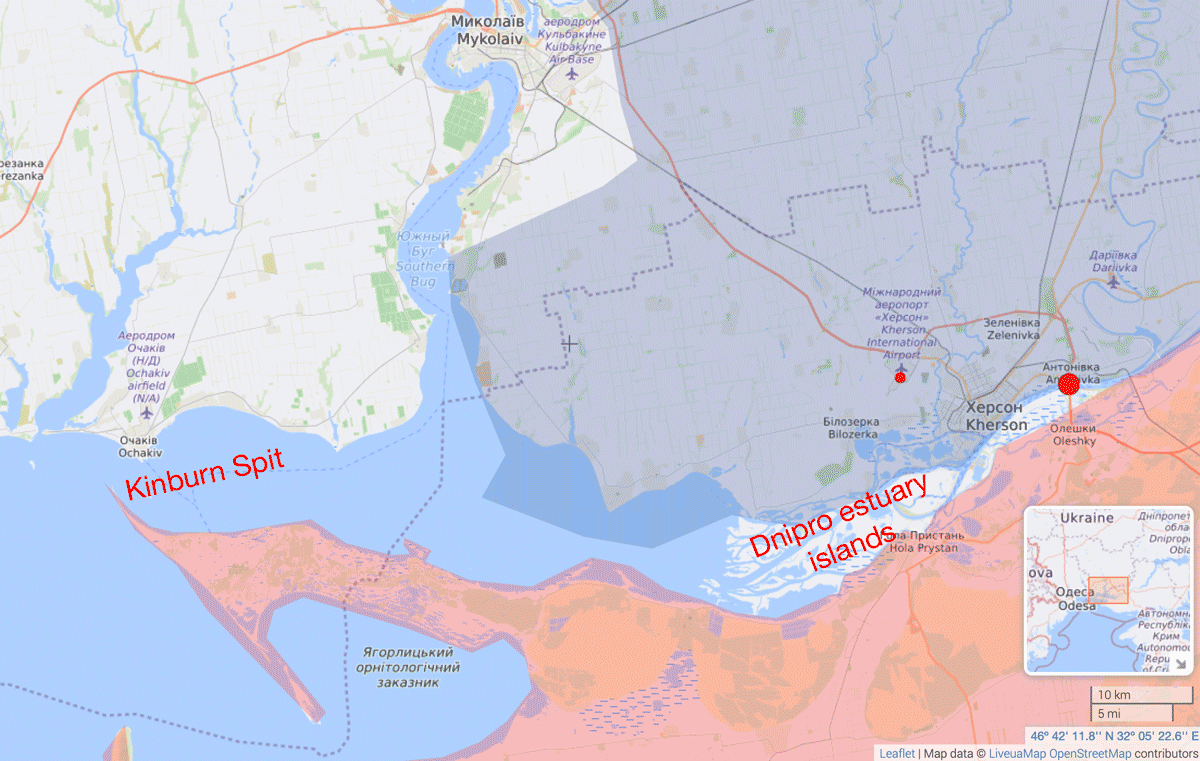 Situation in Ukraine's south as of 8 January 2023. Map: Liveuamap
As Ukrainian troops continue the "combat work," neither side fully controls the Kinburn Spit in Mykolaiv Oblast, and the islands next to Kherson in Ukraine's south, according to Nataliia Humeniuk, the spokeswoman of Ukraine's Operational Command South, RBC Ukraine reports.
The Kinburn Spit is the last part of Mykolaiv Oblast that still remains under Russian occupation. The spit is part of the Kinburn peninsula separated from mainland Mykolaiv Oblast by the Dnipro estuary, where further to the east a number of contested islands lie downstream from Kherson City.
"The situation is quite difficult. Again, the weather doesn't favor an easy completion and short duration of this operation. The same is connected with the Kinbourn Spit. Because the presence of the enemy persists there, attacks on the opposite bank continue. The same about the islands: the combat work goes on, and neither side has absolute control. This is the demarcation line, the front line, where the battles are going on," Humeniuk said on Ukrainian TV.
According to her, no critical changes occurred on the southern front, where the Ukrainian military is working towards the "destruction of the Russian combat capabilities" almost along the entire left (eastern Russian-controlled) bank of the Dnipro, i.e. is carrying out attacks on the Russian rear facilities.
Read also:
The Velykyi Potiomskinskyi or simply Potiomskinskyi island is located in the Dnipro estuary southwest of Kherson. pic.twitter.com/CMCP8SM6jf

— Euromaidan Press (@EuromaidanPress) January 3, 2023
Tags: Kherson, Kinburn Spit, Mykolaiv Oblast