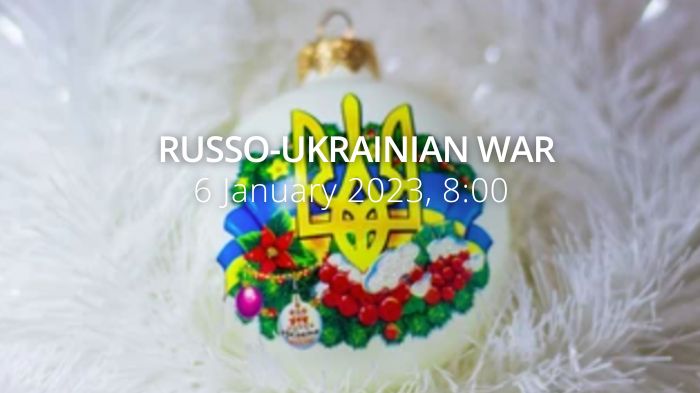 Putin has ordered a "Christmas truce" which may be a "cynical trap," Ukrainian officials warned. Prigozhin claims that prisoners who volunteered with the Wagner Group in Ukraine received pardons. Ukrainian forces reportedly conducted a successful counterattack as Russian forces continued offensive operations around Bakhmut and west of Donetsk.
Daily overview — Summary report, January 6, 2023
A map of the approximate situation on the ground in Ukraine as of 00:00 UTC 06/01/23.

There have been no notable changes to control since the last update. pic.twitter.com/V3Fj8JBbCM

— War Mapper (@War_Mapper) January 6, 2023
https://twitter.com/EuromaidanPress/status/1610788794562666500
The General Staff's operational update regarding the Russian invasion as of 18.00 pm, January 6, 2023 is in the dropdown menu below:
Day 317 of the russian full-scale invasion continues.
During the day of January 6, the adversary launched 1x missile strike and 12x MLRS attacks, including on the civilian infrastructure of Donetsk and Dnipropetrovsk oblasts.
The threat of air and missile strikes by the enemy across Ukraine remains high.
To maintain its offensive potential and replenish losses, the invaders continue mobilization activities.
The adversary focuses its main efforts on attempts to completely capture Donetsk oblast within its administrative border. The enemy conducts offensive operations on Bakhmut axis and makes unsuccessful attempts to improve its tactical situation on Kup'yans'k, Lyman, and Avdiivka axes.
On other axes, the invaders are defending.
Volyn and Polissya axes: no significant changes, the enemy maintains its military presence in the border areas, no signs of the formation of offensive groups were found.
Sivershchyna and Slobozhanshchyna axes: the vicinities of Mykolaivka (Chernihiv oblast), Strilecha, Krasne, Ambarne, Buhruvatka, Hatyshche, Zelene, and Odradne (Kharkiv oblast) were shelled.
Kup'yans'k and Lyman axes: the enemy shelled the vicinities of 19x settlements. Among them are Dvorichna, Kup'yans'k, Kyslivka, Kotlyarivka, Krokhmal'ne (Kharkiv oblast), Stel'makhivka, Makiivka, Ploshchanka, and Dibrova (Luhansk oblast).
Bakhmut axis: the enemy shelled more than 15x settlements. In particular, those are Spirne, Berestove, Bilohorivka, Soledar, and Bakhmut (Donetsk oblast).
Avdiivka axis: the enemy fired tanks, mortars, artillery and missile systems at the vicinities of settlements of Avdiivka, Vesele, Nevel's'ke, Krasnohorivka, Heorhiivka, Mar'inka, and Novomykhailivka (Donetsk Oblast).
Novopavlivka axis: Vremivka, Velyka Novosilka, Vuhledar, and Paraskoviivka (Donetsk oblast) were shelled.
Zaporizhzhia axis: enemy fire damaged the vicinities of 16x settlements. Among them are Zelene Pole, Novopil' (Donetsk oblast); Hulyaipole, Zaliznychne, Charivne, Shcherbaky, and Stepove (Zaporizhzhia oblast), and Nikopol' (Dnipropetrovsk oblast).
Kherson axis: civilian infrastructure of the settlements of Chornobaivka, Beryslav, Zolota Balka, and Kherson was damaged by enemy artillery shelling. There are civilian casualties.
The adversary continues to suffer losses. It was confirmed that on January 5, 2023, a location of the russian occupation troops in Havrylivka Druha (Kherson oblast) was hit. According to recent reports, up to 100x wounded servicemen were brought to local hospitals. The number of the invaders killed is being finalised.
On the day of January 6, Ukrainian Air Force struck 1x concentration of the russian occupant forces. The results of the strike are being verified.
During the day of January 6, the units of missile troops and artillery of the Ukrainian Defense Forces hit 2x concentrations of manpower and military equipment of the adversary.
Military Updates
Russia already used some 660 Shahed-series drones, expects a new batch of up to 300 units – Ukrainian intel. Vadym Skibitskyi, a representative of Ukraine's Main Directorate of Intelligence told RBC-Ukraine that Russia is burning through its stockpiles of Iranian drones.
Ukraine is planning a major offensive in spring – head of Ukraine's Defense Intelligence. Ukrainska Pravda reports that Kyrylo Budanov, the head of Ukraine's Defense Intelligence, stated in an interview with ABC News that Ukraine is planning a major offensive for spring, with the fiercest fighting anticipated in March.
https://twitter.com/EuromaidanPress/status/1610864166084005889
According to British Defence Intelligence, (last 48 hours): 
https://twitter.com/DefenceHQ/status/1611312935376228357
Militias from the Luhansk People's Republic (LNR) and Donetsk People's Republic (DNR) were formally integrated into the Russian armed forces on 31 December 2022. President Putin presented the formations with their battle colours during a visit to Rostov-on-Don.
Russia claims the LNR and DNR are intrinsic parts of the Russian Federation following the fixed accession referendums of September 2022. However, it has discreetly controlled both since 2014, creating DNR's 1st Army Corps and LNR's 2nd Army Corps and supporting them with Russian military officers.
The status and identities of the DNR and LNR likely remain divisive within the Russian system. Even before the February 2022 invasion, these territories represented a significant drain on Russian finances. Now the Kremlin has overtly committed to supporting them, they will likely constitute a large political, diplomatic and financial cost for Russia which will last well beyond the current phase of the conflict.
Losses of the Russian army 
Humanitarian 
Russians attacked the center of Kherson, a 20-year-old man died on the spot – Oblast Head. On Thursday, January 5, Russian invaders shelled the center of Kherson, head of Kherson Oblast Administration Yaroslav Yanushevych wrote in Telegram. A 20-year-old man died of his injuries on the spot. Russians hit a house.
Environmental
Ukraine's GDP fell by 30.4% in 2022 according to preliminary calculations. During 2022, the economy of Ukraine suffered the largest losses and damages in the entire history of independence caused by the Russian Federation, scaling up its terror, which began in 2014…" Minister of Economy of Ukraine Yulia Svyrydenko said. 
Legal 
#UN disbands 'fact-finding mission' that #Russia blocked into the killing of #Ukraine POWs at #Olenivka concentration camp in occupied #Donbas #StandWithUkraine #LetMyPeopleGo #RussiaWarCrimes #StopRussia https://t.co/4ouTujbOCj pic.twitter.com/ZytYtIWnQN

— Halya Coynash (@halyapuff) January 6, 2023
UN disbands Russian-blocked 'fact-finding mission' into the mass killing of Ukrainian POWs at Olenivka prison. UN Secretary-General Antonio Guterres has effectively confirmed that no investigation will be carried out into the violent deaths of a huge number of Ukrainian prisoners of war held at a notorious prison in occupied Olenivka where Russia is holding both POWs and Ukrainian civilian hostages.  A spokesperson for the Secretary-General stated on 5 January that the 'fact-finding mission first announced on 3 August 2022 had now been dissolved.
Police have identified Russian soldiers who shot 10 civilian cars in the Kyiv region in March. In March, Russian invaders set up a combat position on the Kyiv-Zhytomyr highway (M06) and shot at cars with civilians trying to escape the war. From March 4 to 25, the Russian military shot at 10 vehicles. As a result, 13 people died, and six were injured.
Russia abducted, usually tortured, over a thousand civilians, including children in Kherson oblast alone. According to the Kherson Regional Prosecutor's Office, as of 2 January 2023, at least 474 civilians were still held in Russian captivity, with the overall number of people abducted standing at over 1100.  Judging by the cases where the person was finally released, or where they have been able to communicate with lawyers, it seems likely that a very large percentage have been tortured, with some known to have been tortured to death.  Those held hostage by the invaders have included children as young as 14, with Ukraine's Human Rights Ombudsperson reporting that some were tortured.
Support
Germany is about to approve Marder IFVs supply to Ukraine, following France — Süddeutsche Zeitung. There will be a "qualitative step," in the increase of German support for Ukraine, German government circles said on Thursday according to information from the Süddeutsche Zeitung.
Germany is said to maintain close consultation with France and the USA. If the decision is made, it will follow the decision of France announced by president Emmanuel Macron on the evening of 4 January that France will supply AMX-10 RC armored fighting vehicles. This was already confirmed by Ukrainian president Zelenskyy.
Germany is about to approve Marder IFVs supply to Ukraine, following France — Süddeutsche Zeitung

When supplied, French AMX-10 RC and German Marder IFVs would become the first NATO-made infantry vehicles delivered for Ukraine. https://t.co/rgmsYHNnaN pic.twitter.com/AMf1nsygKS

— Euromaidan Press (@EuromaidanPress) January 5, 2023
Norway sent another 10,000 artillery shells to Ukraine. Norway donates another 10,000 artillery shells to Ukraine, its Defense Ministry reports. They have already been sent. The artillery shells can be used in several types of artillery fire, including the M109 that Norway donated.
https://twitter.com/EuromaidanPress/status/1610954889122775043
Next Ramstein format meeting to be held soon – Ukraine FM Kuleba. European Pravda reports, citing the announcement by Foreign Minister of Ukraine Dmytro Kuleba at an online briefing on 4 January, that the next meeting in Ramstein format on armed support for Ukraine would be held soon.
Biden says Bradley Fighting Vehicles are on the table for Ukraine – Reuters. US President Joe Biden said on 4 January that sending Bradley Fighting Vehicles (BFV) to Ukraine was being considered to help the Ukrainians in combating Russia's invasion. The Bradley Fighting Vehicle is an American tracked armored fighting vehicle platform designed to transport infantry or scouts with armor protection while providing covering fire to suppress enemy troops and equipment. There are several Bradley variants including the M2 Bradley IFV and the M3 Bradley.
New Developments 
Putin has ordered a "Christmas truce" which may be a "cynical trap," Ukrainian officials warned. Putin has ordered Russian Minister of Defense Sergei Shoigu to implement the "Christmas truce" from 12:00 of January 6 till 24:00 of January 7, backing the calls by the Russian Orthodox Church, the Kremlin press service writes. It is yet unclear how Putin will implement a "truce" or how can he use it.
Russian "Christmas truce": a Russian shell killed an entire family in Kherson Oblast. Russian troops shelled the town of Beryslav in Kherson Oblast, a 12-year-old boy and his parents were killed as a result of a shell hitting a residential building, Deputy Head of the Office of the President Kyrylo Tymoshenko wrote in Telegram
Ukrainian children's book included in the list of 12 best books of 2022 of German largest daily newspaper. Ukrainian children's book "The War that Changed Rondo" by spouses Romana Romanyshyn and Andriy Lesiv was included in the list of 12 best books of 2022 by the largest daily newspaper in Germany Süddeutsche Zeitung. The Ukrainian Book Institute reported this.
Historical churches of the Kyiv-Pechersk Lavra returned to the Ukrainian state from Russia-affiliated church. The Russian-affiliated church in Ukraine, known as the Ukrainian Orthodox Cof the Moscow Patriarchate, has lost its rental privileges in the Dormition Cathedral and the Trapezna Church of the Kyiv Pechersk Lavra.
Historical churches of the Kyiv-Pechersk Lavra returned to the Ukrainian state from Russia-affiliated church

While the entire Lavra complex belongs to the Ukrainian state, the Moscow-led church used to rent the Dormition Cathedral and the Trapezna Church. https://t.co/E7gSsaBkic pic.twitter.com/5G2tlHRBXV

— Euromaidan Press (@EuromaidanPress) January 5, 2023
The US is looking for ways to target Iranian drone production via sanctions, export controls–Reuters. The United States is looking at ways to target Iranian drone production through sanctions and export controls, and is talking to private companies whose parts have been used in production, the White House said on Wednesday as Reuters reports.
Non-Russian avant-garde, or how Russia appropriates Ukrainian culture
Assessment 
On the war. 
The Institute for the Study of War has made the following assessment as of  January 6, 2023:
Russian President Vladimir Putin's announcement that Russian forces will conduct a 36-hour ceasefire between January 6 and January 7 in observance of Russian Orthodox Christmas is likely an information operation intended to damage Ukraine's reputation. Putin instructed Russian Defense Minister Sergei Shoigu to initiate a ceasefire from 1200 January 6 to 2400 January 7 along the "entire line of contact between parties in Ukraine" and called on Ukraine to accept the ceasefire to allow "a large number of citizens of citizens professing Orthodoxy" to attend services on the day of Russian Orthodox Christmas. Putin's announcement was ostensibly in response to an appeal by Patriarch Kirill of Moscow (head of the Kremlin-controlled Russian Orthodox Church) for a temporary ceasefire in observance of Christmas Eve and the Day of the Nativity of Christ. Ukrainian and Western officials, including US President Joe Biden, immediately highlighted the hypocrisy of the ceasefire announcement and emphasized that Russian forces continued striking Ukrainian military and civilian infrastructure on December 25—when many Orthodox Ukrainians celebrate Christmas—and New Year's.
Putin could have been seeking to secure a 36-hour pause for Russian troops to afford them the ability to rest, recoup, and reorient to relaunch offensive operations in critical sectors of the front. Such a pause would disproportionately benefit Russian troops and begin to deprive Ukraine of the initiative. Putin cannot reasonably expect Ukraine to meet the terms of this suddenly declared ceasefire and may have called for the ceasefire to frame Ukraine as unaccommodating and unwilling to take the necessary steps towards negotiations. This is an intentional information tactic that Russia has previously employed, as ISW has reported. Ceasefires also take time to organize and implement. Kremlin Spokesperson Dmitry Peskov notably said on December 14 that Russia has no plans for a ceasefire for Russian Orthodox Christmas, so Putin's sudden January 5 announcement was surprising. The date of Russian Orthodox Christmas in 2023, after all, has been known for centuries. Had Putin been serious about a religiously motivated ceasefire he had ample time to prepare for it. The announcement of a ceasefire within 24 hours of when it is meant to enter into force suggests that it was announced with the intention of framing Ukrainian forces who continue to fight throughout the timeframe of the ceasefire as unwilling to work towards peace and wanting to fight at all costs.
Putin's framing of the ceasefire on religious grounds additionally reinforces another two-fold Russian information operation that frames Ukraine as suppressing religious groups and positions Putin as the true protector of the Christian faith. As ISW has previously observed, the Kremlin has weaponized discussions of Eastern Orthodox Christianity to accuse Kyiv of oppressing religious liberties in Ukraine. Russian sources have recently picked up on raids carried out by the Ukrainian State Security Service (SBU) against Russian Orthodox churches and clergy members and Ukrainian sanctions against Kremlin-linked elements of the Ukrainian Orthodox Church Moscow Patriarchate (UOC MP). These measures are not efforts to suppress religious liberties in Ukraine but rather are aimed at explicitly pro-Kremlin elements of the Russian Orthodox Church that have materially, politically, and spiritually supported Russian aggression against Ukraine.The invocation of a ceasefire on distinctly religious grounds in line with Russian Orthodox Christian tradition is a subcomponent of this information operation. Suddenly announcing a ceasefire with Ukraine that should have been negotiated well in advance in observance of Russian Orthodox Christmas will allow Russia to frame Ukraine as infringing on the right of believers to celebrate the holiday as hostilities will likely continue into January 6 and 7. This information operation can support the baseless Kremlin narrative that Ukraine was persecuting Orthodox Christians and Russian speakers, a narrative that Putin has repeatedly advanced as justification for his illegal invasion of Ukraine in February 2022.
The ceasefire announcement positions Putin as the guarantor of Christian values and beliefs. Putin and other Russian officials have frequently framed the war in Ukraine as a religious war against "Satanic" and "fanatical" elements of Ukrainian society that seek to undermine traditional religious values and morality. Putin's proposed ceasefire supports false Russian information operations that Russia is fighting a holy war against an immoral Ukrainian society and its secular Western overseers. In actuality, Russian forces have suppressed religious freedom in occupied Ukrainian territory since 2014.
The pro-war Russian milblogger information space responded to the ceasefire announcement with vitriolic discontent. Several prominent milbloggers emphasized that Russian soldiers do not want a ceasefire at all and remarked that it is a useless, defeatist ploy that is unlikely to succeed in the first place. One milblogger who was previously embedded with Russian units in Bakhmut and attended the annexation ceremony at the Kremlin in September employed overtly genocidal, dehumanizing rhetoric in response to the ceasefire and stated that Russian soldiers do not want compromise: They "want to kill every person dressed in the uniform of the enemy army, regardless of gender and the circumstances that forced the subhuman [sic] to wear this uniform." This level of vitriol originating from milbloggers who are typically fairly aligned with Putin's line on the war is noteworthy and undermines Putin's ability to present Russia as the party that is willing to negotiate. Putin's continued association with this milblogger community, especially those who frequently openly call for genocide, continues to demonstrate the fact that Putin has not decided to compromise his aims in Ukraine.
Putin reiterated his maximalist objectives in a telephone conversation with Turkish President Recep Tayyip Erdogan on January 5. Putin emphasized that Moscow remains open to negotiations with Kyiv as long as such negotiations "take into account new territorial realities." Accounting for "territorial realities" in the context of negotiations means hammering Ukraine into making concessions that directly undermine its territorial sovereignty. NATO Secretary Jens Stoltenberg also noted on January 5 that there are no indicators that the Kremlin's ambitions have changed.
The use of a ceasefire as an information operation, coupled with Putin's continued propagation of maximalist goals in Ukraine, continues to indicate that Putin has no desire to actually negotiate with Ukraine. Additionally, Putin's continued alignment with and decision to platform milbloggers who routinely use openly genocidal language and call for unrestrained hostilities offer clear indicators of his intentions along these lines. If and when Putin becomes serious about seeking compromises that Ukraine and the West could seriously contemplate accepting, he will have set conditions with the vocal and prominent nationalist community he is currently empowering and courting. He could threaten, marginalize, de-platform, co-opt, or cajole the pro-war milbloggers into accepting more limited objectives, but such activities would be apparent in the information space. As long as Putin continues to give air and prominence to such extremists, however, it will remain clear that he does not intend to abandon his maximalist aims.
Wagner Financier Yevgeny Prigozhin claimed that prisoners who volunteered with the Wagner Group in Ukraine received pardons, likely in a bid to inflate his influence and political power. Russian state media outlet RIA Novosti reported that Prigozhin told reporters that two dozen former prisoners completed six-month contracts with the Wagner Group fighting in Ukraine and received pardons.[16] Russian sources published footage of Prigozhin holding a ceremony for the Wagner Group personnel at a rehabilitation center in Anapa, Krasnodar Krai, in which he awarded the former prisoners state medals and pardon papers. ISW has not observed any official Russian government source comment on whether the Wagner personnel did indeed receive these pardons. Under the Russian Criminal Code and Article 89 of the Russian Constitution, only the Russian President may issue a pardon to an individual, although regionally based pardon commissions and individuals may petition the Russian President to pardon specific individuals. It is possible that Prigozhin submitted petitions to pardon the former prisoners on their behalf. It is also possible that Prigozhin is claiming that the former prisoners received pardons when in actuality a Russian court may have issued them a "Release from Punishment" (commuting of a prison sentence and/or other criminal punishment) or the State Duma of the Russian Federation granted the former prisoners amnesty. ISW has not observed any official Russian sources report that a Russian court or the State Duma has taken either of these legal actions on behalf of these former prisoners, although it is perfectly possible that they did. Previous reporting suggested that the Wagner Group promised prisoners "full exemption from their criminal punishment" and not necessarily that prisoners would receive pardons.
Prigozhin is likely using the ambiguity of the legal status of these former prisoners to create the impression that he is influential enough to be able to secure pardons for Wagner Group personnel. Prigozhin likely publicized the granting of the pardon papers to reflect this supposed influence in support of ongoing efforts to cast himself as the central figure in the ultra-nationalist pro-war community. By appearing to take public credit for pardoning these criminals Prigozhin risks seeming to arrogate to himself powers that only Putin actually wields.
Prigozhin also likely publicized the pardons to strengthen the Wagner Group's ongoing recruitment of prisoners and to assuage current Wagner Group personnel's possible concerns about promised legal rewards. US National Security Council Spokesperson John Kirby reported on December 22, 2022, that the Wagner Group currently has 50,000 personnel deployed to Ukraine, including 40,000 convicts recruited from Russian prisons. Kirby reported that over 1,000 Wagner Group personnel died in Ukraine in a month, and Russian opposition outlet The Insider reported on November 5 that 500 former prisoners volunteering with the Wagner Group died in Ukraine in two months. The Wagner Group likely needs to replenish its forces after heavy losses, predominantly of former prisoners, and Prigozhin likely publicized the supposed pardons to augment the Wagner Group's recruitment campaign in Russian prisons. Prigozhin also likely publicized the pardons to reassure the reportedly 80 percent of deployed Wagner Group personnel in Ukraine who have been promised some type of legal reward for their participation in hostilities. Prigozhin has increasingly pinned his standing in the Russian ultra-nationalist pro-war community on the Wagner Group's ability to capture territory and, particularly, on its offensive on Bakhmut. Prigozhin likely intends to further motivate Wagner personnel and generate new paramilitary forces in a misguided and implausible effort to reverse the culmination of the Bakhmut offensive.
Key Takeaways
Russian President Vladimir Putin's announcement that Russian forces will conduct a 36-hour ceasefire in observance of Russian Orthodox Christmas is likely an information operation intended to damage Ukraine's reputation.
Putin's framing of the ceasefire on religious ground reinforces another Russian information operation that falsely frames Ukraine as suppressing religious groups and positions Putin as the true protector of the Christian faith.
Putin has not changed his fundamental maximalist objectives in Ukraine.
Wagner Financier Yevgeny Prigozhin claimed that prisoners who volunteered with the Wagner Group in Ukraine received pardons, likely in a bid to inflate his influence and political power, strengthen Wagner Group's prisoner recruitment, and reassure Wagner Group criminals in uniform.
Russian forces continued limited counterattacks to regain lost positions along the Svatove-Kreminna line, and Russian forces claimed that Ukrainian forces continued counteroffensive operations in the area.
Ukrainian forces reportedly conducted a successful counterattack as Russian forces continued offensive operations around Bakhmut and west of Donetsk City.
Russian forces continued to operate sabotage and reconnaissance groups on the Dnipro River and reinforce positions in east (left) bank Kherson Oblast.
Russian milbloggers claimed recent Russian successes in Zaporizhzhia Oblast, likely to distract from the slow Russian offensive around Bakhmut that may be culminating.
Mobilized Russian servicemembers likely continue to represent an outsized portion of Russian military casualties in Ukraine.
Tags: Russian invasion