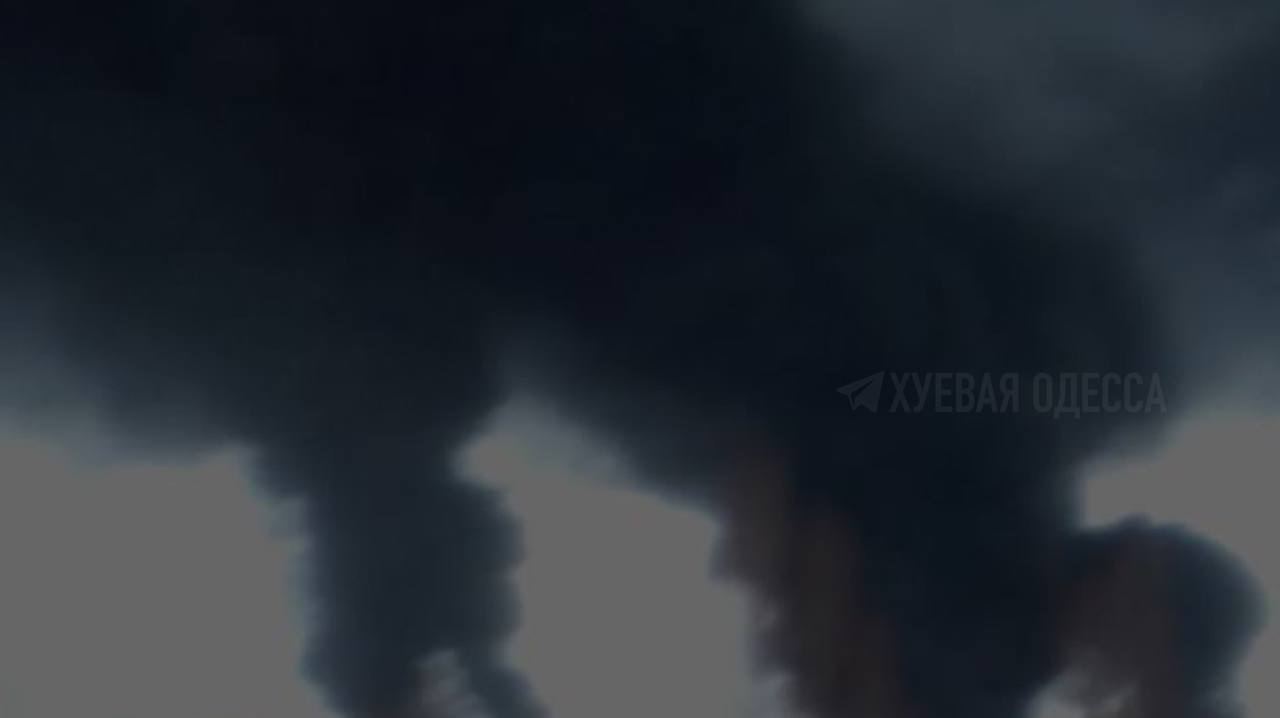 A large fire that erupted in Odesa following the mass Russian missile strike of 5 December 
Media and Telegram channels reported explosions in six Ukrainian oblasts after the Russian missile attack at noon on December 5.
"Ukraine's air defense shot down more than 60 cruise missiles out of more than 70" that Russia launched today, Ukraine's Air Force command stated. It was Russian 4th massive air strike against Ukraine's power grid but Ukraine's air defense showed the best result since the beginning of war. Russia targeted mainly Ukrainian energy infrastructure, using X-101/X-555, Kalibr, and X-59 cruise missiles.

"According to preliminary information, Russia launched 38 Kh-101/Kh-555 cruise missiles from eight Tu-95 strategic bombers from the Caspian Sea and Volgodonsk regions of the Rostov Region. The enemy also launched 22 Kalibr cruise missiles from Black Sea Fleet ships. In addition, long-range Tu-22 bombers launched three Kh-22 cruise missiles, as well as Su-35 fighters launched six Kh-59 guided air missiles and one Kh-31P," Ukraine's Air Force reported.

Ukraine's air defense shot down 60 cruise missiles out of 70+ that Russia launched today

It was Russian 4th massive air strike against Ukraine's power grid but Ukraine's air defense showed the best result since the beginning of war. https://t.co/P2cTlNEydz pic.twitter.com/5SAqZdtxS6

— Euromaidan Press (@EuromaidanPress) December 5, 2022
Explosions were reported in Zaporizhzhia. Also, residents of Cherkasy Oblast report "sounds similar to explosions." Telegram channels reported about the work of air defense in Vinnytsia, Cherkasy, Kyiv and Kharkiv oblasts.
Head of the administration of Kyiv Oblast Oleksiy Kuleba reported about "successfull work of air defense" in Kyiv Oblast. According to preliminary information, in Poltava region, air defense forces shot down up to 10 Russian missiles today and there were no hits, the governor said. In the Kyiv region, 10 missiles were recorded and 9 destroyed, the Oblast administration said. Also, up to 15 missiles were destroyed in the east of Ukraine. Head of the Mykolayiv Oblast wrote that Ukrainian pilots "do miracles" in the sky, but without details.
Ukrainska Pravda correspondents report on explosions in Odesa and the Oblast where a huge smoke started.
According to Presidential Office, Russian missile killed two civilians and wounded two in Zaporizhzhia Oblast:
https://twitter.com/EuromaidanPress/status/1599750472059203584
Power outages
At least 5 out of 25 Ukrainian regions reported emergency power outages. Water supply was reported to have been lost in Odesa. Parts of Kryvyi Rih are without electricity, boiler and pumping stations are shut down, according to Mayor Vilkul. Power supply was also turned off in Sumy and Mykolayiv oblasts to prevent uncontrolled blackouts.
Ukraine's power grid operator Ukrenergo reported that "Ukraine is going through the terrorist country's 8th massive missile attack. Unfortunately, there are already hits on energy infrastructure facilities & emergency power outages linked to that."
Moldova suffers disruptions in its power supply as well. The transmission system operator Moldelectrica has reported disruptions in the electricity system. After the latest mass Russian missile attack on Ukraine, on 23 November, power in Moldova was partially lost, as well.
Also, remnants of a missile were reported to have fallen near the city of Brisceni.
One of the missiles fell on the territory of Moldova near Briceni town.https://t.co/Fzo2IDVNn2 pic.twitter.com/RJxciYWBfx

— Euromaidan Press (@EuromaidanPress) December 5, 2022
According to the preliminary estimations by the experts of Ukraine's Priamyi TV channel, missile wreckage found in a fruit garden in Moldova is the S-300 anti-aircraft missile's booster unit. For now, no official statements were made regarding the missile.
Tactic of mass missile strikes
Ukraine's power system has suffered significant damage from a string of Russian mass missile strikes on civilian infrastructure that started on 10 October. Today's attack marks the eighth mass missile strike since 10 October. Ukraine's air defense has improved in shooting down the attacks, but 100% protection is impossible, and, reportedly, up to 50% of Ukraine's power grid was damaged in the attacks. Ukraine suffered the first mass blackout all over the country on 23 November; it lasted for over a day in all regions. Power blackouts became the new normal for Ukrainians all around the country. In most locations, power is absent for more than half of the day.
Ukrainian officials warned since 27 November that Russia is preparing a new missile strike. Russia's strategy toward missile attacks on civilian infrastructure changed in the last month: air defense officials explained that it is stockpiling missiles to launch mass attacks that would overwhelm Ukrainian air defense. These massive strikes aim to overwhelm Ukraine's air defense. While Ukraine's capabilities of missile location are rather high, hundreds more air defense units are needed to shoot down the missiles, air defense specialist Oleksandr Marchenko told Euromaidan Press.
After taking out Ukraine's energy infrastructure, Russia tries to incite anti-blackout riots
Related: