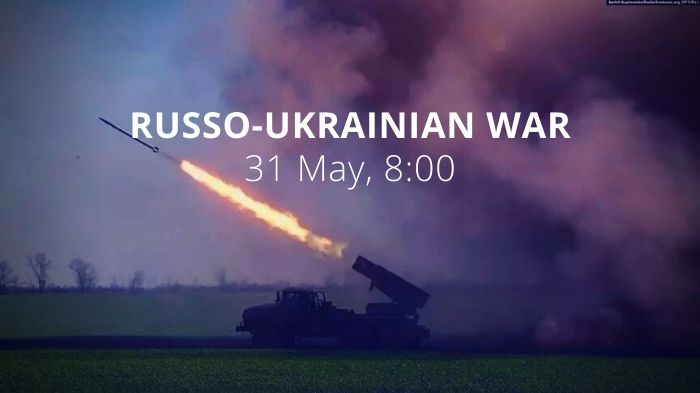 Morning report day 97 – May 31. Situation
According to information from the General Staff as of 06.00 31.05.2022, supplemented by its [18:00 assessment].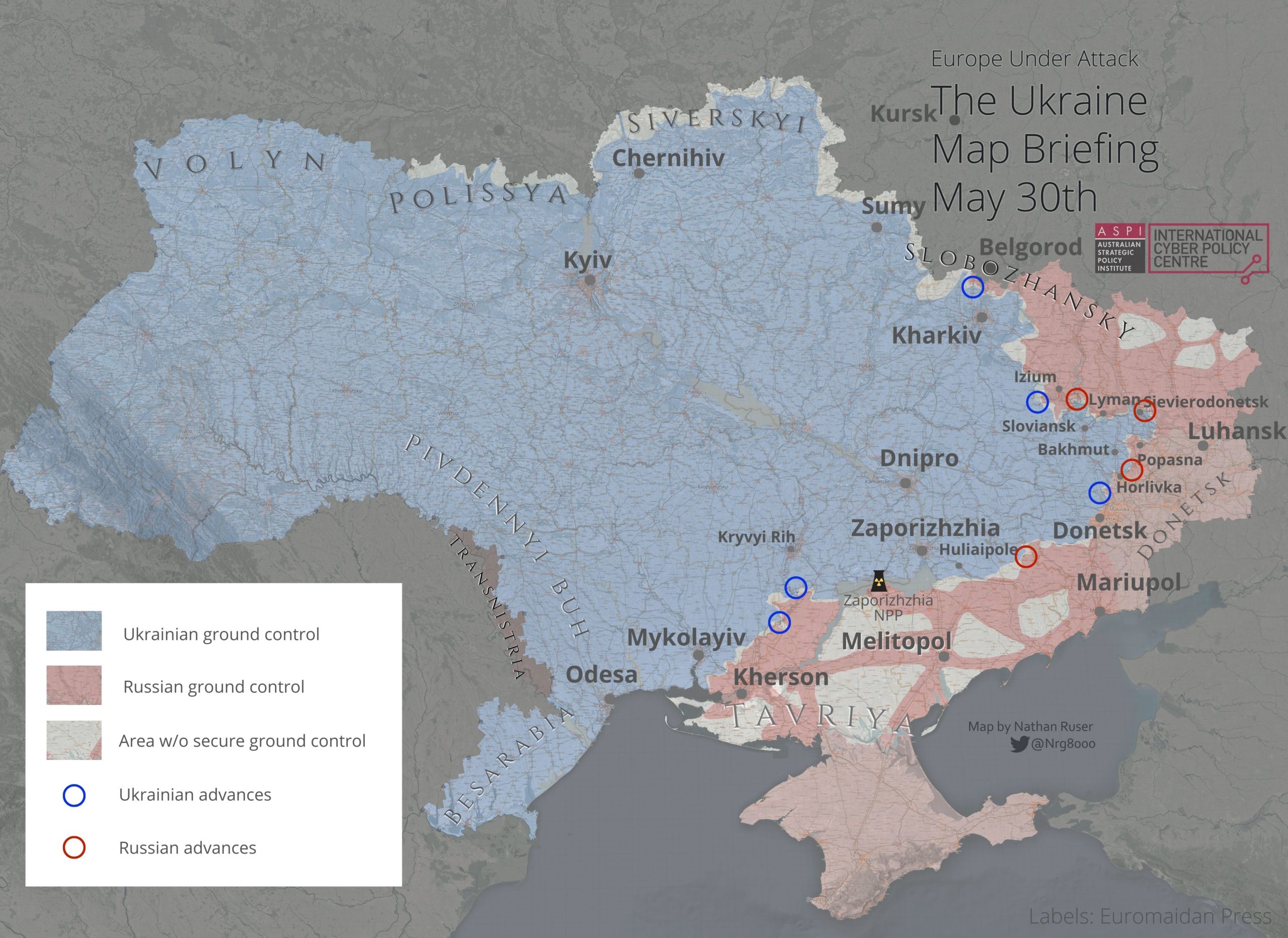 Fighting in the East of Ukraine has reached maximum intensity – Defence Ministry, Ukrainska Pravda reports. The Russian command has deployed all its forces for this purpose and is trying to encircle our troops in the Donetsk and Luhansk regions, Oleksandr Motuzianyk, spokesperson for the Ministry of Defence, said at a briefing. "The fighting has reached maximum intensity, and the Russian occupying forces are firing along the entire contact line and trying to hit the depths of our defence with artillery. The assault is being carried out on several fronts at the same time. The fiercest fighting is taking place on the Sievierodonetsk, Bakhmut and Kurakhivsk fronts.
According to Motuzianyk, the Russian occupying forces are conducting non-stop offensive operations in the Eastern operational zone with the aim of establishing full control over the territory of Donetsk and Luhansk oblasts, ensuring the stability of the land corridor from Rostov Oblast to the Autonomous Republic of Crimea, and blocking Ukraine's maritime communications in the north-western part of the Black Sea."
Street fighting is underway in Sievierodonetsk – Haidai, Ukrinform reports. "Rashists have advanced inside the city of Sievierodonetsk. Street fighting is underway," the Head of Luhansk Regional Military Administration, Serhii Haidai wrote. In his words, the Ukrainian military is attempting to push Russian forces back. Evacuation from the city has been stopped after a French journalist was killed by Russian troops.
The French journalist, killed by Russian shelling in Sievierodonetsk, is Frederik Leclerc Imhoff, Oblast Head said.

The journalist was critically wounded in his neck when the evacuation car that was about to take civilians from Sievierodonetsk was shelledhttps://t.co/I7cTwAwrib pic.twitter.com/Mh4UFcJNef

— Euromaidan Press (@EuromaidanPress) May 30, 2022
Lyman is under Russian control, Ukraine confirms, The Washington Post reports. "Russian forces have seized control of the eastern city of Lyman, a Ukrainian official has confirmed for the first time since the invaders said they captured the key transportation hub. Fighting continues around Lyman, which had offered access to bridges over the Siversky Donets River, Ukrainian presidential adviser Oleksiy Arestovych said in a video interview Monday. The concession comes after Ukrainians had said they were still fighting for control in the northwestern and southeastern parts of the city, though the British Defense Ministry said Saturday that Russian forces probably had captured most of it."
Invaders trying to advance in the east of Zaporizhzhia Oblast – Head of Oblast Military Administration, the Ukrainska Pravda reports."The Russians are trying to attack the eastern communities in our region. Artillery, air and missile strikes are being carried out along the contact line.  [Monday] Orikhiv and Hryhorivka were very badly affected; civil infrastructure, residential buildings and educational institutions were damaged. [Oleksandr Starukh, the Head of Zaporizhzhia Oblast Military Administration wrote]".
Russia gathers troops and equipment near the Ukrainian border, Ukrainska Pravda reports. Roman Starovoyt, Governor of Kursk Oblast (Russia) claims that Russia has deployed troops, artillery, and rocket launchers in Kursk Oblast, near the Ukrainian border.
The National Guard shot down the third Russian Su-25 attack aircraft by Igla air defence system, Ukrainska Pravda reported Monday. On the night of 30 May, a serviceman of the National Guard shot down a Russian Su-25 on the Zaporizhzhia front with the Igla air defence system.
As of Tuesday 31 May, the approximate losses of weapons and military equipment of the Russian Armed Forces from the beginning of the war to the present day:
Personnel – more than 30500 (+150),
Tanks – 1358 (+9),
Armoured combat vehicles – 3302 (+20),
Artillery systems – 649 (+6),
Multiple rocket launchers –MLRS – 207 (+2),
Air defence means – 93 (+0),
Aircraft – 208 (+1),
Helicopters – 174 (+0),
Automotive technology and fuel tanks – 2275 (+17),
Vessels/boats – 13 (+0),
UAV operational and tactical level – 515 (+8),
Special equipment – 48 (+0).
Mobile SRBM system – 4 (+0),
Cruise missiles – 120 (+2)
Russian enemy suffered the greatest losses (of the last day) in the Kryvyi Rih and Zaporizhzhia directions.
National Guard of Russia soldiers in Krasnodar refused to return to the war in Ukraine, Ukrainska Pravda reports. "Russian National Guard soldiers from Krasnodar, who took part in the war against Ukraine in February-April and whom the National Guard tried to send there again, refused to return. They were allegedly extremely dissatisfied with the payment they received for two months of fighting in Ukraine which turned out to be significantly lower than advertised. And this was one of the reasons for their refusal.
"The Command explained that it considers the salary of soldiers for the war not in rubles, but dollars. If on March 10 the official dollar exchange rate in Russia was 120 RUB, then on May 26 it was 56 RUB, which explains the difference in the amount of military payments."
Humanitarian
Ukraine's Defence Ministry on Azovstal defenders: information available but classified, Ukrainska Pravda reports. "The Ministry of Defence of Ukraine has information on Ukrainian soldiers who defended Azovstal. Currently, it remains classified in order to protect the negotiation process, [Hanna Maliar, Deputy Minister of Defence told.]"
The occupiers have kidnapped more than 500 people in Melitopol – the mayor, Ukrainska Pravda reports. "The most difficult issue today is the security issue because people in Melitopol are kidnapped daily, Ivan Fedorov, mayor of occupied Melitopol, said at an online briefing. "During the whole period of occupation, in three months, more than 500 people were kidnapped. Some are kept for three days, some for more than a month. We have an example where a 16-year-old child has been held captive for 50 days."
According to UNHCR 6,801,987 refugees have been registered as of May 29. The UN says that so far Poland has taken in 3,627,178 refugees, Romania 989,357, Russian Federation 971,417, Hungary 682,594, Republic of Moldova 479,513, Slovakia 461,164 and Belarus 30,092. Among those who fled Ukraine are also Ukrainian nationals with dual citizenship. An additional 105,000 people moved to the Russian Federation from the Donetsk and Luhansk regions between 18 and 23 February.
The number of Ukrainians entering Ukraine since February 28 is 2,229,500 as of May 27. This figure reflects cross-border movements, which can be pendular, and does not necessarily indicate sustainable returns.
OHCHR recorded 8,900 civilian casualties in Ukraine as of May 29. 4,074 were killed (including 262 children) and 4,826 injured (including 415 children).
Environmental
Putin is ready to facilitate unfettered grain exports from Ukraine's ports, Reuters reports. President Putin said on Monday that Russia was ready to facilitate the unhindered export of grain from Ukrainian ports in coordination with Türkiye, according to a Kremlin readout of talks with President Tayyip Erdogan.
"During the discussion of the situation in Ukraine, emphasis was placed on ensuring safe navigation in the Black and Azov seas and eliminating the mine threat in their waters," the Kremlin said of Putin's call with Erdogan.

 

"Vladimir Putin noted the readiness of the Russian side to facilitate the unhindered sea transit of goods in coordination with Turkish partners. This also applies to the export of grain from Ukrainian ports." Putin, according to the Kremlin, added that if sanctions were lifted, then Russia could "export significant volumes of fertilizers and agricultural products."

 

It was not immediately clear which Ukrainian ports Putin was speaking of. Ukraine's main grain export ports include Chornomorsk, Mykolaiv, Odesa, Kherson and Yuzhny.

 

Erdogan told Putin that peace needed to be established as soon as possible and that Türkiye was ready to take on a role in an "observation mechanism" between Moscow, Kyiv and the United Nations if an agreement is reached. He later told Ukrainian President Volodymyr Zelensky that he "especially valued the project to create a secure sea route for exporting Ukrainian agricultural products," his office said, adding he welcomed, in principle, the idea of making Istanbul a headquarters for the "observation mechanism".
Hans Petter Midttun: This is potentially good news bearing in mind that the press release does not mention any mechanism for mine clearance which might be a precondition for insurance companies allowing commercial shipping into Ukrainian ports. According to NATO, the mine threat persists. Russia cannot facilitate the mine-clearing operation as this will give the Black Sea Fleet pretext to approach Ukrainian ports. Russia cannot be trusted to act in good faith.
Legal
There may be more people killed by the Russians in Mariupol: 21,000 bodies have already been buried, Ukrainska Pravda reports. According to Mariupol City Council, the Russian forces may have killed more than 22,000 people in Mariupol. According to local authorities, the Russians have already buried 16,000 people in mass graves, and another 5,000 have been buried by communal workers by mid-March.
Zelenskyy: The occupiers are looking for a way to sell the stolen half a million tons of grain, Ukrainska Pravda reports. "In our occupied territory, the Russian occupiers have already stolen at least half a million tons of grain and are now looking for ways to sell them somewhere illegally," President Volodymyr Zelenskyy in the appeal. "According to Zelenskyy, due to Russia's blockade of Ukrainian ports in the Black Sea and the seizing of the Ukrainian part of the Sea of ​​Azov, Ukraine cannot export 22 million tons of grain that are already in storage".
243 children were killed, and 446 children injured, the Office of the Prosecutor General of Ukraine reports as of May 31. 1,909 educational establishments are damaged as a result of shelling and bombings, 180 of them are destroyed fully. 14,842 crimes of aggression and war crimes and 6,958 crimes against national security were registered.
Support
The US will not send Ukraine rocket systems that can reach Russia, says Biden, Reuters reports. "The United States will not send Ukraine rocket systems that can reach into Russia, President Joe Biden said on Monday, as Ukraine pushes for long-range weapons system to help in its fight. Ukrainian officials have been asking allies for longer-range systems including the Multiple Launch Rocket System, or MLRS, that can fire a barrage of rockets hundreds of miles away.
We're not going to send to Ukraine rocket systems that strike into Russia," Biden told reporters after arriving back at the White House after a weekend in Delaware. Biden did not rule out providing any specific weapons system but instead appeared to be placing conditions on how they could be used. Biden and his team are working on a new package of military equipment and it is expected to be announced in the coming days. The MLRS was under consideration, but nothing with long-range strike capabilities outside of battlefield use, a senior administration official said."
Western artillery shipments to Ukraine is what it needs to turn win over Russia. Especially crucial are rocket artillery — MRLS and HIMARS — believed to be the final element in arming Ukraine needed for the counteroffensive aimed to win the war.https://t.co/dNoAF1CLEW

— Euromaidan Press (@EuromaidanPress) May 30, 2022
FM Kuleba: Providing Ukraine with weapons will not drag other states into war, Ukrinform reports. "Nothing will drag you into the war until your soldiers start fighting for us. And we, I will remind you, have never even asked your soldiers to fight for us. We know how to win. We know how to fight. Give us all the necessary weapons, and we will win, and no one in the world will be dragged into this war," Minister of Foreign Affairs of Ukraine Dmytro Kuleba said.
The foreign minister stressed that Russia wanted no one to help Ukraine so that Russian troops could kill as many Ukrainians as possible, and seize as much territory as possible: "That's why they [Russians] are threatening everyone with terrible consequences for the support of Ukraine, but the truth is obvious."
EU leaders agree "in principle" on a Russian oil embargo – von der Leyen, Reuters reports. "EU leaders have reached an agreement "in principle" on banning oil imports from Russia, European Commission chief Ursula von der Leyen said early on Tuesday. The council should now be able to finalise a ban on almost 90% of all Russian oil imports by the end of the year. This is an important step forward. On the remaining 10%, on these we will soon return to the issue of these remaining 10% of pipeline oil, she added."
"This immediately covers more than two-thirds of oil imports from Russia, cutting a huge source of financing for its war machine," EU Council President Charles Michel wrote on Twitter according to Reuters. The leaders also agreed to cut off the largest Russian bank Sberbank from the SWIFT system and to ban three more Russian state-owned broadcasters, he added.
https://twitter.com/EuromaidanPress/status/1531512772349001729
EU ready to provide EUR 9B in macro-financial assistance to Ukraine, Ukrinform reports. The European Union is set to provide Ukraine with another EUR 9 billion in macro-financial assistance, President of the European Council Charles Michel wrote on Twitter. "The European Council will continue helping Ukraine with its immediate liquidity needs, together with G7. EUCO is ready to grant Ukraine EUR 9 billion".
New developments
President Zelensky: There can be no compromises at the expense of Ukraine's sovereignty, Ukrinform reports. Sanctions against Russia must be as effective as to make the Russian side begin to seek peace, and there can be no compromise at the expense of Ukraine's territorial integrity and sovereignty, President Zelensky said in his video address to the European Council. "Why can Russia still earn almost a billion euros a day by selling energy resources? Why are banks of a terrorist state still working with Europe and the global financial system? Serious questions. And why are Russian propaganda channels still active in the European Union? This is an information weapon of the Russian Federation. Why are Russian civil servants who support the war and judges who openly support repression still not under sanctions? Zelensky noted."
Ukraine is in talks with Russia only on humanitarian issues, the Ukrinform reports. "The negotiation process has been suspended today in the political and diplomatic part. It is working in the humanitarian part because there is an exchange of prisoners, there are humanitarian corridors, attempts to evacuate our people, [Mykhailo Podoliak, an adviser to the head of the Ukrainian President's Office, said in an interview with LB.ua]. According to him, Russia now lives in the self-created reality and therefore completely inadequately perceives what is happening in the world."
France ready to mediate Ukraine–Russia negotiations, Ukrinform reports. "France maintains a channel of communication with Russia, it is not the only one who does this, and believes that it is necessary to have a channel for conveying certain messages," French Foreign Affairs Minister Catherine Colonna said at a joint briefing with Minister of Foreign Affairs of Ukraine Dmytro Kuleba in Kyiv."
Erdoğan offers Putin a Ukraine-UN-Russia meeting in Istanbul, Ukrinform reports. "President Erdogan said that if both sides reached an agreement, Türkiye was ready to play its role in a Ukraine-UN-Russia meeting in Istanbul and a possible monitoring mechanism, the press service of the President of Türkiye informs."
Zelensky and Erdoğan discuss food security and peace restoration, Ukrinform reports. "Continued dialogue with Turkish President Recep Tayyip Erdoğan. Discussed threats to food security posed by the aggressor & ways to unblock Ukrainian ports. Held discussions on cooperation in the security sphere. Unanimously agree on the need to restore peace. We appreciate Türkiye's help in this process, Zelensky wrote on Twitter."
https://twitter.com/ZelenskyyUa/status/1531358004435685377
Assessment
1. On the War
The Institute for the Study of War has made the following assessment as of Monday 30 May:
Head of the Military Administration: there are no signs of Russia's preparations for another attack on Kyiv, but the danger remains, Ukrainska Pravda reports. The head of the Kyiv Military Administration, General Mykola Zhyrnov, said that there are presently no signs of the Russian troops' formation to attack the Ukrainian capital, but the danger remains.
"Currently, if we look at the Bryansk and Kursk Oblasts, we do not see any actual signs of the formation of troops. However, we know that the Russian Federation can also use the territory of Belarus. Kyiv, as the capital, is a priority target for occupation by the Russian troops. Given the significant amount of human and logistical resources in Russia, the danger of a second offensive remains".
Russian advances in Ukraine's east mark a tipping point, The Washington Post reports.
2. Consequences and what to do?
Hans Petter Midttun: The US will not send Ukraine rocket systems that can reach Russia, says President Biden.
That's an odd statement bearing in mind that most of the Russian cruise missiles launched against Ukraine have been released from outside its border. The battlespace already extends beyond Ukraine. It needs the ability to take out the weapon carriers before they launch the missiles.
It is an even more odd statement considering that any weapon – heavy or not – can reach Russia if Ukraine controls its borders. How deep it can reach should be of less importance. It is also at odds with the fact the West is already providing Ukraine with some weapons, including Harpoon that allows it to engage Russian warships at long range and inside what Russia claim to be its territorial waters.
More importantly, the statement raises concerns about future defence support. I for one was hoping that the combination of the US "lend-lease agreement" and its $40 billion aid package held promises of weapon support of a very different scale and complexity than we have seen so far. Ukraine might potentially receive what it needs to liberate all of its territories. Especially since the first refers to equal decisive support against another dictator threatening European security more than 80 years ago. The aid package itself includes $20 billion in military aid that was expected to finance the transfer of advanced weapons systems, such as Patriot antiaircraft missiles and long-range artillery.
Biden's statement puts that ambition in question. Ukraine needs combat aircraft and a navy to defeat Russia, all of which have the inherent ability to attack targets in the depth of Russia. That does not mean that Ukraine will do just that. It is a risk easily alleviated through dialogue in a partnership based on mutual trust.
"Our paramount priority is the fast delivery of weapons […] the faster military support from nations that we receive, the stronger response our army can give," Emine Dzhaparova, Ukraine's First Deputy Minister of Foreign Affairs told the NATO Parliamentary Assembly on 28 May. Dzhaparova stressed that increased support for her country – including stronger sanctions on Russian energy exports – is an investment in NATO's own security. "Whatever the price you are paying now, it's much lower than the price NATO will have to pay if Putin […] prevails, she said via video link."
The Biden statement highlights what I perceive as a lack of consistency between Western stated objectives and strategy. The USA, Canada and the EU members have not yet started delivering the weapons Ukraine needs to defeat Russia. These will include platforms and weapon systems with the ability to attack targets in the depth of Russia, which should be perfectly okay since all NATO countries with an Air Force have the exact same capability.
It is time to treat Ukraine as what it is: A potential NATO member fighting for European security and stability.
Tags: NATO, Russian invasion