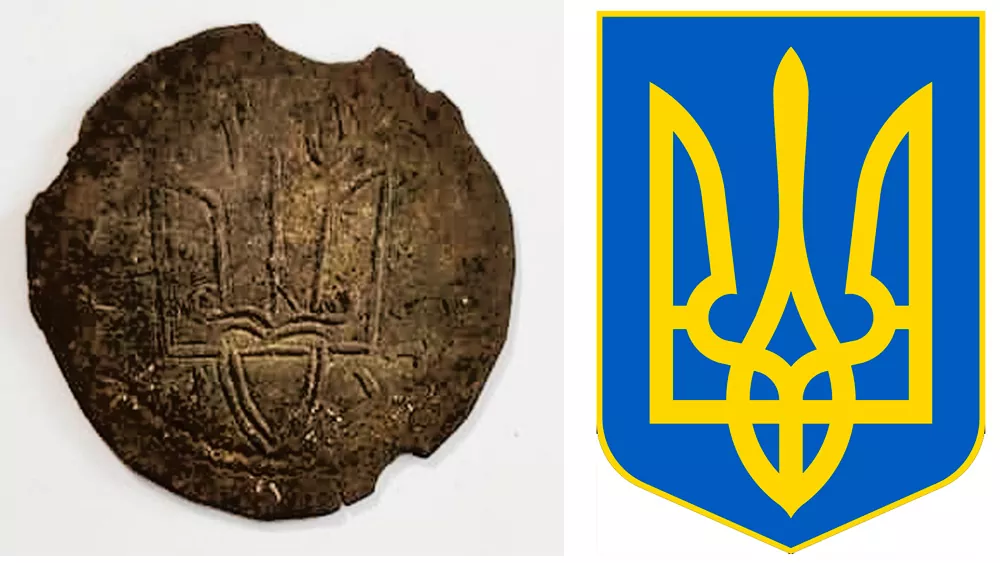 Left: Prince Volodymyr's coin (around 1000 AD), right: modern Ukrainian small coat of arms featuring Volodymyr's trident. 
Today, 28 August, a treasure of 32 silver coins dated to the early Kyivan Rus times is discovered and donated to the local regional history museum in north-Ukrainian Zhytomyr Oblast. The silver coins known as srebreniks or sribnyks were the first coinage minted in medieval Kyiv around the early 1000s A.D. Historians attribute the 32 silver coins to the times of Kyiv princes Volodymyr and Sviatopolk around 1000-1019 A.D.
The older coins of the hoard feature the engraved portrait of Volodymyr the Great (c. 958–1015) – the prince of Rus (980-1015) and its baptist – on their head side and his coat of arms of the tail side, which is the Tryzub or trident that in times became the national symbol of Ukraine.
Other coins feature Volodymyr's successor Sviatopolk I (c. 980–1019) known as Sviatopolk the Accursed, who was the Grand Prince of Kyiv in 1015–1019, with his portrait on the head side and his coat of arms – the bident or two-pronged trident – on the tail side.
The first report on the treasure of the national significance came from Oleksandr Alfiorov, a researcher at the Institute of History of the National Academy of Sciences of Ukraine, who provided some details on his Facebook page.
According to the historian, "acquaintances' acquaintances" contacted him late last night and told him that they had found the coins under quite mundane circumstances – a fisherman was going to dig some sand and discovered the old coins in it.
Oleksandr Alfiorov says that they came to an agreement that this "discovery of the century" should be donated to the state, which took place today in Horodnytsia, Zhytomyr Oblast.
Mr. Alfiorov says that historians haven't seen such artifacts for more than 100 years. He proposes to dub this significant historical find by the name of the town where it was found, the Horodnytsia Treasure.
Ukraine's official account on Twitter celebrated finding the artifact in its traditional humorous manner:
https://twitter.com/Ukraine/status/1299380192943767554
---
Read also: