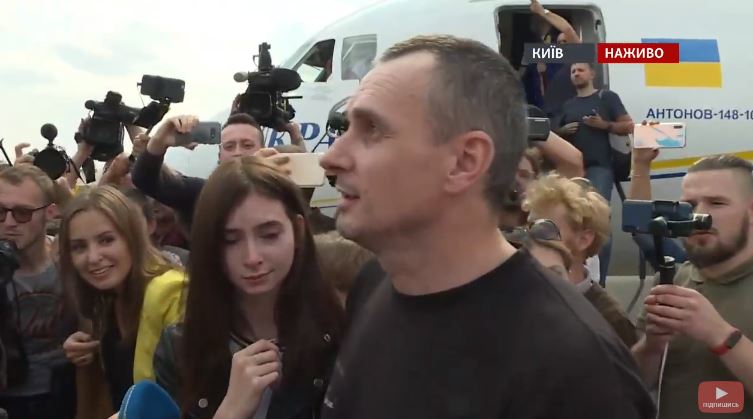 Oleg Sentsov speaks to reporters outside the airplane which brought the 35 Ukrainian hostages to Kyiv. Screenshot from levstream by RFE/RL 
On 7 September 2019, a prisoner exchange took place between Russia and Ukraine. took place. 35 Ukrainian citizens held in Russia on trumped-up charges, 11 of them – Ukrainian political prisoners of the Kremlin and 24 Ukrainian Navy sailor POWs captured in November 2018 after a Russian attack in the Black Sea, were exchanged for 35 persons held in Ukraine. The list of persons transferred to Russia is still yet to be confirmed by the Russian authorities, but according to a preliminary list published by Ukrainska Pravda, 30 of the 35 are Ukrainian citizens, not Russians.
The airplane carrying the released Ukrainians touched down at Boryspil airport at 13.45. Ukrainian officials, including President Volodymyr Zelenskyy, journalists, and relatives of the prisoners gathered before
While we are waiting for official data about those sent to Russia, let's look into the Ukrainians who are finally home at last, some after five years in Russian prison. The 11 political prisoners are only but a small fraction of the total list of Ukrainian prisoners of the Kremlin held in Russia; at least 86 remain, according to the #LetMyPeopleGo campaign to free them. As well, at least 227 are held in the Kremlin-controlled proxy "republics" in eastern Ukraine, according to data by the Security Service of Ukraine.
The 35 freed Ukrainian hostages after landing at Boryspil airport in Kyiv. Screenshots from livestream by RFE/RL
11 Ukrainian political prisoners of the Kremlin
Oleg Sentsov. A Ukrainian filmmaker from Crimea, Sentsov had participated in actions to resist the Russian occupation of his homeland in 2014 and was captured on 10 May 2014 by officers of Russia's Federal Security Service (FSB) next to the door of his own apartment in Simferopol. He was subsequently charged with terrorism together with Oleksandr Kolchenko, Gennadiy Afanasiev, and Oleksiy Chyrniy in a show trial depicted in Askold Kurov's documentary "The Trial" and sentenced to 20 years in prison. Thanks to his strong spirit and 145-day-long hunger strike which he announced demanding to free all the Ukrainian political prisoners of the Kremlin prior to the World Cup in Russia, Sentsov became a symbol of them all.
Oleksandr Kolchenko. A Crimean left-wing activist and student, Kolchenko was also captured around the time of Sentsov and subjected to a show trial, being accused of participating in Sentsov's "terrorist group." What they did is usually considered "hooliganism" in Russia, but after false testimonies extracted through torture they were classified as "terrorism." Despite having no ties whatsoever to the Right Sector, a Ukrainian nationalist organization, the men were accused of being its members, and the case used for its criminalization and subsequent arrests. He was sentenced to 10 years in prison.
Roman Sushchenko. A correspondent of the Ukrainian state media agency Ukrinform in Paris, Sushchenko was seized by the Russian security service (FSB) during his private visit to Moscow on 30 September 2016. He was accused of carrying out a task of the Ukrainian military intelligence, which allegedly could damage the defense capacity of Russia and sentenced to 12 years in prison. Neither the Ukrainian embassy to Moscow nor his family nor Ukrinform were informed by Russian authorities on his detention. The members of the Moscow Public Supervisory Commission accidentally found him in FSB's Lefortovo remand jail during the inspection of the facility. His case, like other "spying" cases, was made secret, so we know few details about it.
Volodymyr Balukh. A Crimean farmer and activist who sympathized with the Euromaidan Revolution, flew a Ukrainian flag above his house, and set up a plaque commemorating the slain victims of Euromaidan, irking the Crimean occupation authorities. He was convicted on charges of possessing 90 bullets and trotyl explosives found in the attic of his home. The weapons were produced in 1989 and there were no signs he had been in contact with them, but that didn't influence the judge's decision. Balukh was sentenced to 5 years in prison and had launched hunger strikes in protest of his detention conditions on multiple occasions.
Pavlo Hryb. Hryb was captured by the Russian special services when he was 19 years old from the territory of Belarus, where he had gone to visit a Russian online girlfriend who flew in from Krasnodar. After that, he was kidnapped to Krasnodar, charged with planning to detonate a bomb in the school where the girl was studying, apparently based on a joke the two exchanged in social media., and sentenced to 6 years in prison. Hryb suffers from a rare condition – portal hypertension – which made every day behind bars endangering to his life. The girl herself has said she was forced to collaborate with the FSB to lure her online romantic acquaintance to Belarus.
Oleksiy Syzonovych. A 61-year pensioner living in occupied Donbas who was sentenced to 12 years in prison. According to the FSB, he was allegedly preparing a "terrorist act" on the territory of Russia. Most probably, he was kidnapped to Russia. His trial lasted only 3 days, with the accusation based on the testimony of nine witnesses who didn't show up in court, as well as absurd details such as the defendant, who claims he can't swim, escaping by jumping from a bridge into a river.
The case against Mykola Karpiuk and Stanislav Klykh  is a likely candidate for being the most outrageous one of them all. The two men were accused of taking part in Russia's First Chechen war based on incriminating testimonies extracted through beatings, torture, electrocution, and being held incommunicado for 1.5 years (Karpiuk) and 10 months (Klykh), as well as the testimony of a mystery Ukrainian national who had already been sentenced to 23 years in prison. One of these "testimonies" names then Prime Minister of Ukraine Arseniy Yatseniuk as one of the participants of the war. Bizarrely enough, the Russian prosecutors lodged a case against him as well. The "confessions" Klykh and Karpiuk were forced to make don't correspond to reality: out of the 30 Russians they are accused of shooting, 18 were killed in another place, and 11 more did not die from gunshot wounds at all, Russia's Memorial Center said in a report. Additionally, none of the Russians the men allegedly wounded were able to identify them. This, and other exculpatory evidence was not taken into account by the prosecution. Now, the mental health of Stanislav Klykh has greatly suffered from the torture and absurdity of his ordeal. In November 2017, his mother found out he had fallen into a coma in Russian prison. Previously, he had been administered psychotropic drugs. Karpiuk was sentenced to 22.5 years and Klykh – to 20 years.
Edem Bekirov. a Crimean Tatar man who suffered a major heart attack and now has four cardiac shunts to regulate blood pressure, was traveling to his relatives in Crimea prior to a heart operation. He was detained at the border with mainland Ukraine and accused of transporting 14 kg of ammunition and weapons into Crimea. His lawyer explained in court that Bekirov is unable to lift a 1.5 liter bottle, let alone 14 kg, but was disregarded. Bekirov, who has an amputated leg which requires daily dressings, and a bouquet of health issues which require daily medication and medical supervision, is detained in grossly insanitary conditions. His family pleaded to the world to save him on multiple occasions.
Yevhen Panov was arrested in early August 2016 together with Andriy Zakhtey and accused of planning terrorist acts and targeting critically important parts of Crimean infrastructure. Volodymyr Prysych and Rydvan Suleymanov were arrested in the following weeks. All four gave televised "confessions" where they claimed, respectively, to have worked for Ukrainian military intelligence to plant bombs in the Simferopol Airport and Bus station and record the movement of Russian military technology. The case collapsed. The weapons stockpile which Panov and Zakhtey allegedly were connected to bore no traces of their DNA, the weapons broadcast on Russian TV from the scene of Panov's arrest were actually airsoft guns, and there are grounds to believe that both Panov and Zakhtey had been lured to the place where they were captured. Panov, Zakhtey, and Prysych had subsequently said they had said what they were told to, under torture. Since then, Prysych has been sentenced on entirely different charges – of possessing drugs, which he claims appeared in his van half a day after he was seized, and the charges Suleymanov now faces are different as well: the prosecution now accuses him of making false bomb threat calls, but not of using weapons or explosives, which indicates the initial testimony was forced out of him. Zakhtey has chosen to collaborate with the investigation, and his testimony radically differs from his initial one, where he claimed he was tortured into saying what was required of him.
Artur Panov was found in December 2015 in a Russian prison. He was accused of preparing a terrorist act and espionage.
24 Ukrainian Navy sailor POWS
24 Ukrainian sailors were taken captive after a Russian attack on three Ukrainian ships in the Black Sea, three of them wounded. The case of the attack was taken to the UN International Tribunal for the Law of the Sea, which on 26 May 2019 ruled that Russia must release the sailors immediately and return the seized ships. Despite the ruling, Russia had continued to refuse to release the sailors. Some observers have criticized the decision to include the sailors in the exchange on 7 September 2019, claiming that Russia would be forced to release them sooner or later anyway.
Their names:
Roman Mokriak
Yuriy Beziazychnyi
Andriy Artemenko
Andriy Eider
Bohdan Holovash
Denys Hrytsenko
Vasyl Soroka
Bohdan Nebylytsia
Serhiy Tsybizov
Serhiy Popov
Viacheslav Zinchenko
Vladyslav Kostyshyn
Andriy Oprysko
Andriy Drach
Oleh Melnychuk
Yevhen Semydotskyi
Volodymyr Tereshchenko
Mykhailo Vlasiuk
Viktor Bezpalchenko
Volodymyr Verymez
Volodymyr Lisovyi
Andriy Shevchenko
Serhiy Chulyba
Yuriy Budzyl
The prisoners' journey home and arrival at Boryspil airport. Photos: president.gov.ua
Tags: #LetMyPeopleGo, Crimes of the Russian occupation regime in Crimea, Political prisoners, prisoner exchange, prisoner exchanges, Russian repressions in Crimea, Sailors, Tsemakh, Ukraine