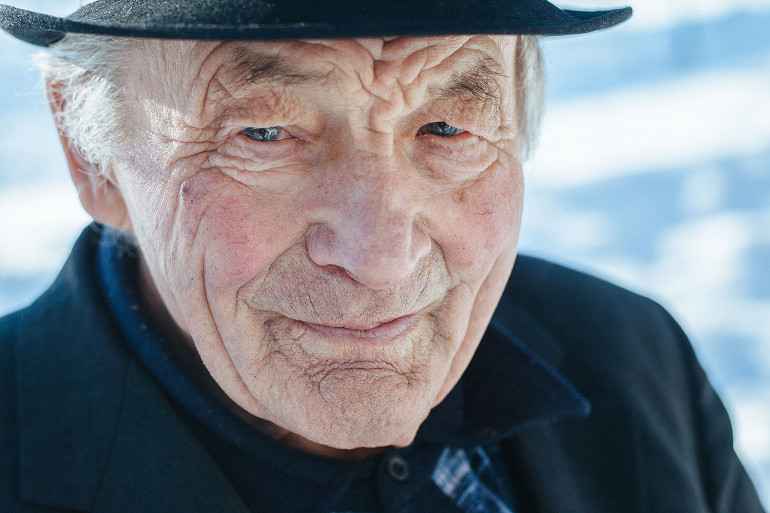 90-year-old Ivan Myron. Photo: uinp.gov.ua 
For the first time in Ukraine's history, the country has awarded full rehabilitation to a wrongly-incarcerated victim of the communist regime. Ivan Myron, 90, lives in the Zakarpattia Oblast. He became a victim of the regime, as a result of his patriotic insurgencies during the 1950s.
The press service of the Ukrainian Institute of National Remembrance stated that the National Rehabilitation Commission has recognized Myron as a victim of communist repression.
Myron is the only living resistance fighter against the Soviet repressions of the fifties (the post-WWII period when the communist regime fiercely oppressed the national independence movement in the region) who served his full 25-year sentence in GULAG camps and never asked for pardon, because he didn't see defending his land from an enemy as guilt.
"I couldn't give the oath to the power who committed so many evil actions towards my family and the whole Ukraine," Myron said.
During that period, Myron was associating with activists of the Organization of Ukrainian Nationalists (OUN) and the Ukrainian Partisan Army (UPA) who were opposing Soviet incursions. However, in spring 1951, the People's Commissariat for Internal Affairs (NKVD) arrested him, together with 17 other insurgents. During searches of his house, the secret police found a small Ukrainian nationalist blue-and-yellow flag, as well as forbidden texts of the poet Taras Shevchenko, historian Mykhailo Hrushevsky, political activist Volodymyr Vynnychenko, and other patriots. 
Myron was sentenced to the maximum sentence of 25 years of severe punishment in  Norilsk, Russia. There, he took part in the well-known Ozerlag uprising in the notorious Irkutsk Oblast prison camp. In the 1960s, he was transferred to equally brutish prison camps in Mordovia.
Myron was only released in 1976, after being transferred to Moscow and then again to Zakarpattia – under the harsh custody of KGB officers. In his home village of Rosishka, he is a living legend.
The commission could have rehabilitated him much earlier, by virtue of the Ukrainian law "Rehabilitation of Victims of the Communists Regime Repressions of 1917-1991."
According to the Institute, Myron is one of a handful of Ukrainians who suffered such an extended period for the state to recognize the legitimacy of their fight for a free Ukraine. The majority of his fellow insurgents, whose cases were just recently considered by the commission, have only received the rehabilitation posthumously.
---
Read also:
Tags: GULAG, Human rights