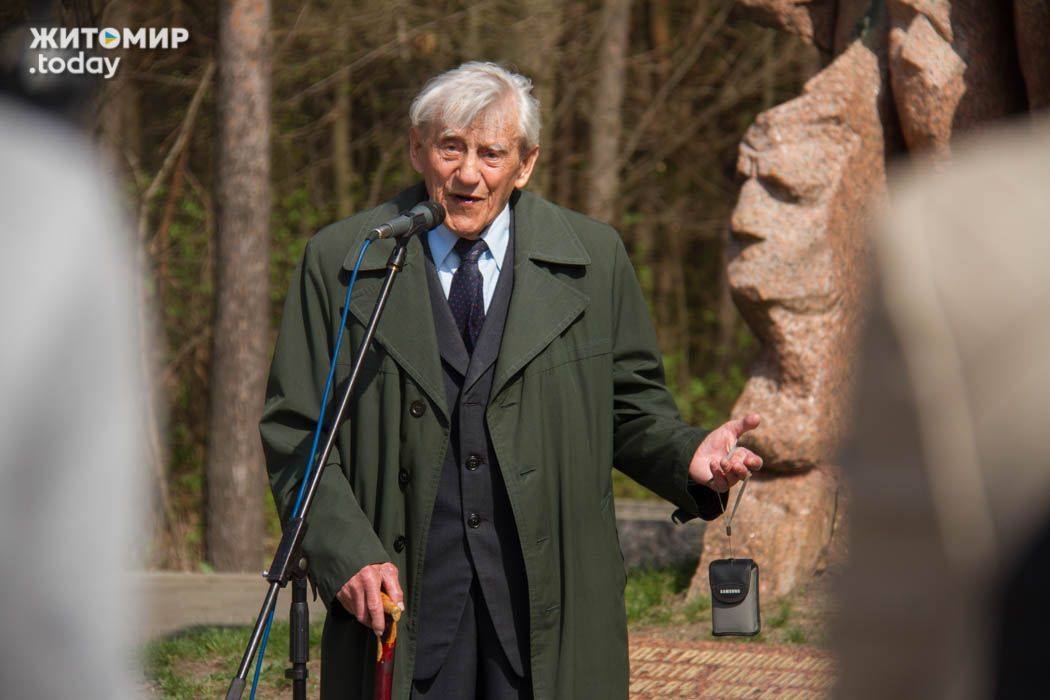 The last surviving Ukrainian prisoner of Majdanek* concentration camp passed away in his native town of Zhytomyr on August 4, 2017.
(*Majdanek was a German concentration and extermination camp built and operated by the SS on the outskirts of the city of Lublin during the German occupation of Poland in World War II)
Franz Carlowitz Březicki (Ukr: Frants Karlovych Brzhezytsky) was born in a modest Polish working family in Zhytomyr on September 4, 1924.
In the 1930s, Soviet authorities executed his father (who was fully rehabilitated later on), and his mother was exiled to Siberia. As a child, Frants witnessed and survived the Holodomor of 1933.
In 1941, after the occupation of Zhytomyr by German troops, 16-year-old Frants and his friends organized an underground anti-fascist youth organization, working closely with the Slovak freedom movement.
At the end of 1942, the young man was captured by the Gestapo. He was interrogated, but refused to divulge the names of his companions although he knew all the leaders in the underground. He was thrown into the death chamber, but on the last day, the death penalty was changed to imprisonment at Majdanek in Poland.
Frants was part of the Zhytomyr convoy transferred to the concentration camp on February 13, 1943 (out of 1240 prisoners, only seven survived and returned home to Zhytomyr after the war). He was subsequently sent to the concentration camps in Gross-Rosen (modern-day Rogoznica, Lower Silesian Voivodeship, Poland) and Litomerice (Czech Republic).
After his release from the concentration camp, Frants was enlisted in the army, but was soon arrested, labelled "an enemy of the people", and jailed by SMERSH**.
(**SMERSH, created by Stalin in late 1942, was a counter-intelligence agency to fight counter-terrorism, prevent any other activity of foreign intelligence in the Red Army, fight "anti-Soviet elements" in the Red Army, protect the front lines against penetration by spies and "anti-Soviet elements", investigate traitors and deserters in the Red Army, and check military and civil personnel returning from captivity)
Frants escaped from prison and for four years lived illegally in Zhytomyr, but eventually he was arrested again in 1950 and sentenced to 10 years in a Gulag. He was sent to the Omsk Gulag camp for political prisoners in Siberia, where he spent more than five years. After Stalin's death, he was rehabilitated and returned home to Zhytomyr.
He worked as foreman of a construction brigade in Zhytomyr and was greatly respected by his friends and colleagues.
"Many people say that Germans are bad, and our people are good. This is wrong, very wrong. People are bad, not nations. I've always said that Nazis and Stalinists are evil… they're criminals. There are a lot of good people among Russians and Germans. I'm alive thanks to such people. I will remember Zent from the Majdanek concentration camp until I die. He didn't know a single word of Russian, spoke with his hands, but tried to help everyone. I remember how the German guard Jakob would beat and kick the prisoners, humiliate them, and Zent would come up to him and say: "You're an idiot! If I see you beating the prisoners, I'll give it to you so hard in the face that you'll never get up again!"
"I have one secret that I want to leave with our young people. I often wonder how I managed to stay alive in Majdanek? So many prisoners went mad in that camp! They would run towards the barbed wires and die slowly just standing there. But, I always found the time and courage to pray to God: "Our Lord, Mother of God, help me so that I don't go mad, help me to die strong and fully conscious." That was all I needed. Someone or something always told me what to do, and how to do it. And that's the truth."
"I feel no hatred against the Nazi or Stalinist regime. That was a bloody and cursed time in our history, and not only for me. They will stand in judgment before God…. both Stalin and Hitler. But, I feel no hatred towards them…"
Tags: crimes of Nazi Germany in Ukraine, GULAG, History, Majdanek, SMERSH, Ukraine, underground movement, World War II / WW2 / Second World War (1939-1945)