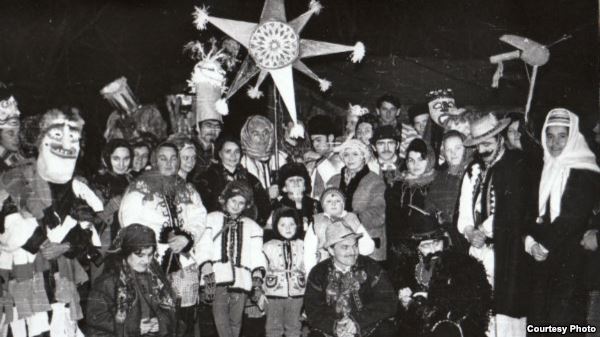 Christmas Vertep in Lviv, 1972. Photo: Yaroslav Lemyk
On January 12, 1972, the KGB began massively arresting Ukrainian "Shistdesyatnyky" (Sixtiers)*. Nineteen people were arrested in Lviv and Kyiv. Among them – Vasyl Stus, Ivan Svitlychny, Vyacheslav Chornovil, Iryna Kalynets, Stefaniya Shabatura, Yevhen Sverstiuk, Leonid Pliushch, and others. Radio Liberty presents some unique photographs from the personal archives of the 1972 Vertep members. The Vertep** was organized by Olena Antoniv, doctor, activist and wife of Vyacheslav Chornovil.
*(The "Shistdesiatnyky" (Sixties) movement  was a literary generation that began publishing in the second half of the 1950s,  and played an important role in popularizing samvydav (samizdat) literature and, most of all, in strengthening the opposition movement against Russian state chauvinism and Russification. The members were completely silenced by mass arrests from 1965–72, and the movement died out in the late 1970s-Ed.)
**(The Vertep performance is an enactment of the Nativity with merry interludes depicting secular life. There can be 10 to 40 Vertep characters, typically among them a sacristan, angels, shepherds, Herod, three kings, Satan, Death, Russian soldiers, gypsies, a Pole, a Jew, a peasant couple, and various animals. Vertep performances date back to the late 16th century. They reached their height in popularity in the second half of the 18th century, but started declining in the late 19th century, and were completely banned during Soviet times-Ed.)
The 1972 Vertep in Lviv was an open protest against the communist government, which was destroying Ukrainian traditions, had banned all religious holidays, and imposed atheism. The participants planned to use the funds collected from carolling to help political prisoners and the publication of the Ukrainian Visnyk (Herald), managed by Vyacheslav Chornovil.
Poet Ihor Kalynets, who was arrested several months after his wife Iryna and survived labour camps and exile, remembers that all the homes were thoroughly searched and books and written materials were confiscated.
"The 1960s were exhilarating years as more and more samvydav (samizdat) literature was  published and read by society; all sorts of manuscripts went through our hands…. Symonenko's poems, Kostenko's verses, great literary works!

The first arrests in Lviv took place in 1965. That's when our ideologue, Vyacheslav Chornovil, appeared. This was the first wave of arrests. The trials started in 1966, many people attended, and the police were unable to control the crowds. Firefighters dispersed people with water. This was the first political rally in the Soviet city of Lviv. There were arrests and murders. Chornovil created the Committee for the Protection of Political Prisoners in the early 1970s and began publishing our samvydav magazine Visnyk. The KGB knew they couldn't intimidate everyone.

Then came January 12, 1972, when all the members of the intelligentsia involved in samizdat literature were massively arrested. I protested against these trials and my wife's arrest. It was the largest wave of repression in the Soviet Union. Individual arrests continued until the end of the 1980s." recalls Ihor Kalynets.
Tags: Christmas Vertep, KGB, repressions, shistdesiatnyky