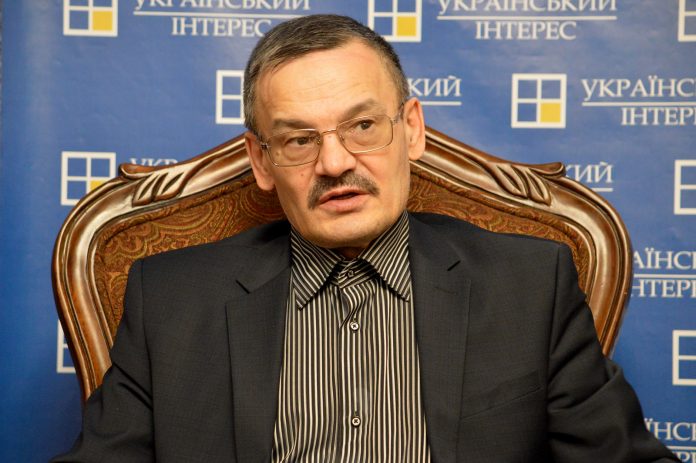 Photo: uain.press, Anton Vladyslavsky 
Rafis Kashapov
, Tatar activist and head of the All-Tatar Public Centre in Naberezhnye Chelny, Tatarstan [second largest city in the Republic of Tatarstan-Ed.], spent three years in a Russian prison camp for criticizing the Kremlin.
Kashapov was arrested in December, 2014 for posting four messages on the Internet where he criticized Russia's annexation of Crimea and aggression in Eastern Ukraine. On September 15, 2015, Judge Dan Shakurov of Naberezhnye Chelny City Court sentenced the civic activist to three years in a general labour colony under Article 282.1 of the Criminal Code ("inciting hatred or enmity") and Article 280.1.2 ("public calls for separatism made over the Internet"). This was the first time a Russian court had handed down a judgement under Article 280.1 "On separatism".
Kashapov did not deny posting the items on the Internet. He did, however, deny that this constituted a criminal act. Speaking at the end of his trial, he asserted that "the case has been completely fabricated by the FSB."
He recently fled to Ukraine where he continues his political activities and protests.
Would you describe the day you left the prison?
Actually, a conflict arose on the day I left the prison; this was December 27, 2017. I was immediately contacted by Russian journalists from Moscow although I was serving my sentence in the Komi Republic. They sent in TV channels, newspapers, news agencies. There were a lot of masked men in military uniforms milling around. I spoke to the journalists and left. Later, the journalists called and told me that everything had been taken away: cameras, notes, and recordings. They asked me to give another interview. I was about to return to Tatarstan, so I had to refuse. I was tired…it was just after I'd been released. Both my basic rights and those of the journalists were openly violated.
When I arrived home, the police were waiting for me. They didn't leave me alone. Later, the chief of police called and showed me documents about specific surveillance measures. They wanted to put me under surveillance for three years.
So, what did this surveillance programme involve?
I was obliged to stay home from six to eight o'clock, wasn't allowed to enter liquor stores or be in crowded places. In order to boost my failing health, I'd bought an annual subscription to a fitness centre… this was no longer possible.  I also needed to say my prayers five times a day and visit the mosque in Chelny on Fridays. So, they were also infringing on my religious rights.
When did you realize that you needed to flee the country?
I got a call from a friend of mine, a colonel, who advised me to leave. He said that if I stayed, they'd imprison me again and I'd get five to seven years in a maximum security prison. Before that, I'd been in a minimum security correctional facility. I thought about it, talked it over with my friends and relatives, and decided to leave the Republic of Tatarstan in the Russian Federation.
Who helped you?
I can't tell you. They stayed behind and the FSB might get to them. The Russian special services have been watching me for over 20 years.
I had to travel in a roundabout way from Chelny to Kazan, and then to Moscow, Minsk, and finally by plane to Kyiv. I wasn't on the Russia's most wanted list, so Belarus couldn't extradite me. That's how I got to Ukraine.
Why did you choose Ukraine?
My colleagues and lawyers advised me. They said that Ukraine was the best place for me. There are many Crimean and Kazan Tatars here. I found many acquaintances, met with public leaders, politicians, journalists, and religious figures. However, in the future I want to move to France.
Why don't you want to stay in Ukraine?
Many people tell me that I should leave; I may be shot or blown up in the street. They say that Russian special services are very active in Ukraine. I continue to denounce and criticize Putin and the Russian government. Wherever I live, I will continue to denounce the Kremlin because such a criminal government should be held publicly accountable.
Why do you say it's a criminal government?
The occupation of Crimea, the invasion of the Donbas – these are actions perpetrated by gangsters. More than a million people left Russia after the sanctions were introduced. The Russian Federation is moving towards a totalitarian regime. In revolutionary times and during the civil wars, many people also left Tsarist Russia, and subsequently the USSR. That country has come full circle again…
What's your status in Ukraine?
I'm a nobody, a person with no legal status. However, I continue my social and political activities. I haven't made any official applications or requests. I was told to go to France. Others told me to stay… that I'd be supported by both Ukrainians and the Diaspora.
Some time ago, I drew up a plan describing why and how Turkic peoples needed a rapid response emergency centre. I've started working on it. We're having a meeting soon, and I may leave Ukraine after this issue has been settled.
Are you in touch with any Crimean Tatars?
I know Mustafa Dzhemilev and Refat Chubarov, as well as many Crimean Tatars who left Crimea after it was occupied by Russia. There's no freedom of speech in Crimea, and basic civil rights are violated every day. I've met many people who had to leave their native land. It's very hard for them; they were hounded and persecuted. In 1552, the Tatars of Kazan were enslaved by Moscow, and now it's the Crimean Tatars' turn… and not only them, but also Ukrainians and Russians.
I see that many people are protesting against President Petro Poroshenko. Just try protesting against Putin in Russia – it's quite useless. Russia is very close to a North Korean-type of dictatorship. When Kim Jong-un's father died, about 3,000 citizens were imprisoned because they didn't cry during the funeral. If something happens to Putin, if Russians don't mourn and weep, we can imagine that there may also be persecutions…a dictatorial regime has been established in Russia.
In general, I'm in touch with the Crimean Tatar community, not only at the Tatar Community Centre, but also in the Mejlis and the Ittifaq party.
We've always worked closely together. May 18 is a day of mourning for Crimean Tatars; they remember the day of deportation of the Crimean Tatar people. For many years, our Tatar Community Centre sent delegations to honour this day. We also provided humanitarian aid.
How would you describe Putin's Russia?
After coming to power, Putin put his own people in power. All central television channels were taken under control, all media was reorganized. If you support the Kremlin's policy, you can work as a journalist. If you criticize the authorities, they'll throw you out. Many journalists have left the country. Many political and public organizations have closed down in the past five years. The Ministry of Justice decides that they're foreign agents and they're immediately liquidated. It was the same when Adolf Hitler came to power…
What is Tatarstan's status today?
In 1994, Boris Yeltsin met with the President of Tatarstan, Mintimer Shaimiev. They signed an agreement "On the delimitation of jurisdiction and mutual delegation of authority". Our basic rights were protected. But, Yeltsin handed over power to Putin who issued a judgment on all the republics. Moreover, Ramzan Kadyrov appealed to all Russians to abolish the presidency in the republics. Kadyrov is Putin's closest ally. When he speaks, it's an order. And so, self-liquidation began…
We're still fighting for the post of president of Tatarstan. However, recently the prosecutor's office ordered the abolition of this post. This infringes on our rights. We Tatars are Russia's second-largest ethnicity. There are more than seven million of us. We have a thousand-year history, but we're not allowed to have our own president? It's our basic right to have a khan, a president or a king. It's up to the Tatars, and in no way should Moscow decide for us.
Would you like to return home?
Of course, but I can't. Tatars are a state-constituting people. We created Volga Bulgaria*, which occupied a large territory and was a prosperous state. We fought twice against the Russians, then against the Mongols. When the Mongols invaded our lands again, they subjugated the whole country. But, we managed to create the Khanate of Kazan between 1438 and 1552, which came to an end when it was conquered by Tsarist Russia.
(*historic Bulgar state that existed between the 7th and 13th centuries around the confluence of the Volga and Kama Rivers, in what is now European Russia-Ed.)
Tell us about you imprisonment?
It was easier in Tatarstan. I felt more comfortable; I was with my countrymen, all the prisoners knew me. We talked, we understood each other. But, when I was moved to Komi, the FSB told me I'd have no access to phones, TV, radio or press. Komi's landscape is characterized by marshlands and dense forests. In Soviet times, the Komi Republic was home to gulags where thousands of people died, and many names are still unknown. They've disappeared without a trace…
The director of the penal colony told me that they'd try to get me released earlier, but I knew this was a lie. They just wanted to break my body and my spirits. He told me to sign a confession, explaining I'd made a big mistake.
What helped you in prison?
In prison, people are divided into several castes. There's the brotherhood of thieves. There are the "suckers", guys who obey the prison regime. Then there are the "clay pigeons", men that are sexually abused by other inmates. Finally, there's the group of hardened criminals.
I was with the brotherhood. I felt comfortable with them. They don't betray you and help whenever they can. When I wanted to send a letter, they somehow managed to do this without being exposed. So, my letters finally reached my lawyers and the media.
But, the brotherhood is a criminal gang within the prison community. They're tough men, sadists, murderers and recidivists, but they helped me. The employees of the Federal Penitentiary Service, the prison gendarmes repeatedly threw me into solitary cells, into the complete isolation ward, deprived me of food, took away my prayer rug, my books, and banned all reading material… but, these criminals helped me.
You mentioned that Ukrainians also helped you…?
When I was serving time, several lawyers came to see me. They said that people were protesting on my behalf in Turkey, Germany, Poland, Ukraine, the US, the Volga republics, Siberia regions, Moscow, and St. Petersburg. Some wrote letters, others demonstrated and created video messages. But, the most active campaigns were organized by Ukrainian, Crimean Tatars, Poles and Turks. It really lifted my spirits.
I've always maintained that Russia has created a gigantic concentration camp to liquidate dissident voices, but they can't break us physically and mentally. I lost consciousness twice, and the last time was just before my release. I walked around the prison like a drunk. Something was probably thrown into my food. I appealed to President Minnikhanov; he reacted very quickly and sent a letter to the authorities in Komi Republic. Suddenly, I was surrounded by prosecutors, an investigative committee, the FSB, and different law enforcement structures. And then, all the fuss died down and everything went quiet. If there'd been no letter, I might have rotted away over there. Perhaps the fact that I turned to the President of Tatarstan helped me.
What is the difference between Ukraine and Russia?
In Ukraine, people are kind to each other. There's no persecution on religious grounds. In Russia, if a person has a beard, he'll be told to report to the nearest police station; they'll take his fingerprints and note his name and surname. They'll ask him what religious group he belongs to and add him to the database as an extremist. In Soviet times, they searched for enemies of the people. In Ukraine, it doesn't matter if you wear a beard or not… no one cares.
Russians have a particular attitude towards people from the Caucasus or Asia. You'll see racist slurs on the Internet and in the media, such as those "gooks" or "slanty-eyes" shouldn't be part of Russia. There's no such thing in Ukraine. People manage to find a common language.
Under what article were you convicted?
280 and 281 – for inciting interethnic discord and allegedly calling for the dissolution of the Russian Federation. But, I also defended the integrity of Ukraine, the rights of Ukrainians and the Crimean Tatars. I've reached the conclusion that they don't want a strong and powerful Ukraine. They want the Ukrainian government to kneel before imperial Russia.
How do people live in remote regions of the Russian Federation?
There are places that have no electricity, never mind gas. Thanks to the first president of Tatarstan, Mintimer Shaimiev, and also Minnikhanov, all the people in Tatarstan have gas in their homes.
75% of the people in power in Tatarstan are Tatars. We can do much better in the economic sphere, but Moscow is stifling us. We get a very small percentage from our oil deposits. Under Yeltsin, we sent 50% of our income to Moscow, and the rest remained with us. But, since Putin became president, we're left with just 10-15%. We've become a colony… If you need to build a cultural centre or a sports complex in our country, you have to ask the Kremlin's permission. If we were given the opportunity to build our own country, we'd live like the people in the Arab Emirates… we've got all the necessary resources and manpower.
How do you see Ukraine?
I see that you have equal rights and you respect all peoples and religions. People generally feel comfortable in Ukraine. But, your leaders must continue moving in this direction. You've also got freedom of speech. You can criticize Poroshenko, mayors, political figures, and opposition leaders. It's part of your culture and heritage. You must staunchly defend your territorial integrity and work towards reintegrating Donetsk, Luhansk and Crimea. If you achieve this, you'll be treated with respect. Finally, I'd like Poroshenko and your MPs to tackle Ukraine's social problems… that should be one of their most important tasks.
Tags: Crimea, Crimean Tatars, GULAG, human rights rights, International, Russia, Ukraine