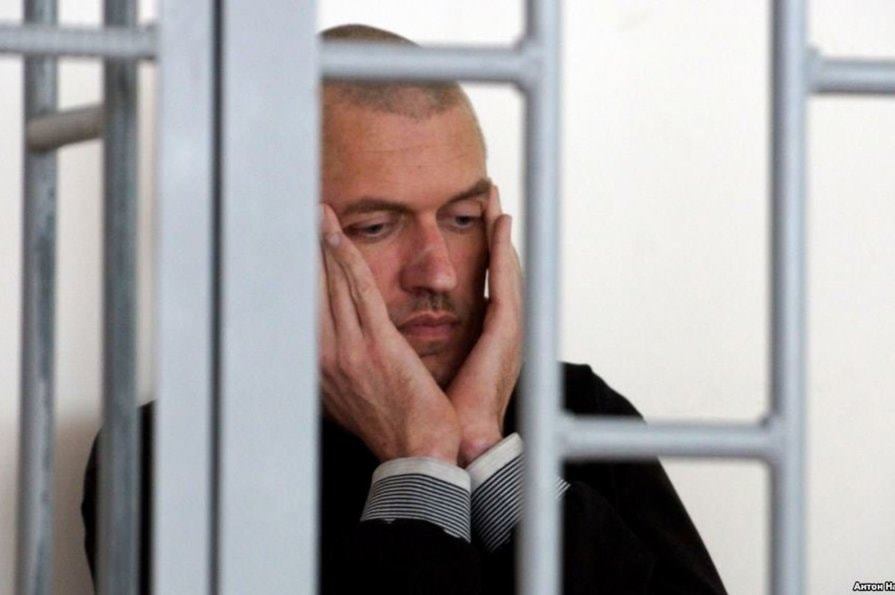 Stanislav Klykh. Photo: Anton Naumlyuk 
Ukrainian political prisoner of the Kremlin Stanislav Klykh has started a hunger strike in a Russian prison, according to Tatiana Shchur, a Russian human rights defender.
"Today, Stanislav Klykh's mother called me and told me that he started a hunger strike. He told her by phone. It's just impossible to endure it any further: the cold cell, the bad food, from which he is always nauseous, and most importantly oblivion! Hope, awakened by expectations of change, threatens to turn into new despair. Stanislav's hunger strike is a call, a prayer, a cry for help addressed to the new president," Shchur wrote on the night of May 24.
Stanislav Klykh was arrested in Russia in 2014 on charges of participating in hostilities against Russian government troops during the First Chechen War in the winter of 1994-1995, as well as killing Russian soldiers. Also arrested under this case is Mykola Karpiuk. Klykh denies his guilt, and his family and friends insist that the convict has never been to Chechnya. On 26 May 2016, the court in the Russian republic of Chechnya condemned Klykh to 20 years in prison. In October 2016, the Supreme Court of Russia dismissed his appeal for protection. Klykh stressed that he was captured by Russian security forces illegally, and testimony and recognition of the Russian investigation were received from him under torture.
His heart-wrenching appeal to the European Court of Human Rights describes the torture in detail.
"After I was arrested on 8 August 2014 I had been pressured to give a testimony. Illegal methods of inquiry and investigation were applied to me, including beatings and injuries with the use of handcuffs and electric current, prolonged kneeling, resulting numerous scars on my wrists, knees, and ankles.
I was also given alcohol and psychotropic drugs which were administered to me intravenously. All this took place in a temporary detention facility in Zelenokumsk and Vladikavkaz between 28.08 on 22.09 2014.
These methods were applied to me to force me to admit that I was allegedly in Chechnya in 1994-2000 and took part in the hostilities on the Dudayev's side, participated in killing soldiers on ploshchad Minutka in Grozny, had intended to carry out terrorist attacks in different cities of Russia and supposedly arrived in Russia for this purpose.
Besides that, I was kept for several days in the Vladikavkaz prison without food or water. As a result, I was brought to a state of dystrophy, could not hold a spoon or pen in my hands, because my hands were dislocated from being chained to the bars.
The execution was attended by unidentified persons in masks that placed a bag over my head and secured it with tape before starting to torture me.
The interrogations usually ended in torture sessions with the participation of persons calling themselves 'Yura,' 'Sasha,' 'Sergei,' 'Veniamin,' and also employees of the detention facilities of Zelenokumsk and Vladikavkaz.
After the 'informal' conversations [torture -ed] with Yura and others, I was led to testify to employees of the detention facilities. From Zelenokumsk, I remember E. Magomedov, from Vladikavkaz – S.Fedin. They also seemed to have been pressured.
In Vladikavkaz, I was given breaks from torture sessions for 2-3 days, so that I could recover. I was fed well during that time, and then torture with electric current followed.
At the detention center in Vladikavkaz on ul. Pushkinskaya, where I was brought from the temporary detention center in Vladikavkaz, I was beaten after my refusal to confess that I was in Chechnya ('Sasha' and 'Kolya' claimed they were from Moscow and gave me vodka for 2 nights in a row, after which I would lose consciousness until the next day), and then sent away on approximately 11 September 2014.
They beat me, and then again I spent several days in the prison yard without food and water, after which he was taken to a cell where I slept on the ground for four nights, because I was not given a mattress and ordered to sleep there.
Then, on the second night, at approximately midnight, masked men came into my cell and dragged me into the basement, after which a man that called himself 'Sasha' began to torture me with electric current which shocked me through metal caps that he placed on my fingers. This lasted for three nights in a row, during which he asked me about Chechnya and Crimea. If his answer did not satisfy him, he increased the voltage.
After each execution, masked men came to disinfect my wounds with iodine and brilliant green, because in some places my skin was worn off almost to the bones (to this day, I can't stand on my knees or wear handcuffs because the layer of skin on my hands is still very thin).
After that a man that identified himself as 'Veniamin' came in, said he was from another organization (?), and assured that I could be released at any day, stressing that my injuries were not life-threatening. He was interested in my thoughts about the museum of the artist Vasiliev in Moscow, archeological investigations in Crimea, photos of VKontakte, my attitude to the conflict in Chechnya. He assured that despite the low status of his organization in Vladikavkaz he would do everything possible o make sure that I was not tortured anymore, and indeed, the torturing stopped.
On the next day, 'Yura' brought me milk and honey, I was given a mattress and allowed to sleep on the bed, but after two days the mattress was taken away again along with hygiene items. 'Sasha' came into the cell, hit me in the ribs and legs and said that I should say that I cut the throat of two Russian soldiers on ploshchad Minutka."
Apart from the torture, there are many things that don't add up in his trial, providing more proof that the case is fabricated and the trial – a show trial. These include the facts that after Klykh was kidnapped, his whereabouts were kept secret for 10 months, the Russians he is being accused of shooting in Chechnya did not actually die from gunfire in Chechnya, according to an investigation by the authoritative Russian Memorial human rights center, and the only incriminating testimony against him comes from a mystery Ukrainian national already sentenced to 24 years
Lawyers and human rights activists have repeatedly told about health problems, in particular, the mental state of Stanislav Klykh, due to significant psychological pressure behind bars in Russia. Lately, Klykh himself complained of severe pain in the heart, kidneys, liver, leg problems and suspected possible skin cancer.
He is not the only Ukrainian political prisoner of the Kremlin to have launched a hunger strike. On 14 May 2018, Ukrainian filmmaker Oleg Sentsov, who had been sentenced to 20 years in Russian prison on fabricated charges, launched a 145-day hunger strike demanding Russia release all the Ukrainian political prisoners of the Kremlin. Pavlo Hryb, a severely ill young Ukrainian man Russia sentenced to 6 years in jail for alleged terrorism, had launched a hunger strike immediately after his sentence on 22 March 2019, which he was unable to keep for a long time due to his poor state of health.  The now-released pilot Nadiya Savchenko has held lengthy hunger strikes against her falsified trial, Ruslan Zeytullaev, a Crimean Tatar construction worker accused of terrorism on the unproven basis of belonging to the peaceful Islamic organization of Hizb ut-Tahrir, had also launched a hunger strike demanding to stop repressions against him and other Crimean Tatars Russia is arresting en masse. And most recently, the Crimean farmer Volodymyr Balukh who was jailed for flying the Ukrainian flag above his house launched a hunger strike on 19 April 2018 and is still keeping to it.
Send a letter or postcard to Stanislav Klykh to let him know he's not forgotten.
Address: Klykh Stanislav Romanovich, born in 1974, Prison #1, 1 Severnaya Str., Verkhneuralsk, Chelyabinsk Oblast, 457670, Russia.
Letters are accepted only in Russian. Full instructions here.
Read also:
Tags: #LetMyPeopleGo, Crimes of the Russian occupation regime in Donbas, Klykh, Russo-Ukrainian War (2014-present), Torture