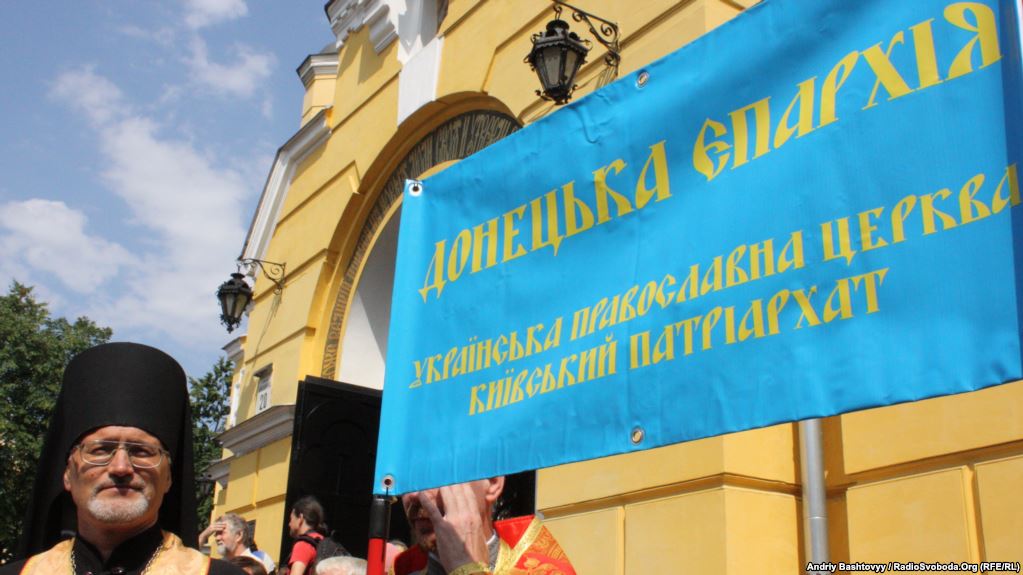 The sign says in Ukrainian: "The Donetsk Diocese of The Ukrainian Orthodox Church - Kyiv Patriarchate." Photo: Andriy Bashtovyy / RadioSvoboda.Org (RFE/RL) 
The so-called "Donetsk Peoples Republic" is preparing to liquidate all structures loyal to the autocephalous Orthodox Church of Ukraine by expelling its priests and seizing their churches, exactly the kind of actions Donetsk and Moscow without basis accuse Ukrainian officials of doing, Dmitry Kirillov says.
The Radio Svoboda journalist says that at present there are 36 churches, a bishopric House of Mercy, and the bishopric headquarters in Donetsk. All are to be closed and their officials expelled from Donetsk as of March 1 because they have not registered with the powers that be there.
As of now, Kirillov continues, this policy of the "Donetsk Peoples Republic" has not been adopted by the "Luhansk Peoples Republic" despite the fact that both are controlled by Moscow. But both entities have a track record of banning churches, seizing their assets and expelling their leaders.
Over the last year, for example, both the "DNR" and the "LNR" have done so against the Jehovah's Witnesses, the Baptists, and the New Life Church. The moves against the Ukrainian Orthodox Church are an extension of what has been going on with regard to these Protestant groups.
Archbishop Serhii who oversees Donetsk and Mariupol for the Ukrainian Orthodox Church, says that the Russian occupiers are taking these steps despite the fact that there have not been any provocative actions by the Ukrainian church, which simply continues to do its job of helping people and conducting religious services.
But the occupiers don't want any independent religious life there, the archbishop says, and they have already turned off the electricity, water and phone services to Ukrainian churches in preparation for closing them down entirely. Only three Ukrainian priests remain, but they are by super-human efforts continuing to serve 80 percent of the remaining parishes.
What is in fact happening, Serhii says, is that the Moscow-organized DNR is "forcing us to go into the catacombs" as believers often had to do in Soviet times.
What Russian officials are now doing is what they falsely accuse Ukrainian ones of, the archbishop continues. "As the leader of a bishopric," he says, "I haven't provoked a single act of seizure of a church of the Moscow Patriarchate" in Ukraine. Such thoughts have not even come into my mind, he continues.
"On the contrary," Serhii says, "I explain to parishioners all the time that … one must also understand the priests of the Moscow Patriarchate and that unity of the faithful is better than remaining on opposite sides of the barricades."
Read More:
Tags: "LNR" and "DNR", Baptist Christians, DNR ("Donetsk People's Republic"), LNR ("Luhansk People's Republic"), persecution, Protestant, Protestant Christians, religious persecution, Ukrainian Orthodox Church