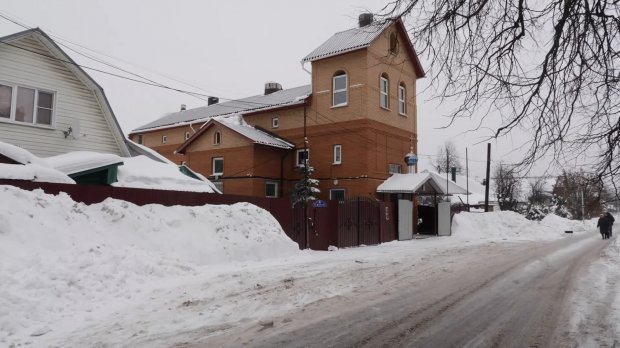 The only church of the Orthodox Church of Ukraine in Russia is located in Noginsk, about 20 miles east of Moscow, in a makeshift facility after the parishioners and the priest were thrown out of their original church building by OMON police on orders of the mayor of Moscow at the time, Yuri Luzhkov. (Photo: 24tv.ua)
Moves by the Russian occupation forces in Crimea to close down or transfer of all Ukrainian Orthodox Churches to the control of the Moscow Patriarchate have attracted considerable attention and even provoked suggestions that Kyiv should respond by doing something similar to Moscow-controlled Orthodox churches in Ukraine.
That makes the case of the only Orthodox Church of Ukraine (OCU) church in existence in the Russian Federation especially intriguing and even instructive. That church, located in Noginsk, a city of 100,000 some 34 kilometers east of the Moscow ring road, has had a complicated history.
In 1993, Ukraine's TV24 reports, Father Andrian was affiliated with the Russian Orthodox Church of the Moscow Patriarchate (ROC MP). When his religious superiors wanted to push him out, he, who was born in Ukraine, and his church's parishioners decided to transfer their subordination to the Kyiv Patriarchate. Russian officials were not pleased, and they sent OMON officers to throw him and the parishioners into the street.
But Father Andrian and a small group of followers found a smaller place to continue to hold services in Noginsk, an arrangement that he and they assumed was sufficiently low profile to allow them to practice their religion in peace. Until 2016, it was; but then a district court ordered that their church be torn down so as "not to disturb the local population."
"Every day we have waited for the arrival" of machines which will destroy "our church," Andrian says. But so far, nothing has happened. In his view, "our church is not touched for the simple reason that in Ukraine, Russia has 12,000 churches, cathedrals, monasteries and three lavras … Therefore, they don't touch some church in Noginsk in order not to lose a lot in Ukraine."
"If it weren't for the references to Patriarch Epiphany [the head of the OCU – Ed.] in the services" of the Noginsk church, the Ukrainian television channel reports, "even parishioners would not know that here [in the middle of Russia] is an Orthodox Church of Ukraine."
Further Reading:
Edited by: A. N.
Tags: Kyiv Patriarchate, Oppression of Ukrainians in Russia, Russia, Ukraine, Ukrainian Orthodox Church