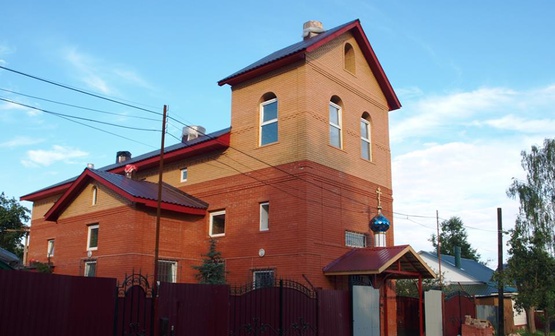 Ukrainian Orthodox Holy Trinity Church in Noginsk, Russia  
The City Court of Noginsk (Moscow region) has ruled to demolish the Orthodox Holy Trinity Church that is part of the Bogorodsk Diocese of the Kyiv Patriarchate.
This is the only church under the jurisdiction of the Kyiv Patriarchate situated in Russia. It has been here since the early nineties. In 1994, the abbot of the church, Metropolitan Adrian, an ethnic Ukrainian, transferred it to the UOC-KP. Parishioners told us that the Moscow Patriarchate has repeatedly persecuted their church, but it is only since the beginning of the Russian-Ukrainian war that Russian religious and secular authorities have intensified their actions against the Ukrainian church.
"For example, before the war, they would hang posters around the town saying that we're a "schismatic church", that we're not blessed by God. The Cemetary and Funeral Bureau would refuse to sell us coffins and burial accessories if we wanted to have the funeral service here in our church. Since the beginning of the Russian aggression, such underhanded persecution has turned into an outright clean-up operation."
The Ukrainian Church has been repeatedly denounced on television, radio and in the newspapers. Posters plastered around the town have also become more violent and aggressive. The UOC-KP is called "a false church", and its priests are accused of "welcoming the junta's military operations in eastern Ukraine" and "spreading that it's not a sin to kill people in the Donbas and Moscow".
Harassment reached its peak five months ago when the Noginsk district administration laid claim to church land. Parishioners believe that the Moscow Patriarchate is behind these court proceedings. Svyatoslav Skorokhod, priest at the Holy Trinity Church, explains:
"We've been accused of building a church instead of a residential building on this land. We privatized this land legally a long time ago, so we can build whatever we want. We submitted engineering and architectural plans and we had all the required technical documentation. But, we all know it's a political issue!"
The priests intend to appeal the decision in court. This is not the first case of of religious persecution in Russia. In 2015, the church and bell tower belonging to the Kyiv Patriarchate were demolished in the village of Pobeda, Penza region.
Tags: Donbas war (2014-present), International, Kyiv Patriarchate, Moscow Patriarchate, News, Orthodox Church, Persecution, Russia, Russian Orthodox Church, Ukraine, Ukrainian Orthodox Church, UOC-KP