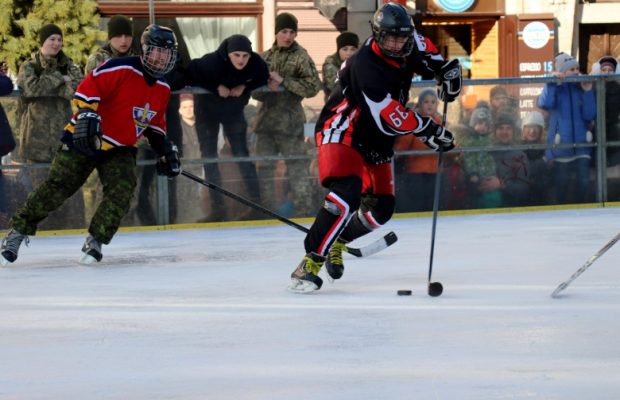 A hockey match match between the Canadian Armed Forces team – military troops of Operation UNIFIER stationed at the Yavoriv training grounds – and a local club "Галицькі леви" (Galician Lions) was recently organized on the central skating rink of Rynok Square in Lviv.
The Ukrainian club included younger members and coaches of children's teams. The Canadian team had one female member, an employee of the CAF press service.
The Canadian soldiers wore hockey shirts, but standard hockey pants were replaced by army fatigues.
Encouraged by locals and hockey fans, both teams showed great spirit and camaraderie during the game. The match ended in a draw – 6:6.
The game went into overtime with three penalty shots for each team. The Galician Lions won unexpectedly, shooting three times into the Canadian goal. The Ukrainian goalkeeper turned out to be faster on the draw than his Canadian counterpart. Final score: 3:0.
Before the game, Colonel Oleksiy Krasiuk, representative of Hetman Petro Sahaidachny National Academy of Land Forces and Lieutenant–Colonel Pierre Leroux, Commander of Joint Task Force-Ukraine welcomed both teams and the spectators with a strong message: "May friendship win today and in the future!"
The Canadians received souvenirs and memorable gifts from their Ukrainian friends.
The Military Orchestra of the National Academy of Land Forces entertained the crowd with festive music and marching songs. After the game, everyone was treated to a feast of delicious donuts smothered in maple syrup, a surprise treat prepared by our Canadian friends.
Hockey Day was organized by the Lviv City Council and Ambassador Extraordinary and Plenipotentiary of Canada to Ukraine Roman Vashchuk.
Operation UNIFIER is the Canadian Armed Forces (CAF) mission to support the Security Forces of Ukraine. The operation's focus is to assist with security force training. This will help them improve and build their capability and capacity. The CAF coordinates its efforts with the US and other countries that support in the same way. Military training is one part of Canada's overall support to Ukraine. Since the start of the mission in September 2015, and as of December 1, 2018, more than 10,300 Security Forces of Ukraine (SFU) candidates have participated in the training provided via 230 course serials spanning all lines of effort. The participants of Operation UNIFEER are trained at the International Centre for Peacekeeping and Security near Yavoriv in western Ukraine.
All photos by Roman Kravs (Galician Lions Hockey Club) and the Hetman Petro Sahaidachny National Academy of Land Forces press service
Tags: Canadian Armed Forces, Hockey Day, Lviv, Operation Unifier