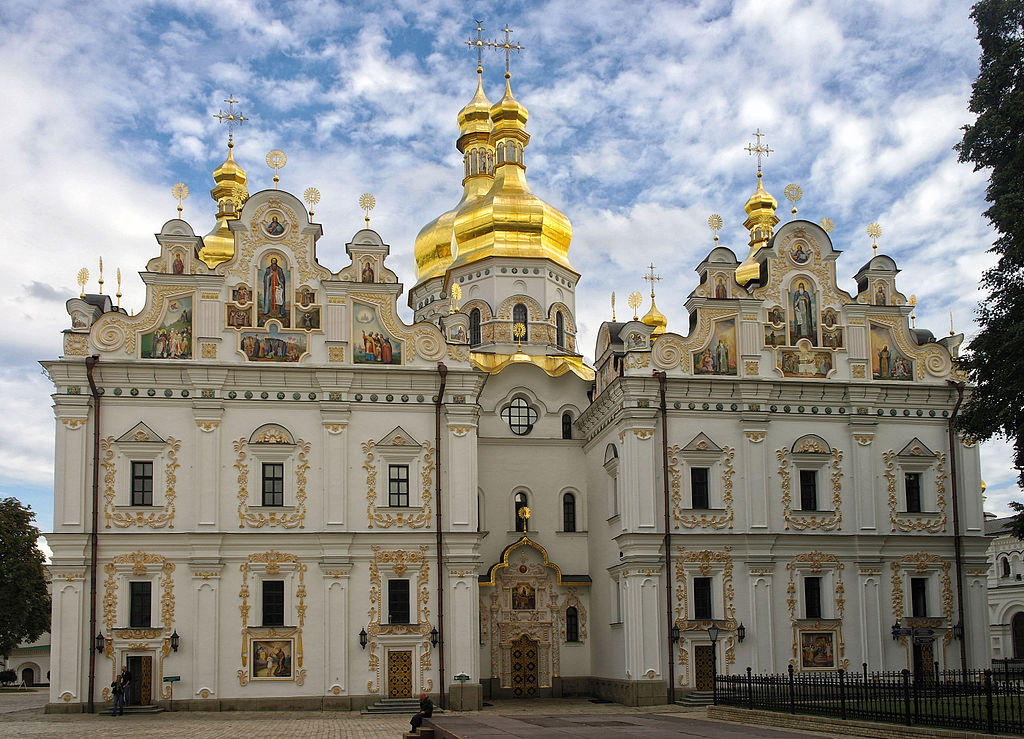 The Cathedral of the Dormition is one of a close to dozen cathedrals and churches at the Kyiv Pechersk Lavra in the center of the Ukrainian capital city. The Lavra is the residence of Moscow Patriarchate's exarch in Ukraine and houses the exarchate's chief monastery, theological academy and seminary. (Photo: Wikipedia) 
The Ukrainian Orthodox Church of the Moscow Patriarchate (UOC MP) will remain in existence after Ukraine forms its own autocephalous national church, but the Russian church will be "marginalized, reduced in size and cease to be influential in the Orthodox world," according to Andriy Yurash, a specialist on the politics of religion at Lviv University.
Organizationally, he says, "the UOC MP will gradually split apart, with all the more active bishops and priests leaving it because they share the ideology of Ukrainian Orthodoxy." Some have already signaled their intentions.
"I am convinced that there are several dozen hierarchs who under the circumstances will be ready to join the majority of their priesthood to the movement toward autocephaly."
That will change the face of religious life in Ukraine far more quickly than many now assume.
At the same time, however, he says that the UOC MP "as a structure in unity with the Moscow Patriarchate will be preserved." No one should have any doubts about that as 14 to 19 percent of the Ukrainian population remains "conscious supporters of the Moscow jurisdiction" and they will be given all the necessary conditions to continue to follow its lead.
But with time, that church "will be marginalized, reduced in side and not occupy the niche it does now of the most numerous and influential single canonical structure in the Orthodox milieu. All elements of its identity with the creation of a national church will be destroyed. [And] it will lose the independent organic unity" it has had for the las 25 years.
Further Reading:
Tags: autocephaly, autocephaly for Ukrainian Orthodox Church, Moscow Patriarchate, Russian Orthodox Church, Ukrainian churches, Ukrainian Orthodox Church