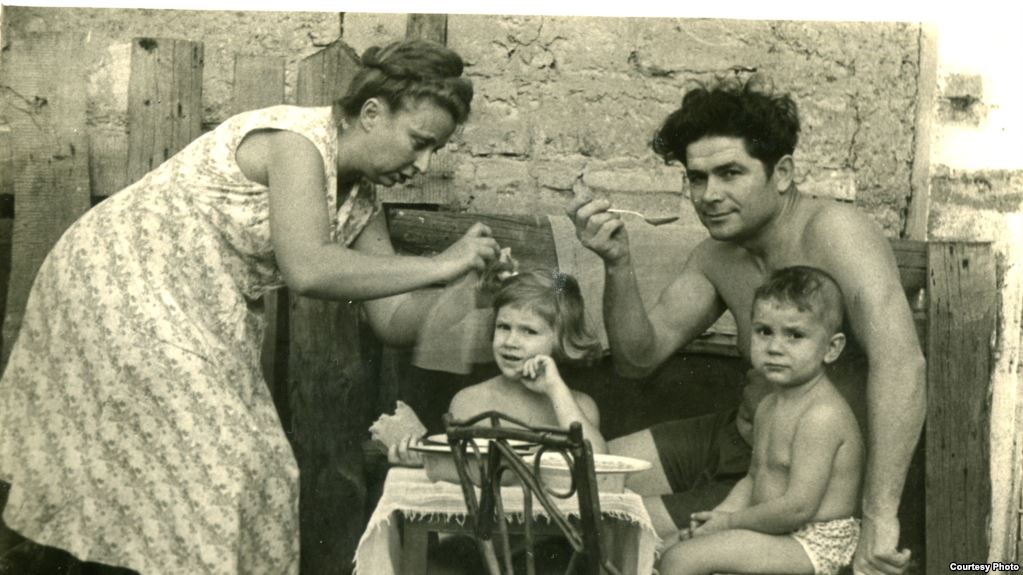 Vasyl Makukh with his family. Photos from the archive of Vasyl Makukh's wife 
November 5th marked 50 years since the violent death of young Vasyl Makukh. On November 5, 1968, Vasyl Makukh committed an act of self-immolation on Khreshchatyk Boulevard in Kyiv. Running through the street, his clothes and body ablaze, he appealed to his countrymen to fight for an independent and free Ukraine, and for an independent and free Czechoslovakia.
Vasyl Makukh was born on November 14, 1927 in Lviv Voivodship, Second Polish Republic. He was a veteran of World War II, a Ukrainian activist, political prisoner, and member of the Ukrainian Insurgent Army (UPA). Despite years of hard labour in remote Siberian penal colonies, interrogations, torture and persecution, Vasyl had only one purpose in life – a free and independent country.
As a Soviet soldier in November of 1944, Makukh defected and joined the Ukrainian Insurgent Army. He was 17. In February of 1946, he was wounded and captured after a shootout with Soviet and Polish border guards at the Soviet-Polish border. He was sentenced to ten years of forced labour in Siberian Gulags.
Vasyl was released in 1956, but remained under constant surveillance of the Soviet secret services.
Vasil Makukh knew that he was under surveillance, but this did not deter him from his mission. When he wrote to his friends and family, he always ended his letters with "Слава Україні!" (Glory to Ukraine!).
He met his wife Lydia in a special settlement where she was also serving ten years imprisonment. In 1956, they were allowed to return to Ukraine and settled in Dnipro where they got married. Vasyl told his wife more than once: "Whether it's today or tomorrow, I will give my life for a free Ukraine!"
When the Soviet army of the so-called "peaceful" Warsaw Pact invaded and occupied Czechoslovakia in August 1968, Vasyl did not hesitate. He said goodbye to his friends and relatives, packed his bag, and took the train to Kyiv.
Vasyl Makukh wanted to draw his countrymen's attention to the russification of Ukraine, and to the occupation of Czechoslovakia. He walked out into Khreshchatyk Boulevard, doused himself with gasoline and struck a match. Passers-by saw a living torch running fearlessly through the street shouting: "Long live free Ukraine!", "Invaders go home!"
The police tried to quench the fire, but it was too late. Vasyl fell to the ground unconscious, although doctors received an order from the KGB to do their best to save his life.
The flame still burns…
Vasyl Makukh died a violent death, but his flame still burns. His heroic suicide hit the headlines across the world, and especially in Czechoslovakia. On January 16, 1969, following in Vasyl Makukh's footsteps, a 20-year-old Prague student, Jan Palach stood up "for our freedom and your freedom", set himself on fire, and ran through Wenceslas Square in Prague. He died in hospital on January 19, 1969.
Photo gallery: August, 1968. Soviet invasion of Czechoslovakia
Each year, Czechs gather in Wenceslas Square, light candles and lay flowers to commemorate the young hero who sacrificed himself in the name of freedom. They also remember the Ukrainian hero Vasyl Makukh, who gave his life for the independence of Ukraine and Czechoslovakia.
"Vasyl Makukh's sacrifice was repeated by other freedom fighters in Lithuania, Poland and Czechoslovakia. Ten years after Vasyl's death, Oleksa Hirnyk committed suicide by self-immolation on Chernecha Hill in Kaniv to protest against the russification of Ukraine by the Soviet regime." said the head of the Ukrainian Institute of National Memory, Volodymyr Vyatrovych.
Vasyl Makukh would celebrate his 91st birthday on November 11. A year ago, a group of Czech activists launched an initiative to name one of the streets in Prague in honour of Vasyl Makukh. However, Pavel Riacek, an employee of the Institute for the Study of Totalitarian Regimes in Prague, told us (Radio Liberty-Ed) that the "group hasn't contacted them yet".
"Yes, Vasyl Makuh deserves to have a street in Prague named after him, just like the Pole, Ryszard Siwiec, whose name was given to the street where our institute is located. It's a great pity that the group of Czech activists has failed to launch this initiative – to name one of the streets in Prague in honour of the Ukrainian hero Vasyl Makukh." said Pavel Riacek.
Vasyl Makukh is remembered in Ukraine. A memorial plaque commemorating his heroic sacrifice was installed Khreshchatyk Boulevard on January 26, 2017.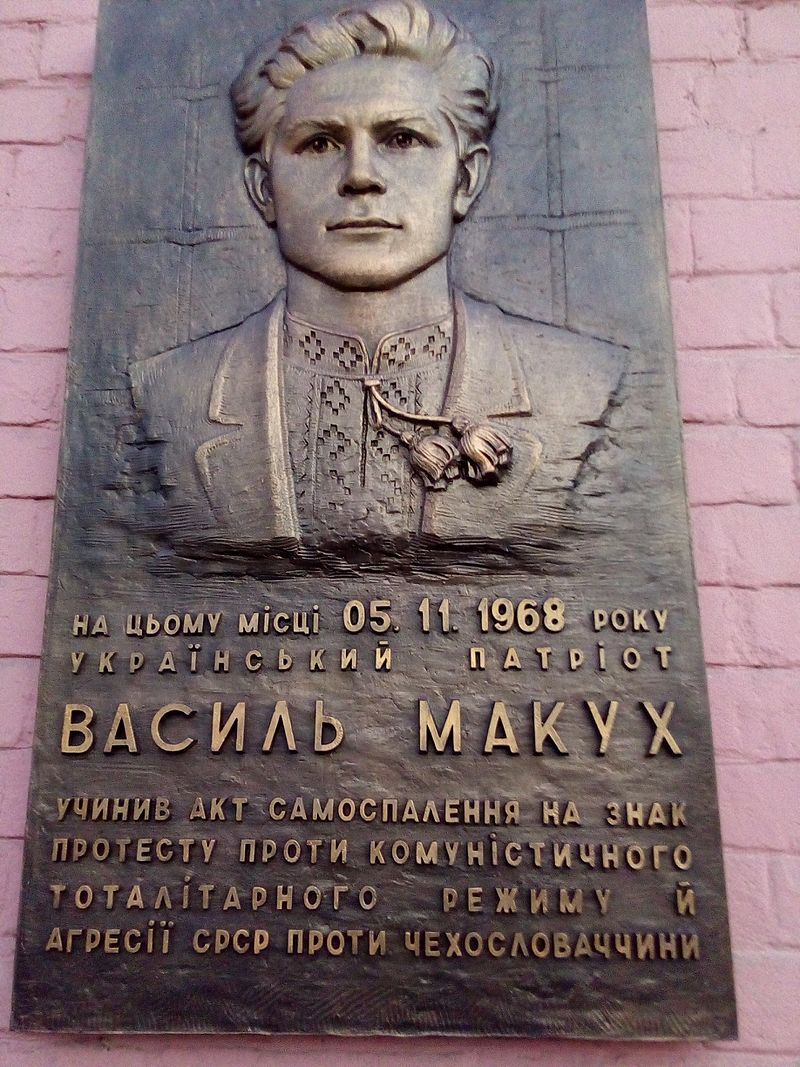 Tags: #ThisDayInHistory, History, Jan Palach, Russification, self-immolation, Soviet invasion of Czechoslovakia, Ukraine, Vasyl Makukh