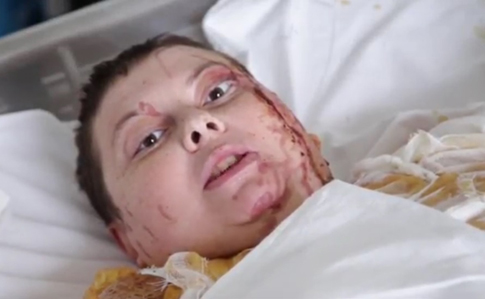 Civic activist Kateryna Handziuk  
Activist and advisor to Kherson mayor, Kateryna Handziuk, who was doused with sulfuric acid nearly two months ago, has published a video appeal to the Ukrainian government and Ukrainian citizens. In it,
Handziuk says that it's physically very difficult for her to record this appeal, but "it's much easier than having to live with and understand all these separatists and Party of Regions advocates… and other garbage in our society".
"Yes, I know I look terrible at the moment, but at least I'm being looked after and treated in a hospital. Ukrainian doctors are taking good care of me. And, I'm convinced that I look much better than the Ukrainian judicial system because nobody's ready to grapple with that problem at the moment." she notes.
Handziuk severely criticizes the law enforcement agencies for failing to apprehend the hitman and organizer of the assault.
She also reminds the government that 40 other activists have been attacked in the past year.
"Over the past year there have been 40 attacks on civic activists, and not one person has been named or brought to justice."

"Who's behind all these criminals? Who's covering and protecting the organizer? Why have so many investigations been sabotaged? Why should we put up with this while the most dedicated activists are being killed or crippled? Why should we encourage ordinary Ukrainians to engage in social activities and civic activism if we cannot protect them?" asks the activist.
Nevertheless, Handziuk believes that the guilty persons will be found, punished and sentenced.
On July 31, Kateryna Handziuk was attacked in Kherson by an unknown assailant who poured concentrated sulfuric acid over her face and body.
Handziuk suffers from burns to 40% of her body, and she sustained severe eye damage. The activist has undergone multiple surgeries and is still in intensive care in Kyiv.
Under pressure from the public and the media, as well as loud backlash from international organizations, the legal qualification of the crime has been modified several times: first it was qualified as "hooliganism", then "intentional violence to cause grievous bodily harm", and finally "attempted murder" (Article 15 of the Criminal Code of Ukraine refers to an attempt to commit a crime, Article 115 – to intentional homicide).
In addition, the investigator in the Handziuk case has agreed to consider this incident as a case of contract killing.
On August 3, after speaking with Kateryna Handziuk, Prosecutor General Yuriy Lutsenko announced that the investigation of this crime would be transferred to the Security Service of Ukraine (SBU).
Kateryna Handziuk's video appeal (in Ukrainian, 3 min.)
Tags: Activists, Civil society in Ukraine, General Prosecutor's Office, Kherson, News