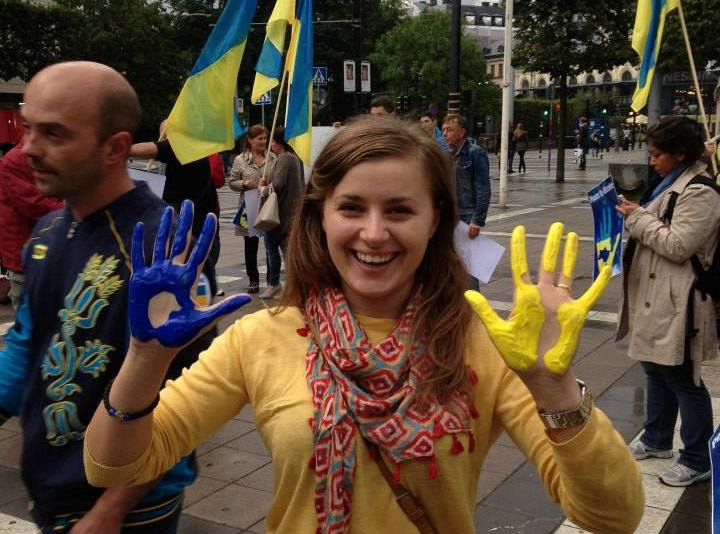 Activist during a demonstration for peace in Ukraine. Stockholm, September 2014. 
This article is part of #FormulaOfAction, a project to share the experience of conducting successful actions and campaigns among Ukrainian activists. We search for the secrets that make Ukrainian activism have impact, and we want to know your story! Join the Friends of Ukraine network and tell us about it
here
.
Ukraine has been a significant part of political life in Sweden. Swedish politicians have been campaigning for Euromaidan even independently from Ukrainians, while Ukrainians can tell a lot about confrontation with local pro-Russian groups.
Sweden has been consistently providing aid to Ukraine, and it was the first Northern European country to acknowledge Ukraine's independence, Ihor Sagach, Ukraine's ambassador to Sweden emphasizes.
"Sweden doesn't acknowledge the annexation of Crimea, calls the military intervention of the Russian Federation by its name, and provides much help in implementing projects and reforms in Ukraine," he said before the action of support for Nadiya Savchenko on 6 March.
Euromaidan Press asked Ukrainian activists in Sweden to share their Formula of Action and also asked how to effectively present Ukraine abroad two years after Maidan.
Develop a network of partners among local activists
During the revolution, many Swedish politicians and parties organized their own rallies and protests to support Ukraine. Events organized by Ukrainians were supported by prominent politicians such as Carl and Anna Maria Bildt, as well as influential institutions such as the American Embassy.
The activists emphasized that bringing the "big players" to the game greatly increases media coverage and therefore publicity. Maintaining good relationships with such partners and finding new ones is a logical next step. For example, after Turkish-Russian relations deteriorated, Turkish expats' communities could be more interested in supporting Ukrainians' initiatives.
Andriy Kachur from Ukrainian Youth in Sweden gave this example of a successful interaction with the local community:
During campaign season for the Swedish parliamentary election in the fall of 2014, all the Swedish political parties had tents in the city center. The Ukrainian activists came up with the idea to offer to hang Ukrainian flags on each tent. "Only the Swedish democrats (right-wing party), and the Communists didn't agree. Otherwise it looked great. People stopped by and asked more about Ukraine, and expressed their support," Andriy said.
Adapt to the local media landscape
Just like other activists abroad, Swedish Ukrainians managed to develop their own pool of journalists and become known to the broader public. In countries like Sweden, where there are few Ukrainian expats, activists advise consolidating efforts. This will make your events and campaigns much more significant.
Swedish media, Kachur explained, follow mainstream trends. Just like the topic of Ukraine went viral in 2014, 2016's trend is the migration crisis. On one hand, this makes pushing Ukrainian topics more difficult now. On the other hand, this tendency may be very useful.
Read also: How a handful of activists turned the tide in pro-Putin Czech Republic| #FormulaOfAction
In November 2015 a Russian piano player named Valentina Lisitsa was invited to perform in Norrköping (50 km from Stockholm). Lisitsa is known for her sharp anti-Ukrainian rhetoric and had to cancel concerts in Canada due to protests from local pro-Ukrainian communities.
Kachur told us that first all the Ukrainian organizations in Sweden signed a joint letter to the commune that was providing the concert hall for the musician. When the local officials hesitated in answering, activists called by phone and reminded them of cases when Lisitsa had been criticized or prevented from performing in other countries and why. However, their arguments were not heard.
Then Kachur started calling newspapers – from national papers (which also seemed to be uninterested) to local ones. Finally, one of the key local newspapers, Norrköpings Tidningar, invited Andriy to the interview… and it began.
As soon as it got published, a pro-Russian article appeared in other local media. Then the neighboring towns picked up the topic and the "Lisitsa debate" took over local outlets. Finally, Norrköpings Tidningar's chief editor wrote a statement that his newspaper will boycott the concert. That brought the topic all the way to Stockholm, with key TV  and radio stations covering the case.
Lisitsa's concert wasn't canceled, despite all this. When I asked Andriy whether many people attended it, he shrugged his shoulders: "The media ignored it. So looks as if it didn't happen at all."
To show a positive Ukraine, reach out for culture
After the newsworthy revolution drama is over and the war stories meet compassion fatigue, what can Ukraine use to stay interesting for the world?
It is culture, Swedish activists believe.
Alyona Kashyna from Ukrainian Youth in Sweden stated that it should be something progressive and contemporary, like the Dakha Brakha band that made a very good impression on Swedes. Organizing events strictly for the expats helps develop and maintain the community, Kashyna shared.
Zoryana Kiktsö from Ukrainska Kvinnounionen i Skandinavien (Union of Ukrainian women of Scandinavia) explained how. From her almost 20 years of experience, she knows that every piece of cultural information needs some background to be digested.
"Pikkardiyska Tertsiya came here once. The Swedes got very excited and kept asking: "It was Il Divo, right?", she tells. Kiktsö suggested paying more attention to the informative component of every campaign and event.
"When we first came here, it turned out that people know of borshch as "Russian beetroot soup." So we started teaching about our national dish, and then holding festivals", she shared.
Beading, embroidery, and wicker weaving are unique tools to present Ukrainian culture and fascinate foreigners. – But introducing Ukrainian culture to the host community also demands longterm efforts.
Culture is what will allow us to present Ukraine in a positive way, Kiktsö stated. "Enough crying and begging. We are an undefeated, enduring and hardworking nation. Enough of making shows and waving flags. Let's show our positive sides, let's think of what each of us can do."
Tags: #FormulaOfAction, Activists, Sweden, Ukraine