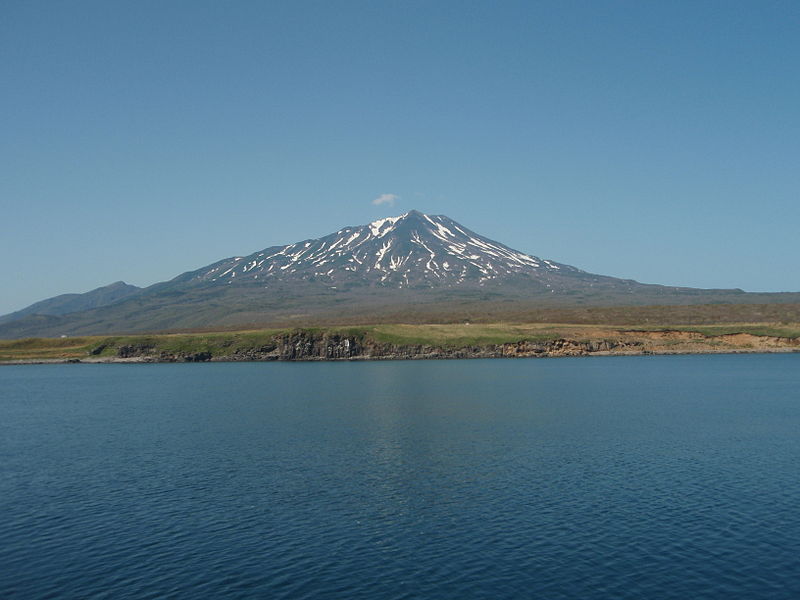 A volcano named after Bohdan Khmelnytsky, a prominent Ukrainian historical figure (1595-1657), on Iturup Island, a part of Japan's Northern Territories (Image: Wikimedia Commons) 
Yoshihiko Okabe, an expert on Russia at the University of Kobe in Japan, says that "about 60 percent of the population" of the Northern Territories – what Moscow calls the Kuriles – consists of ethnic Ukrainians, the result of the forced resettlement of populations there by the Soviet government after 1945.
Speaking at an international conference in Kyiv on "Russia's Violation of International Law," the Japanese expert said that he had determined that during a recent visit to the islands at which time he noticed that a large share of the people there have last names ending in "-chenko."
Okabe said Ukrainians in particular should not refer to the Northern Territories as the Kuriles but back Tokyo's position. To call them the Kuriles, he continued, is to "recognize that these islands are Russian territory.
"By calling them the Northern Territories of Japan, we can attract attention to the fact that Japanese territory was illegally occupied by Russia."
His comments reflect both the history of these islands and the long-held position of Japanese officials. After the Soviet Union seized these islands in 1945, it did exactly what it did in the western borderlands of the USSR: it moved its own citizens from neighboring regions into them.
In the case of the Northern Territories, these were primarily Ukrainian people living the the Russian Far East, what Ukrainians refer to as the Zelyony klin or "green wedge." For background on this, see Ivan Svit's Ukrains'ko-iapons'ki vzaiemyny (in Ukrainian, New York, 1972, 371 pp.) and John Stephan's The Russian Far East (Stanford, 1994.)
Japanese officials have long taken the position Okabe does. Yuriko Koike, a former Japanese minister and currently head of the Tokyo prefecture, observes that
"like everywhere in Russia, the residents of the Kurile islands became poor, suffering from the actions of an unprofessional and corrupt government."
"By a strange irony of fate," Koike continues, "among the current residents of the Kuriles are a large number of ethnic Ukrainians." On Iturup, for example, "Ukrainians form on the order of 60 percent of the population." Would Vladimir Putin accept the results of a referendum by them "as easily as he did in Crimea?"
Read More:
Tags: ethnic Ukrainians in Russia, International, Northern Territories (Kuriles), Russia, Russia-Japan relations, Ukraine, Ukraine-Japan relations, Ukrainians in Russia