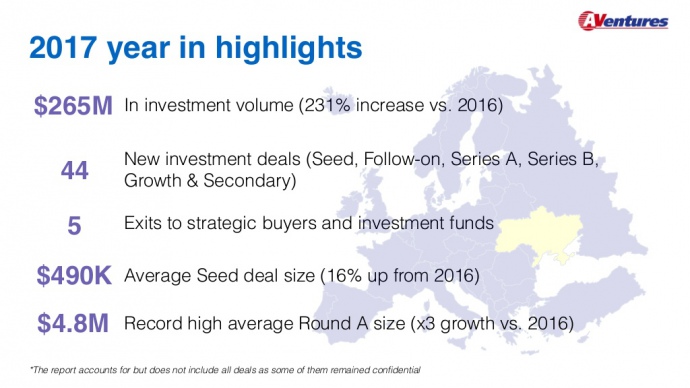 The total amount of investments in Ukrainian IT startups in 2017 increased to $265 million, representing a 231% increase from 2016.
The data are published in the report "The Dealbook of Ukraine" by the venture fund AVentures Capital based on the results of its study.
According to the research, 44 transactions were concluded in 2017. In 90 percent of the deals, foreign investment funds, such as General Catalyst, IVP, Spark and Almaz Capital, led investments with the participation of Ukrainian investors.
Foreign capital accounted for 96% of total investment, which is notable considering that in 2016 and earlier years the shares of foreign and domestic capital were almost equal.
"The total amount of investments in Ukrainian IT companies over the past 5 years amounted to $ 630 million, including with the participation of top world investors, which indicates the level of development and sustainability of the domestic industry despite the country's economic and political problems," said Managing Partner of AVentures Capital Yevgen Sysoyev.
Speaking about sources of early funding, in 2017, Ukrainian start-ups attracted investment primarily from venture funds (90%), from angels (6%) and on the crowd-funding platforms (3%).
The largest disclosed deals in 2017 were a $110 million investment in Grammarly, $30 million in BitFury, $10 million in Petcube, and $7 million in People.ai.
Recently, 18 Ukrainian IT companies (with large offices or founded in Ukraine) were included in the list The 2017 Global Outsourcing 100 compiled by IAOP association.
Read More:
Tags: foreign direct investment, high technology, investing, investment, investments, investors, New Ukraine, science, Science and Innovation, startup, Startups, Ukraine, Ukrainian IT industry, Ukrainian science and technology