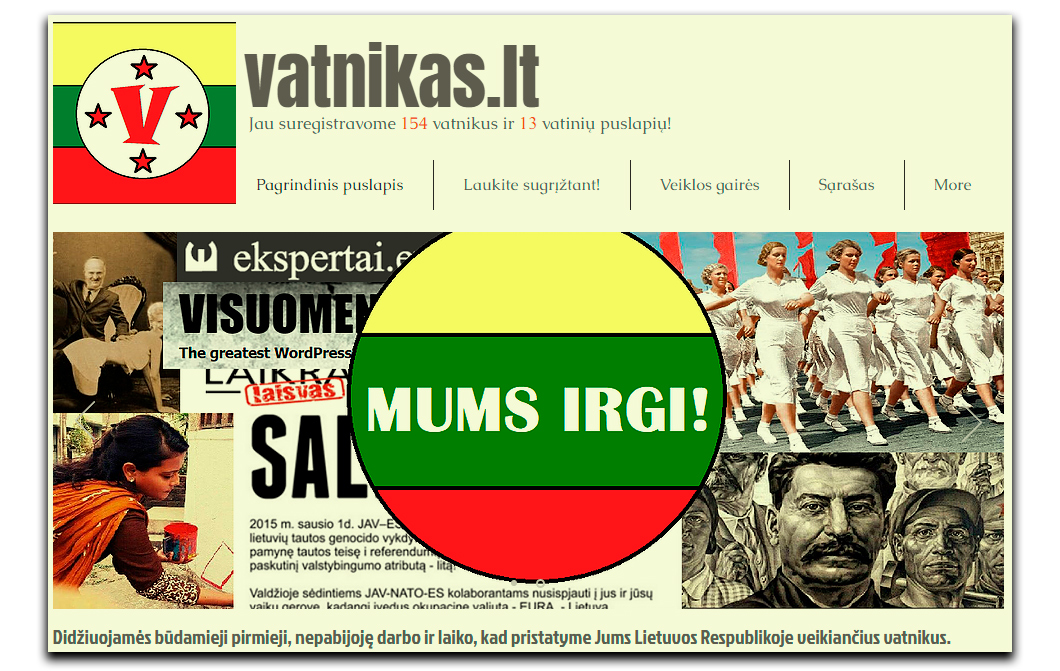 Screenshot of vatnikas.lt 
A list of about 1,000 Lithuanian civic activists had 
been recently published
 on a Russian website. Among those listed, there were many who fight Kremlin propaganda. In retaliation, the patriotic Lithuanian activists launched their own online database of "Russian trolls" in Lithuania.
The Vatnikas online database has been launched to fight the spreaders of the Russian propaganda, Lietuvos Žinios outlet reports.
According to the outlet, the website reveals the names of the "spreaders of Kremlin's hostile propaganda and disinformation who manipulate and strive to influence people."
At its first days, the database lists only 154 "Russian trolls" and 13 Facebook pages, however, it's going to grow.
"The goal of our Facebook page and the site is the regular, intense and grim unmasking of "vatniks" and struggling their propaganda within the law," claim the creators of the  Vatnikas project who wished to remain anonymous, pointing out that they are civil society actors who call themselves "elves," in contrast with "trolls" who spread propaganda.
"In Lithuania, elves no longer only live in fantasy books – every day, they fight a real battle against fake news trolls on the Internet."
"Obviously, this is a consequence of information war," chairman of the Lithuanian Journalists' Union Dainius Radzevičius commented to Lietuvos Žinios, "Such projects would not emerge if there were a different geopolitics and relations between our states [Lithuania and Russia]."
The Ukrainian Myrotvorets Center which lists online tens of thousands of those "whose actions have signs of crimes against the national security of Ukraine, peace, human security, and the international law" has welcomed the "Lithuanian nationalists" (as they were labeled in a quoted report by a Russian propaganda media outlet) in regard to launching the Vatnikas project and offered its help.
"Our employees are ready to give the methodical assistance and share our many years' experience of catching of Russian and pro-Russian destructive vatnik elements," the address by Myrotvorets to the creators of Vatnikas reads.
---
Read more: