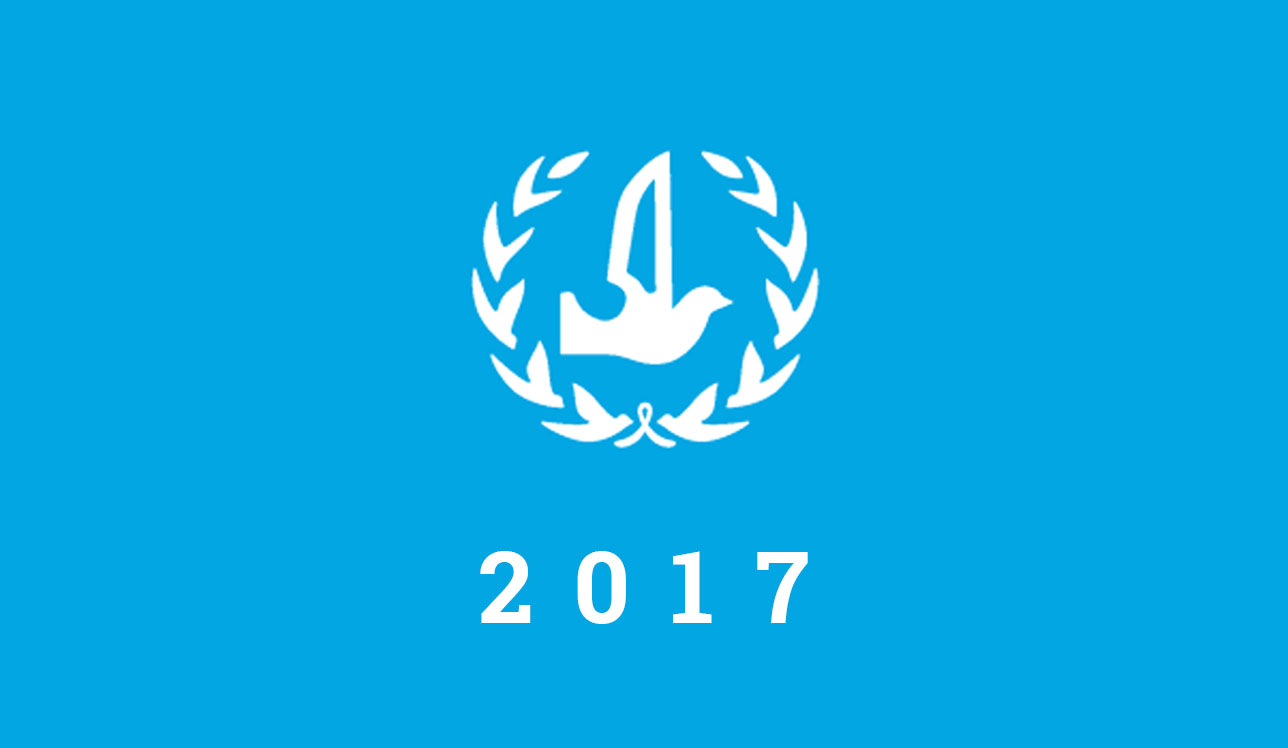 2017 is coming to its end – the perfect time to look back and reflect on the passing year. This year was many things for Ukraine, but boring is one thing it was not. Here is how Euromaidan Press readers and its editorial board will remember the passing year. We've selected 10 articles which got the most views from our readers (not always proportional to social media shares), 10 articles about the key moments of the passing year (chosen by our editorial board), and special features we think you shouldn't miss.
Editorial board choice: most important moments in 2017
1. After visiting Eurovision, most EU citizens want to see Ukraine part of EU
Ukraine holds Eurovision! Despite scandals associated with money swindling and the Russian contestant being barred from entering Ukraine due to performances in occupied Crimea, the show was a huge success, and opened up Ukraine for foreign guests, many of whom had visited the country for the first time. A poll conducted at this time revealed that EU citizens became more supportive of Ukraine's European aspirations once they saw the country for themselves.
2. The morning after: first day of EU-Ukraine visa-free era
Ukraine gets visa-free travel on 11 June 2017. Many Ukrainians had waited so very long for this day. While many were skeptical of it ever happening, the first day has finally arrived. For many, traveling is still too expensive, but the introduction of visa-free travel to the EU means that Ukrainians have received one more important liberty – that of freedom of movement. However, this right can be revoked if Ukraine backtracks on its reform agenda, and this option was already discussed in December, when a bill which would make Ukraine's newly-created anti-corruption bodies politically dependent entities was submitted to Parliament.
3. Will Ukraine finally have a new judiciary? Explained by the Public Integrity Council
Ukraine's anti-corruption reforms will be useless if its notoriously corrupt and politically dependent courts won't bring perpetrators to justice. This year, Ukraine made the decision which will define its future for the next decades – the candidates to the new Supreme Court, the core judicial institution influencing processes in all the areas of life, have been selected. Opinions about this squad differ dramatically. The Public Integrity Council, which researched the professional integrity of the judges, explains what will be in store for Ukraine in the future.
4. Imprisoned Crimean Tatar leaders Chiygoz and Umerov released by Russia, flown to Turkey
Crimean Tatar leaders Akhtem Chiygoz and Ilmi Umerov, who were sentenced in occupied Crimea in politically motivated trials, had been reportedly pardoned by Russian President Vladimir Putin and landed in Turkey on 25 October. This marks the first major release of Ukrainians imprisoned by Russia on political motives since the exchange of Ukrainian political prisoners Gennadiy Afansyev and Yuriy Soloshenko on 14 June 2016.
5. After the coup in occupied Luhansk: a real junta and more Russian FSB control The leaders of the Russian-ruled "Luhansk and Donetsk People's Republics" ("LNR" and "DNR") in eastern Ukraine have made a career out of parroting the Russian propaganda narrative of Ukraine's Euromaidan revolution being a "coup," despite the outcome of this popular uprising being early presidential and parliamentary elections in 2014. But in November-December 2017, the "LNR" experienced a real coup of its own, with an invasion of tanks of the "DNR," and the "LNR" Head Igor Plotnitsky fleeing to Russia. A secret service leader became the acting head of the Russian-run puppet statelet. Was the coup merely an internal power struggle among the separatist chieftains? It's hard to tell, but we can say for sure that Russia will now have more control over its puppet "state."
6. Experts weigh in on Ukraine's hotly debated new minority language policy
On 28 September 2017, Ukraine's new law on education entered into force. Called to advance Ukraine's badly needed education reform, it has been praised for introducing the concept of competence-orientation and giving schools more independence, as well as increasing teachers' salaries from the average $202 to $370. However, this wasn't the reason for its international fame: in the weeks after its adoption on 5 September, Ukraine has come under attack of its neighbors for Article 7 of the law stipulating that in all Ukrainian schools, Ukrainian will be the language of instruction after Grade 4 (with the exception of schools for Crimean Tatars, an indigenous people of the Crimean peninsula occupied by Russia in 2014, and concessions made for EU languages, in which one or more subjects can be taught after Grade 4.
7. Ukrainian veteran, ethnic Chechen Amina Okuyeva assassinated near Kyiv
 Kyiv has become a dangerous place for the Chechen opposition. On 31 October, a veteran of the Anti-Terrorist Operation, Ukrainian police lieutenant, ethnic Chechen Amina Okuyeva was killed in the second assassination attempt this year while she was driving with her husband Adam Osmayev. In the first assassination attempt on her husband 1 June, it was sharp-shooting Amina who managed to save Adam. One month prior to that, pro-Chechen fighter Timur Makhauri was also killed in a car blast in Kyiv.
8. Georgian ex-President Saakashvili detained in Kyiv
Ex-Georgian President, former governor of Odesa Oblast Mikheil Saakshvili was detained in Kyiv on 12 December. Saakashvili has been accused of colluding with a pro-Russian oligarch to create chaos in Ukraine. This move comes against the backdrop of rallies for impeachment conducted by Saakashvili, which had been taking place in the capital all autumn.
9. Ukrainian authorities escalate undeclared war against anti-corruption front
Thanks to a tireless overnight campaign led by anti-corruption activists, a highly controversial bill allowing to sack the chief of the National Anticorruption Bureau of Ukraine, said to be the only independent investigative body in Ukraine, was removed from the parliamentary agenda for 7 December. This marks the latest escalation in the undeclared war that Ukrainian authorities are leading against the country's anti-corruption front. While the removal of the draft bill from the agenda can be regarded as a minor success, the plenary session was still a major blow to the anti-corruption efforts, as the Verkhovna Rada voted to dismiss Yehor Soboliev, a highly-regarded anti-corruption activist, from his position as Head of the Anti-Corruption Committee.
10. Largest prisoner swap in Donbas: 73 Ukrainians released from captivity of Russian-run "republics"
On 27 December, Ukraine and Russian-run so-called Luhansk and Donetsk people's republics ("LNR" and "DNR") conducted its largest prisoner exchange since war broke out in the Eastern-Ukrainian region of the Donbas in 2014. In total, 73 Ukrainians who have been held hostage in the occupied territories of eastern Ukraine were released, the press service of the Verkhovna Rada reports. In turn, Ukraine handed over 233 citizens who were detained, being tried or already sentenced in Ukraine. Initially, the 74-to-306 swap was planned, but one Ukrainian servicewoman refused to return home, so did 73 persons who decided to remain in free Ukraine. The second stage of the all-to-all swap is planned for the next year, 29 more Ukrainian hostages can be released.
Readers' choice. Most viewed articles on Euromaidan Press in 2017
1. Kadyrov opens first concentration camp for gays since Hitler's times
Chechen head Ramzan Kadyrov has not only sponsored direct attacks on members of the LGBT community in his republic but has adopted a plan for "the final solution of gay issue" and opened the first concentration camp in the world for sexual minorities since Hitler did so in the 1930s, according to a Novaya gazeta investigation.
2. Huge genealogical database of Ukrainians born in 1650–1920 opens online
A huge database of people born in the territory of contemporary Ukraine between 1650 and 1920 became available online in June 2017. Its opening crowned the four-year efforts of activists to digitize, systematize, and assemble countless entries from historical documents—but is not the final point of the project.
3. A short guide to the linguicide of the Ukrainian language | Infographics
During the XVII-XX ct, Ukraine was split up between various empires and states. The ruling regime of each of them tried to assimilate Ukrainians and prevent their self-determination by destroying what made them different: their language and culture. Here are some of the most important prohibitions of the Ukrainian language by the regimes ruling over Ukraine.
4. Viktor Pinchuk wants Ukraine to capitulate to Russia
Ukrainian oligarch Viktor Pinchuk caused a storm with his op-ed in the New York Times, where he called on Ukraine to make "painful compromises" for peace with Russia. Taras Kuzio writes on why that approach would be gravely mistaken.
5. New Ukrainian main battle tank to give new life to old Soviet T-64 and T-72 tank hulls Ukrainian company Arey Engineering Group developed a new main battle tank design codenamed T-Rex (Ukrainian: "Тірекс"), which is to be produced domestically. It met all technical requirements of the country's defense ministry and is planned to enter service within a year. The manufacturers are convinced this new design will rival T-14 Armata, Russia's next-generation tank.
6. What EU countries can Ukrainians now visit without a visa? | Infographic
Starting 11 June 2017, Ukrainians are able to travel without visas to EU countries within the Schengen area.
The new rules are: to stay for a period of up to 90 days out of 180, to have a biometric passport, to have medical and car insurance, to have sufficient funds and be able to justify aim of traveling. Residency, employment, and long-term studying will still require visas, as does traveling to the UK and Ireland, which are not part of the Schengen Area.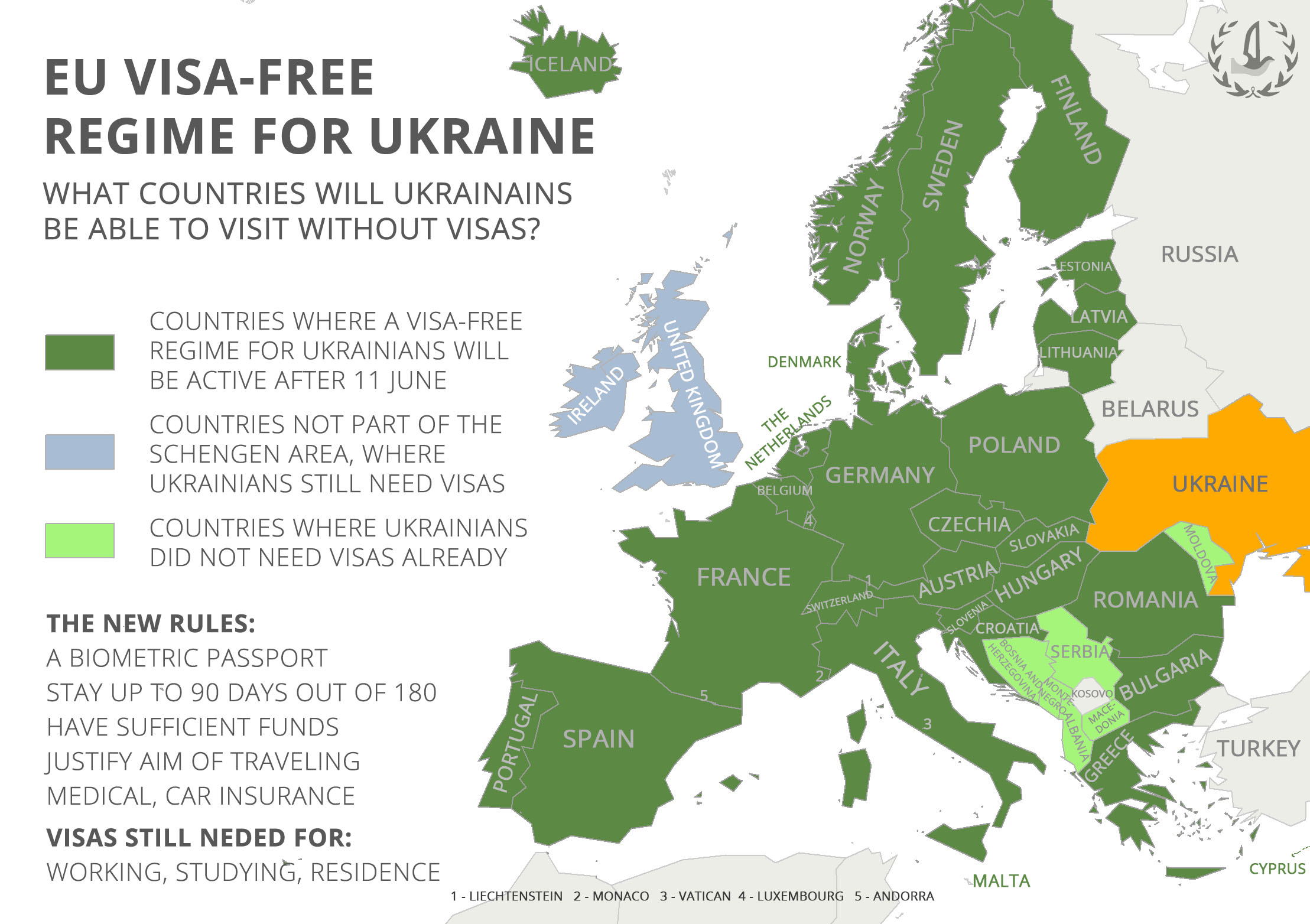 7. Ukrainian artist takes folk tradition of paper-cutting to monumental levels
Lviv-based artist Dariya Alyoshkina is taking the traditional Slavic art of vytynanka to a new level. Her latest creations – two 2×4 meter paper-cut decorations for the stage of the Lviv Opera – are the largest she created.
8. Nazi dreams of an enslaved Ukraine: the blind spot of Germany's historical memory – Timothy Snyder
On 20 June 2017, a discussion on Germany's historical responsibility towards Ukraine was held in the German Parliament. The discussion, which was initiated by Marieluise Beck, the Speaker for Eastern Europe at Germany's Green Party, featured a lecture by historian Timothy Snyder.
9. Ukrainian mosaic: five unique ethnic groups
Ethnic minorities and different nationalities bring a rich and diverse cultural heritage to Ukraine. However, integrating them into a united Ukraine will require careful planning and implementation of government policies.
10. Ukrainian pilot makes miraculous blind landing of damaged plane in Turkey
Ukrainian pilots who were steering an airplane of the Turkish company Atlasglobal were able to safely land an airplane with a badly damaged cockpit on 27 July.
Our special features in 2017:  stuff we think you shouldn't miss
1. How Siemens chose to ignore the obvious. An investigation into the Crimean sanctions break
Four gas turbines produced by German technogiant Siemens have been delivered to occupied Crimea in breach of EU sanctions. They are being installed in two power stations under construction. EU sanctions prohibit helping power the energy-reliant peninsula which Russia illegally annexed from Ukraine in 2014. Siemens says it has been duped by its Russian partners and Germany is pressing to sanction more Russian officials. But is Siemens really not guilty? Here are six facts indicating that Siemens knew its turbines are going to go to Crimea all along, from our investigation:
2. Ukrainians discover stories of repressed relatives in newly opened KGB archives
Russia and Ukraine hold the world's largest documentary collections of Communist secret services that ceased to exist in the early 1990s but once had been extremely powerful and disposed the future of millions. After the Euromaidan revolution, the archives have finally been opened. Thousands of people can now find out what they did not know about their relatives who had been repressed.
3. A guide to Russian propaganda. Part 4: Russian propaganda operates by law of war
Russia's Minister of Defense Sergei Shoigu has called mass media "but another arm of the armed forces." He wasn't joking. Here is why Russian propaganda is, essentially, a weapon of war.
4. A taste of Ukraine's poetic Renaissance executed by Stalin
Don't miss some of the most striking poems by Ukrainian authors from the astonishing cultural renaissance of the USSR's "Ukrainization" period of the 1920s – early 1930s – a renaissance ultimately executed in the Stalin terror. Kalyna Language Press' upcoming translations from the book "Executed Renaissance" are the centerpiece of our special feature.
5. Who is who in the Kremlin proxy "Donetsk People's Republic"
By now, it's pretty clear that the east-Ukrainian "Donetsk People's Republic" ("DNR") and its sister "Luhansk People's Republic" are Kremlin proxy states which exist thanks to Moscow. However, the daily operations are run by various groups which are often in conflict with each other. Here is who manages the daily operations of Russia's puppet state in Ukraine.
Have yourself a very happy New Year! Stay with us in 2018!
Tags: News