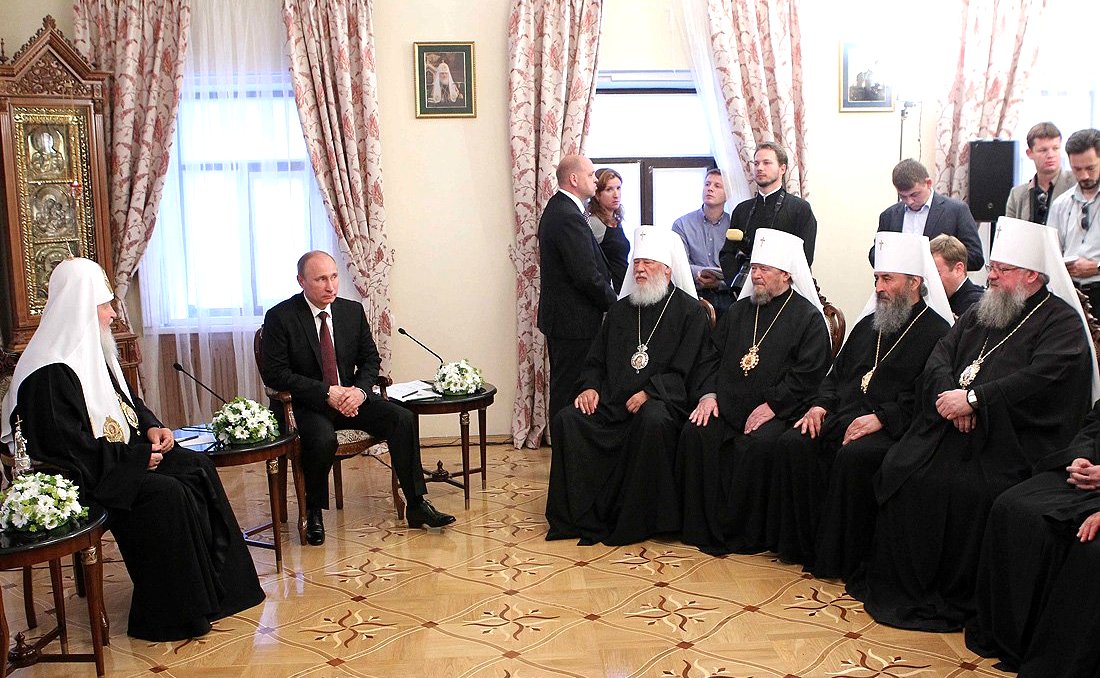 Vladimir Putin and Patriarch Kirill meeting with members of the Holy Synod of the Ukrainian Orthodox Church of the Moscow Patriarchate. The head of UOC MP, Metropolitan Onufriy is seated in the middle of the row. July 27, 2013 in Kyiv, Ukraine (Image: kremlin.ru)  
The Moscow Patriarchate of the Russian Orthodox Church, virtually "the last acceptable mediator between Moscow and Kyiv," played a key role in organizing the exchange of prisoners between the Russian-controlled Donbas and the Ukrainian government, an action that benefited the church at home and its branch in Ukraine as well.
According to Pavel Skrylnikov of Nezavisimaya gazeta in the article titled "Special Services Shared the Mission with the ROC,"
with the Kremlin's backing, "the role of the Russian Orthodox Church as a peacemaker in the region is becoming ever more prominent, and the Ukrainian Orthodox Church of the Moscow Patriarchate is, if you will, the main beneficiary of this process."
Vladimir Legoyda, head of the Moscow church's department for relations with society and the media, says that the church has "constantly" sought ways to overcome tensions in the Donbas and that while decisions about prisoner exchanges were taken by the respective countries' "special services," the church as an institution with presence both in Moscow and in Kyiv played a major role.
Aleksey Makarkin, head of the Moscow Center for Political Technologies, notes that "the church is an exclusively 'public' participant in the peace process: it does not initiative peacekeeping missions and does not define their format. Nevertheless, it remains one of the few organizations capable of maintaining a dialogue between the two sides.
That is especially important now that Moscow has withdrawn its participants from the Joint Center for the Control and Coordination of the Cease Fire Regime, and, he continues,
it is certain that the political authorities in the Russian capital are using the church to promote their goals in Ukraine, which includes boosting the status of the Moscow church there.
Moscow Patriarch Kirill will certainly take credit for his role, but the most important beneficiary is likely to be his underling Ukrainian Orthodox Church of the Moscow Patriarchate whose congregations the Kremlin clearly hopes to use to promote Russian influence in Ukraine, far beyond the Donbas alone.
Read More:
Tags: Donbas war (2014-present), International, Moscow patriarch Kirill, Moscow Patriarchate, prisoner exchange, prisoner exchanges, prisoners of war (POWs), Russia, Russo-Ukrainian War (2014-present), Ukraine, UOC-MP