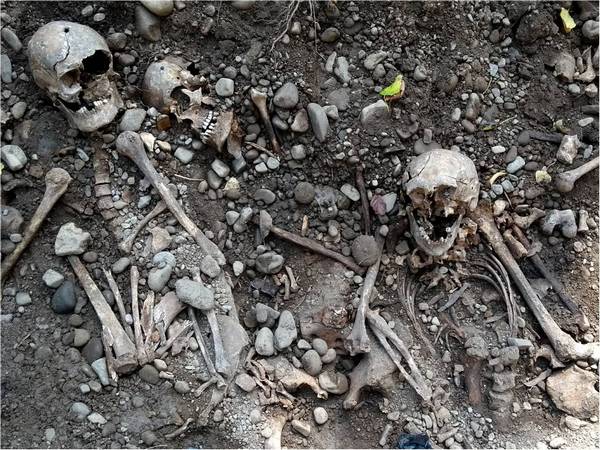 On Thursday, November 2, a press conference was held at the Ivano-Frankivsk Regional State Administration on the final excavation of human remains on Lenkavsky Street, not far from the city's central lake. Specialists of the municipal enterprise "Pamyat" (Memory) discovered and exhumed 134 bodies, as well as many personal belongings.
In the summer of 2017, while laying cables along the street, engineers stumbled upon several human remains. Pamyat employees immediately began excavations and research.
According to director Vasyl Tymkiv they soon realized that they had stumbled upon a mass grave.
"First, we dug and cleared a 10.5 metre trench. We found many skeletons that had had their skull smashed once, twice, even three times. Others had bullet holes. Later, we extended the dig and excavated two more trenches."
Tymkiv is convinced that these burial grounds date back to 1939, as newly-introduced Polish and Soviet coins were found among personal belongings. The diggers also found lots of crosses and medallions.
 "We found a cross containing relics, and on the other side was the word – Rome. So, it may have belonged to a priest. We also dug up a medallion with an inscription – member of the brotherhood of sobriety. There were many of those at the Ukrainian Greek Catholic Church before the war, and they included quite a few OUN members. We also came across shoes, glasses, false teeth, toothbrushes, decorations, and combs. This shows that the victims were urban residents."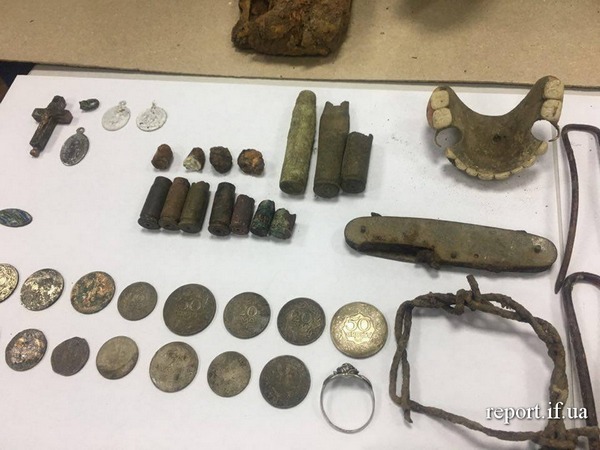 Doctor and forensic expert Omelyan Levytsky studied the remains for well over a month. It's his 83rd excavation. He also helped with excavation research in Demyaniv Laz. (a mass burial site of victims of Soviet killings committed in the wake of the Nazi takeover of Stanislaviv (modern Ivano-Frankivsk) in 1941. At least 524 local Polish and Ukrainian captives (including 150 women with dozens of children) were shot by the NKVD and buried in several mass graves dug by the prisoners themselves in a small gorge outside of the city-Ed)
"Since then, we've added the names of 3,156 people to our historical records. They were buried like dogs without prayer." says Levytsky "They will now be properly buried. During my examination of the remains on Lenkavsky Street, I discovered that there were two children aged 8-16 among the dead."
The expert explained that the NKVD had a special execution scheme for each region. At Demyaniv Laz, they were executed mainly by a bullet to the head, but here most victims died of sharp blows carried out with dull objects, for example, rifle butts.
"70 skeletons had crushed skulls." says Levytsky "I saw many fractures of the jaw and ribs. It seems that they didn't want the shots to be heard and preferred to beat the victims to death.  I found the skull of an older woman – she must have been about 80 years old – with three bullet holes. Another elderly woman had two broken vertebrae; she'd been hit very hard on the neck. Many skulls had two bullet holes, in and out, confirming the fact that the person had been shot through the lower jaw. I saw 16 bodies with such wounds. This was the very first time I'd witnessed such a thing…"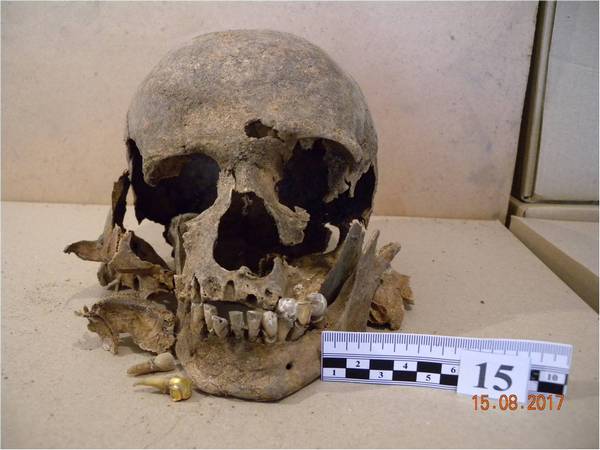 The expert says that the Nazis simply executed people with their machine guns, but in this case, people were tortured; it's definitely not the work of Nazi Germans, but of the NKVD. In addition, shells from Soviet weapons were found at the excavation site.
Vasyl Tymkiv says that, for the first time in the past years, excavations were carried out with no difficulties thanks to financial support provided by the regional council. In fact, the council and civil organizations have created a programme for the reburial of victims of political repression.
"You'll see similar things only in Lviv Oblast." says Tymkiv "If such executions had taken place massively, on a national scale, then we would've probably had a Nuremberg-type trial of communist criminals. And perhaps, this could have prevented the Ukrainian-Russian war."
Pamyat will now prepare for the reburial of each person in a separate coffin.
"This is the least we can do. There's also another option – to bury the victims in Demyaniv Laz." says Vasyl Tymkiv.
See first article: https://euromaidanpress.com/2017/08/17/mass-graves-of-victims-of-political-repression-discovered-in-ivano-frankivsk/
Tags: Bolsheviks, Crimes of the Soviet communist regime, History, Ivano-Frankivsk, mass executions, mass graves, NKVD, Soviet history, Ukraine, Ukrainian history, Ukrainophobia, victims of political repressions