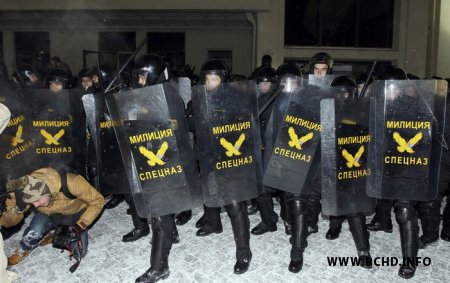 Belarusian interior troops dispersing protesters in Minsk 
Less than two weeks from when a joint Russian-Belarusian military exercise is scheduled to begin, Belarusian President Alyaksandr Lukashenka reportedly raised the salaries and benefits of the officers in the siloviki, the kind of thing a leader concerned about their loyalty might do.
And that there is a basis for Lukashenka's apparent concern is suggested by one opposition figure who suggests that "in the army of Belarus, pro-Putin and anti-Lukashenka attitudes rule," a situation that if true might make it even more likely that Moscow could use the Zapad-2017 exercise as cover for regime change in its western neighbor.
Over the last week, Lukashenka has increased salaries, pensions, and other benefits for the military and the police by as much as 40 percent, a move that means the recipients will have an additional reason for loyalty to him since the increases will bring their standard of living close to Russian counterparts.
These moves, Belsat reports, have not been trumpeted on the government's website lest such reports offend the hard-pressed Belarusian population for whom Lukashenka seems less concerned and whose attitude the Belarusian leader may believe is less critical to his survival than the feelings of the Belarusian siloviki.
Meanwhile, Nikolay Statkevich, a leader of the Belarusian opposition, says that "for the Belarusian army, the Russian president [Putin] is more authoritative than his Belarusian colleague [Lukashenka]" and that such a balance of attitudes makes the upcoming exercise even more dangerous than it otherwise might be.
On the one hand, if this is the case, it would make a Russian coup against Lukashenka easier if Moscow could count on the disloyalty to the Belarusian leader by Belarusian siloviki. And on the other, it could mean that Belarusian siloviki might work with Russian forces to help them create the basis for a subsequent Russian occupation of the country.
Related:
Tags: Alexander Lukashenko / Alyaksandr Lukashenka, Belarus, Belarus KGB, Belarusian military, Belarusian siloviki, International, Russia-Belarus relations, Zapad-2017