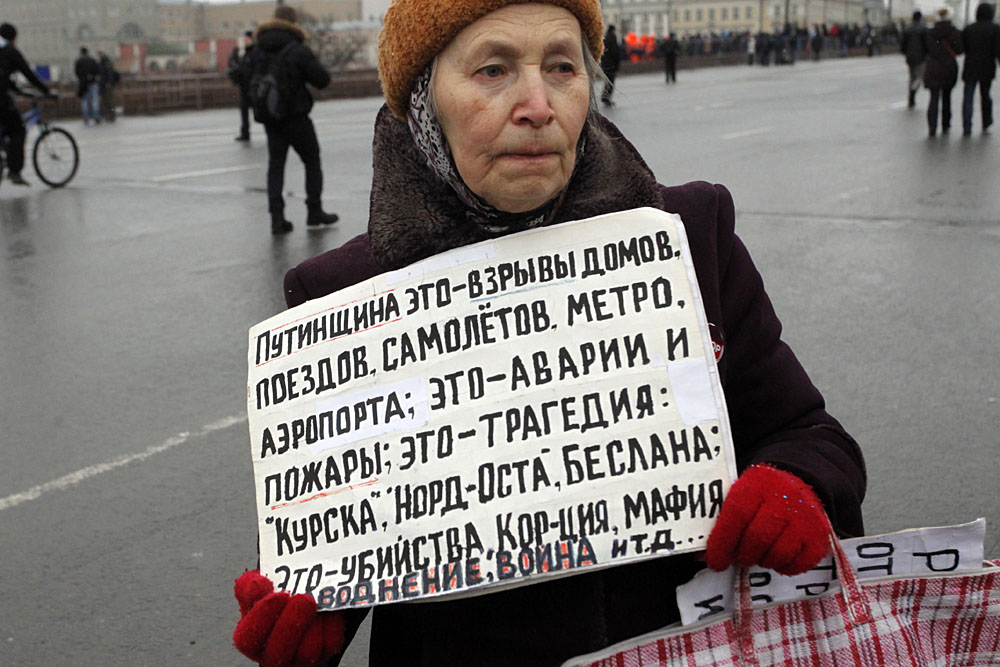 A woman at the 2015 Boris Nemtsov Memory March on 1 March 2015 in Moscow, Russia. Her sign says: "Putinism it is explosions of apartment buildings, airplanes, metro stations, airports; it is incidents and fires; it is tragedies of 'Kursk,' 'Nord-Ost,' Beslan; it is murders, corruption, mafia, war..." (Image: kykyryzo.ru) 
Last week, Pskov parliamentarian Lev Shlosberg argued that the only alternative to revolution in the Russia of Vladimir Putin are elections but Igor Eidman argues that in fact, Putin has no intention of holding real elections but instead will, in the absence of a revolution, unleash still more wars of aggression.
The Russian commentator argues that "the alternative to revolution in the present-day situation is not elections which do not exist and under the current regime will not take place but war. The Putin powers are already conducting regional wars in Syria and Ukraine" but "of course, the regime will not stop at these."
The Kremlin's "adventurist policy will inevitably lead to new military conflicts," Eidman says. "The very existence of this aggressive and inadequate regime, with its atomic weapons, sharply increases the risk of global war and nuclear catastrophe." And thus the continued existence of Putin's regime threatens people far more than any revolution.
The commentator points out that "the overwhelming majority of European revolutions of contemporary times, including [Russia's] in 1991" did not lead to civil war," and consequently, those who suggest that any future overturning of the Russian regime will have that outcome are frightening people in ways that help keep the regime in power.
"Unfortunately, there is no fairytale figure who could lead out of the Kremlin the enormous army of rats in uniform who have settled there, headed by a kind who long ago lost his adequacy" to rule. "They won't go by themselves," Eidman says, "and to hope for that is to deceive oneself and those around us."
And he continues: "Only a revolution can liquidate the Putin regime, the currently most dangerous source of threats of a global catastrophe." And thus a revolution and not anything is "is the single chance for people striving to ensure that their families have a secure future."
Related:
Tags: bourgeois revolution in Russia, Great power imperialism, International, Putin, Putin regime, Russia, Russian imperialism, Russian military threat, Social crisis in Russia