On 26 July 2017, Mikheil Saakashvili, former President of Georgia and current political opponent of Ukrainian President Poroshenko, was stripped of Ukrainian citizenship. Apparently, the timing was chosen to make Saakashvili apply for asylum in the USA, where he is currently on a visit. The former Georgian politician, who was invited to boost Ukraine's reform efforts on the invitation of Poroshenko, his classmate from university times in Kyiv, is now a stateless person, as he had lost his Georgian citizenship in 2015.
Whatever one may think of Saakashvili's policies, Poroshenko's recent move is redolent of the selective justice and abuse of law from the authoritarian times of Yanukovych.
How did the relations of the two former friends go sour? And how does this bode for Ukraine's future?
How it happened
The news spread like wildfire from a Facebook post of Radical Party member Ihor Mosiychuk on 26 July, which was followed by a dry statement by the State migration service, which said that President Poroshenko issued a decree to terminate Saakashvili's citizenship. But the decree still hasn't been published, and the Presidential Administration told Interfax that it won't be because it contains "personal data." However, it did tell that the decision was adopted after the migration service gave "convincing facts" that the Georgian ex-leader had provided "untruthful information" when he filled in his citizenship application. It added that the termination of citizenship if it is foreseen by the law, is a constitutional norm.
What this "untruthful information" is about was left unspecified.
Ukrainian outlet Ukrainska Pravda reported, citing its sources in the Presidential Administration, that Saakashvili lost his citizenship because he wrote he did not have a criminal record while filling in papers to receive Ukrainian citizenship, while in fact several criminal cases had been opened in Georgia. Therefore, the Migration Service canceled its decision.
Saakashvili, who was on a trip to the USA, voiced his position the following morning.
"I have lived in Ukraine for 13 years, I took part in three revolutions […]I have only one single citizenship, the Ukrainian one, and they won't take it away! […] Now they want to force me to seek asylum. This won't happen! I won't stay anywhere and won't get any status! I will seek my legitimate right to return to Ukraine!" he said.
Former Georgian President Mikheil Saakashvili received a Ukrainian passport on 29 May 2015 so that he could be appointed head of the Odesa Regional State Administration in Ukraine upon invitation by President Poroshenko. According to the Constitution of Georgia, a citizen of this country can't be a citizen of another state, and acquisition of citizenship of another country is legal grounds for losing Georgian citizenship.
Therefore, the Ministry of Justice of Georgia deprived Saakashvili of Georgian citizenship on 2 December 2015.
Apparently, the termination of Saakashvili's citizenship started from a letter of Radical Party lawmaker Andriy Lozovyi to the General Prosecutor's Office (GPO), who on 20 July inquired about two applications of the Georgian Justice Minister Tea Tsulukiani to extradite Saakashvili to Ukraine.
The GPO then addressed the Migration service, and a decision was made to strip Saakashvili of citizenship, which was signed by Poroshenko.
Criminal cases in Georgia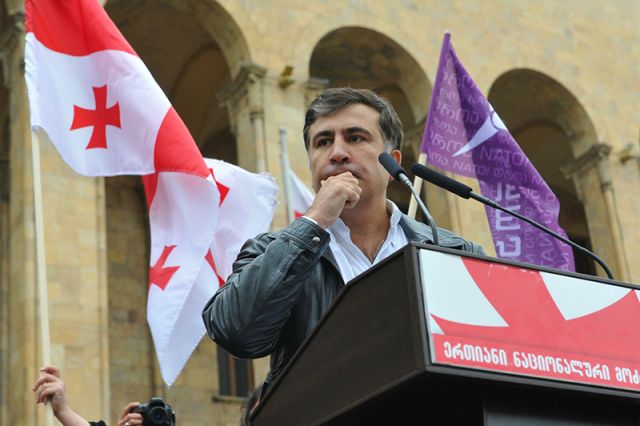 A number of criminal cases were initiated against Saakashvili in Georgia.
In July 2014, he was accused of exceeding authority in dispersing the opposition in November 2007 and closing down the TV company Imedi. Also, the former president of Georgia was accused of misusing public funds – the Georgian prosecution claims Saakashvili spent state money on cooks, massagers, and renting yachts, as well as $450,000 on cosmetic procedures on himself and his family.
The GPO indeed received appeals from the Georgian prosecutors, but refused to extradite Saakashvili, stating in a document issued on 31 March 2015 that "it had reasons to believe that extradition application had the purpose of political persecution." The document lists all the criminal cases opened in Georgia against Mikheil Saakashvili.
Therefore, the Ukrainian government was well aware of Saakashvili's criminal record in Georgia when citizenship was granted to him two months later.
Last week, Petro Poroshenko visited Georgia, where after inquiries from journalists at press conferences, he first stated that Ukraine hadn't received any applications to extradite Saakashvili, but then clarified that it had received two and refused.bus
From love to hate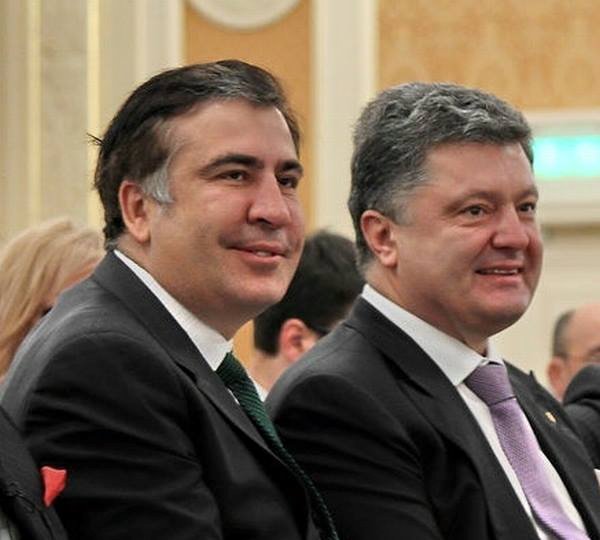 Saakashvili was part of a group of foreign politicians who were invited by President Poroshenko to help reform Ukraine after Euromaidan.
However, Saakashvili's career as governor of the Odesa Oblast didn't work out and in November 2016 he resigned saying that he was "tired from the constant lies and corruption" and went into tough opposition to President Petro Poroshenko, whom he accused of corruption.
Ukrainska Pravda reported that Poroshenko's surroundings were searching for ways to get rid of Saakashvili from the very moment he resigned. According to the interlocutor of the outlet, the plan was first to strip the Georgian politician of Ukrainian citizenship, but according to international agreements, Ukraine can't deprive a citizen of citizenship if it's the only one he/she has. As Saakashvili lost his Georgian citizenship, this wasn't possible. The only exception in this international convention is in the case when the person submits untruthful information about him/herself when applying for citizenship.
So, the legal underpinnings of Poroshenko's initiative are legal, but Poroshenko surely knew about Saakashvili's criminal cases in Georgia when he invited his university friend whom he met while studying at the Institute of International Relations in Kyiv to head the International Council of Reforms in early 2015. Then, the former president of Georgia received his own cabinet on the second floor of the Presidential Administration. Soon, he was appointed to lead the Odesa Oblast Administration, replacing a person from the circle of oligarch Ihor Kolomoiskyi.
Saakashvili soon surrounded himself with companions. First, the head of the Ministry of Internal Affairs in the Odesa Oblast was headed by former Deputy Interior Minister of Georgia Giorgi Lordkipanidze, and a little later, Georgian David Sakvarelidze became the chief prosecutor of the Odesa Oblast. Subsequently, Saakashvili also presented his deputies: his longtime friend Volodymyr Zhmak and Euromaidan activist Yulia Marushevska, who later headed the Odesa customs. Sakvarelidze resorted to unconventional steps, like appointing the Russian civic activist Maria Gaidar as his deputy.
But later he complained he wasn't given any real opportunity to work and all his initiatives were blocked. Despite his active PR campaigns, he didn't achieve any tangible results in Odesa.
Poroshenko's surroundings started searching for other options for Saakashvili. According to Ukrainska Pravda, first Saakashvili was used to irritate then Prime Minister Arseniy Yatseniuk, publicly accusing him of corruption and demanding his resignation. Sources said that there was even an agreement on Saakashvili's possible premiership between him and Poroshenko, but that didn't work out because "Misha was uncontrollable."
According to Petro Poroshenko Bloc MP Serhiy Leshchenko, Saakashvili was also offered to head the presidential party, but he refused, as did he the proposal to become an Ambassador of Ukraine to The Netherlands.
The relations between the former student companions soured.
Saakashvili plunged into active political activity. He started traveling to the regions, was a consistent supporter of holding early parliamentary elections in Ukraine, registered his own party "The Movement of New Forces" (the latest polls showed that 1.4% of Ukrainians would vote for the party at elections), but frequently found himself accused of populism. Also, Saakashvili led a TV show called "Another Ukraine" at the ZIK channel where he criticized Poroshenko and his surroundings for corruption. On 14 June, a female veteran of the war in Donbas performed the song "Chocolate ass" on the air of this show – alluding to Poroshenko's confectionary business. This was perceived by the president as a mortal insult.
On 22 June 2017 at a briefing in Brussels, President Petro Poroshenko said he didn't know what Saakashvili was still doing in Ukraine.
Sources close to the Presidential Administration said that Mikheil Saakashvili had gone too far, crossing all limits of decency, according to Ukrainska Pravda. Others, like David Sakvarelidze, said that Poroshenko deprived Saakashvili of citizenship fearing political competition.
Not the first time
This isn't the first time Poroshenko stripped citizenship from political actors. Since the beginning of 2017, Poroshenko had already managed to deprive Radical Party MP Andriy Artemenko of Ukrainian citizenship after his actions in the USA, where he lobbied for a so-called "peace plan" which envisaged the continued recognition of Russian power in the Crimea, and Saakashvili's former deputy Sasha Borovyk. Both had dual citizenship, which became the reason to deprive them of their Ukrainian one.
And in the summer of 2016, Ukraine deported the businessman Viacheslav Platon to Moldova, declaring his Ukrainian passport invalid. Sources in Chisinau claimed that this followed a request from Poroshenko's former business owner Vlad Plakhotniuk, who has a significant influence over Moldova.
Selective justice
A joint op-ed of Ukrainska Pravda and other outlets warns that Poroshenko's decree, despite being on the margin of legality, returns Ukraine to Yanykovych's times of manipulating the law and selective justice.
Ex-President Yanukovych, ousted in the Euromaidan revolution, had jailed his political opponents Yulia Tymoshenko and Yuriy Lutsenko.
However, it's not only political competition, the outlet notes: Saakashvili's political career in Ukraine led to the deterioration of relations between Ukraine in Georgia, who is sharply disliked by the current government there. Official relations between Ukraine and Georgia deteriorated, Ukraine has not had an ambassador to Georgia for several years, and Poroshenko rarely met with Georgian colleagues. His three-day visit to Georgia was a wake-up call: at public conferences, he was forced to give public explanations for why Saakashvili was still in Ukraine, despite the requests to extradite him.
But that doesn't change the fact that Poroshenko surely knew of his friend's criminal situation in Georgia when he called him "the hope of reforms" and gave him a Ukrainian passport. Moreover, Ukraine, like the USA and EU, acknowledged the political nature of Georgia's extradition requests when it denied to fulfill them.
Poroshenko's step to strip Saakashvili of citizenship (and especially so when Saakashvili was away from Ukraine and powerless to defend himself) is extraordinarily similar to Russian methods of "squeezing out" dissenters, and shows that Ukraine remains closer to Russia than the EU in its political development, the outlet writes.
Regardless of what one might think of Saakashvili's policies, it is undeniable that President Poroshenko, as the guarantor of the Constitution, is applying selective justice: he punishes those who it is in his interests to punish, and closes his eyes to blatant violations, if they don't contradict his interests, Ukrainska Pravda notes. For instance, Roman Nasirov, still formally remains the Fiscal Chief of Ukraine despite being under investigation and possessing a British passport. Oligarch Ihor Kolomoiskyi possesses multiple passports, as do fugitive ex-officials from Yanukovych's entourage, who currently reside in Russia with Russian citizenship, but none of them were deprived of Ukrainian citizenship.
Once again, Ukraine's leaders attempt to place political expediency above the law and endow themselves with unlimited power. This cannot bode well, the outlet sums up.
Nor will the incident bode well for Poroshenko on the international arena. It's easy to suppose that Saakashvili, already being a critic of the Ukrainian president, will be further emboldened to crank up his criticism and lambast corruption from whatever place in the world he is in.
Saakashvili on France 24: "The whole thing stinks". Compares losing his Ukraine citizenship to arrest of Tymoshenko pic.twitter.com/0KBCrTFa8P

— Gulliver Cragg (@gullivercragg) July 27, 2017
Also at home, this move is unlikely to score any political points for Poroshenko: it could, on the contrary, boost Saakashvili's party, which has already announced that Saakashvili will soon return to Ukraine at a rally held in central Kyiv on 27 July.
Read also: