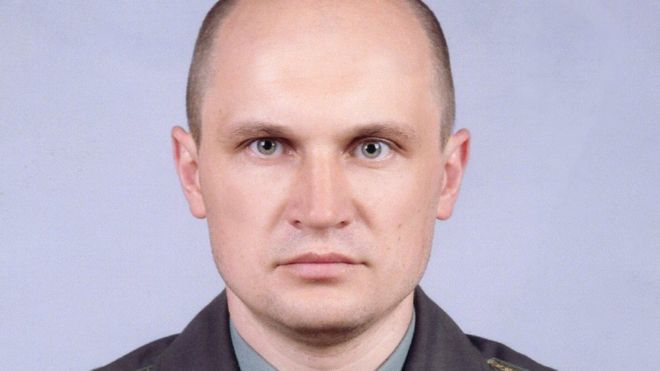 Photo: ssu.gov.ua 
A car explosion at 19:00 on 27 June 2017 took the life of Yuriy Voznyi, a colonel with Ukraine's Security Service (SBU), and wounded three others in the vehicle. The explosion took place in the village of Illinivka in Donetsk Oblast, 25 km from the frontline in Donbas. The incident has been classified as a terrorist act and is being investigated by Ukraine's military prosecutor's office.
The cause of the explosion has not yet been disclosed.
Anton Herashchenko, advisor to Ukraine's Minister of the Interior, said that Voznyi served in the counterintelligence.
On the same day in the morning, a car explosion in central Kyiv killed Maksym Shapoval, also a colonel, who served as a special forces commander at the Defense Ministry's Main Intelligence Directorate. The main version of the assassination is a Russian trace. On 31 March 2017, the SBU colonel Oleksandr Kharaberiush, said to be one of the most productive counter-intelligence officers in Ukraine, had been killed by a car bomb in the south-Ukrainian city of Mariupol.
Anton Herashchenko has made claims that Russia had opened a terrorist center with the goal of sending killers and saboteurs to Ukrainian territory to organize murders and terrorist acts. Herashchenko does not offer any proof to support that statement, but it is one worth taking seriously, the security expert Yuriy Kostiuchenko told RFE/RL: there are indeed Russian agents working in Ukraine and weapons and equipment are being passed on to saboteurs. Kostiuchenko opines that Ukraine has proof of Russian-organized terrorist attacks, but it is not assembled in a systematic manner.
Read also:
Tags: Donbas, Donbas war (2014-present), SBU, Terrorism