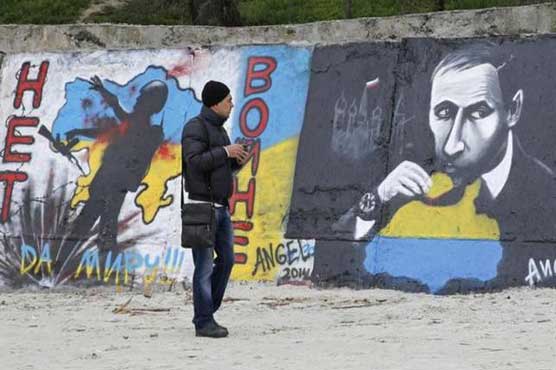 It is impossible for us to live with occupied Donbas as before. The glass has shattered to pieces and however we try to glue it together, it will never be the same again. The truth is that nothing lasts forever… Ukraine is changing. Europe and the world are changing too. In the context of these changes, Ukraine will not be the same as before.
However, several issues remain on the table. One of the main reasons why such a conflict happened in the Donbas is a certain infantilism, at least on the part of eastern Ukrainians who refused to take the future into their own hands and decide their fate. What do I mean by this?
When crowds in the Donbas shouted: "Putin, bring in your troops!" and "We want Putin!", their cries meant that they were not at all ready to shape their destiny, their path to the future, or they were incapable of doing so. This reflects the mindset of the post-Soviet man whose actions and thoughts are dictated by the "great Stalin". This is a deeply patriarchal society where everything beyond the Urals is decided by the "Older Brother". Such people live like sheep on a big farm… and that's what the occupied territories of Donbas have become today.
The rest of Ukrainian society has grown and is ready to shape its own future. This is the Ukraine which stood up, fought and has consolidated its infrastructure over the past two years. It has become more mature and more responsible.
Have the people who remained in the occupied territories matured? Have they fulfilled their "dreams"? Sometimes, this seems like a rhetorical question.
Some Donbas people justify their infantilism by saying they are unimportant and insignificant, or they are old…pensioners. "We don't decide anything. No one listens to us. Our voice is never heard." But, these are lame excuses, a way to escape responsibility and questions that have risen with the passage of time.
In future, if we want to build a new relationship with Donbas, several questions will arise: "Do you want to work with us and build a common future together? Are you really capable of creating a new future for yourselves, or would you rather become a deadwight for the rest of our country like before?"
You failed with Russia, so do you want to do the same with Ukraine?
If Donbas refuses to work with the rest of Ukraine to create a common future, the Donetsk puzzle can be easily solved, that is we must stand and say a loud "Good bye!" I don't think Ukrainians are once again ready to welcome Donbas back into the fold to face an unknown future with its oligarchs breathing down their necks. Donbas must find the answers to these questions on its own.
The rest of Ukraine must also consider these questions. Do we really want to continue living with such a Donbas? Are we ready to give Ukrainian citizenship back to those who burnt their Ukrainian passports? Can they continue to live in Donbas, but must not be allowed to decide the fate of a country that they've betrayed.
Some Donbas residents have already given their answer. Such people have left that black hole, the dark tunnel that leads to nowhere. They've left their homes and settled in other regions of Ukraine or abroad, or even in Russia. They've given their answer. They've made their choice. Now, it's up to the rest…
Their response will be reflected in how occupied Donbas accepts Ukrainization. Ukrainization does not merely refer to a policy of facilitating and spreading the Ukrainian language and promoting Ukrainian culture and a national identity. It also refers to growing up and maturing…
And here's the last point: all this does not apply to Ukraine's sovereignty and its territories. Occupied Donbas is a sovereign region of Ukraine and will be returned, just like Crimea.
Tags: Donbas, Donbas war (2014-present), infantilism, Ukraine, Ukrainization