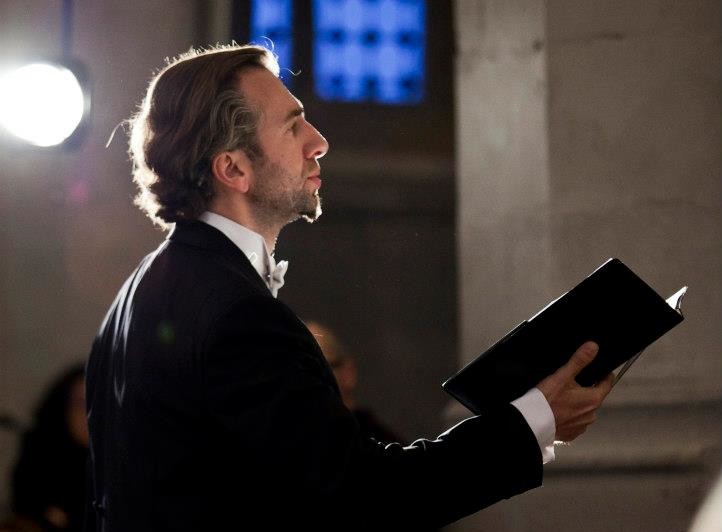 Wassyl Slipak performing in Paris. Photo: W.Slipak fb. page 
As the international community was being assured that the Minsk agreements are working and there is no war in Donbas, Ukraine said goodbye to another national hero. World-known Paris Opera singer Wassyl Slipak was shot dead on 29 June 2016 near Debaltseve in Donbas while defending Ukrainian positions from attacks of Russia's hybrid army.
Read more: Paris Opera singer Wassyl Slipak killed in Donbas war
Euromaidan Press interviewed some of the people who were close to Wassyl to discover what kind of person he was, what was his contribution to European art, and what made him leave a successful career and set off to protect his homeland.
The path to worldwide recognition
Dmytro Katsal. the current director of the Dudaryk male choir capella, recollects their last joint concert with Wassyl at Saint Trinity Church in Paris:
"Then, we sang 'Requiem' by W. A. Mozart. This piece requires quite a large team of musicians – 50 people in the orchestra and the same number in the choir. But there are also some passages for the soloist like 'Tuba Mirum.' So, when Wassyl started to sing this excerpt himself, I suddenly realized that he made the 250 meter-long hall resonate his voice. It is something that fifty of us managed to do only all in unison."
Dmytro and Wassyl got acquainted in "Dudaryk" when they both were secondary school pupils. None of Wassyl's close relatives were professional musicians, so he was not expected to achieve a huge success in singing. However, it was Dmytro's father, Mykola Katsal, former director and founder of  the Dudaryk choir capella, who noticed Wassyl's talent and recommended him not to quit music.
As his classmates recall, Wassyl found his place in the already formed collective very quickly. He always used to be active, positive, and a little bit madcap. Open to communicate, ready to answer any joke, tall and lean Wassyl would bring a smile to anyone's face. Dmytro is now sure that Wassyl's physical attributes were among main reasons for his unique countertenor voice.
"Now, as a specialist, I can say that he got his rare timbre not by accident. His oval face with a long nose and elongated neck are typical signs of a bass voice that he developed later. But at the same time, he sang countertenor up to 28 years because his voice transformation happened extremely late. In other words, Wassyl managed to combine in himself two incompatible voices and perform both of them on a big stage. Call it what you want – God's gift or a joke of nature, but it was amazing," Dmytro claims.
To improve his singing skills, Wassyl entered Mykola Lysenko Lviv National Music Academy, to the class of famous Ukrainian singer professor Mariya Baiko. She decided not to accelerate the process of voice mutation but, on the contrary, to help Wassyl develop his countertenor timbre. In result, Wassyl could alone perform a canon intended for two separate voices in "Carmina Burana o Fortuna" by Carl Orff which caused surprise, delight and, of course, applause. In 1994, the 20-year-old student of the Lviv Conservatory received the Grand Prix at the international competition in France, and signed a contract with Opera Bastille in 1996. Despite the fact that Wassyl was doing well in Paris, there were only a few parties for countertenor so he was forced to leave opera for some time.
"At that time we did not see each other for three years. After that pause, I met Wassyl again and did not recognize him. He turned from a skinny young man into a courageous giant – big, strong and serious. But his internal changes were even more impressive. He became a principled patriot, he did not seem to tolerate things which were OK for him earlier when it came about Ukraine. He even did not let friends to shorten his name to 'Vasia,' since it is the Russian version of his Ukrainian name. But the largest change happened in his voice, because he began to sing bass," Dmytro recalls.  
So, after leaving the Paris Opera Wassyl started to attend a gym in order to prepare himself for the position of  bodyguard in one of the Paris night clubs. This job gave him a chance to take private singing classes where he learned how to sing bass. After 3 years of hard work he returned to the Paris Opera but this time as a bass singer.
Wassyl had to go all the way from the beginning: choir, second parties, then finally main roles. But his success was enormous. Concert tours, permanent contracts, a substantial fee.
All these lasted until November of 2013, when Revolution of dignity started in Ukraine.   
At the core of the French Euromaidan: Wasyl Slipak and Ukrainian diaspora
Being an active participant of the Orange Revolution (2004), Wassyl hoped to join the Euromaidan manifestations in 2013. However, he was tied by the contracts with Paris Opera, so the only option for him was to support Ukrainians from abroad. Wassyl started with contacting the active representatives of Ukrainian diaspora in Paris and that is how he met Anna Chesanovska, who was then a Paris Euromaidan spokesperson.  
"I had heaps of work those days, it was very intensive and seemed to me endless. When I felt so desperate that I was about to give it all up, Wassyl was the only person who supported me: 'Don't worry, we will be doing everything together and we will succeed,' he told. It was so simple, sincere, and convincing that I couldn't help believing it. Since then our collaboration began," Anna says.
Wassyl organized other Ukrainians to conduct support rallies for Euromaidan revolution and later for the Ukrainian army. Those included protest actions and appeals to the government and resulted in collecting large amounts of humanitarian and financial aid.
However, the French accustomed to national minorities manifestations long ago, so they did not bother themselves to stop and find out what was actually going on, according to Anna. To fix it Wassyl offered to organize an Art Maidan instead of an ordinary one which was too aggressive and obscure for locals. So he invited famous European opera singers to create an association called "Opera Friends for Children," which focused on explaining the Ukrainian case to French audience through the common language of art.
"Very talented and authoritative musicians were performing in Paris halls, churches, squares. Between songs and tunes, we always tried to convey the real meaning of Ukrainian events to the French. We had to explain everything: why people are not satisfied with Yanukovych, what is the problem with Russia and so on. For me, the largest achievement was to prove to the French that there are a lot of people in Ukraine who are just patriots, but not connected with any political parties," Anna contemplates.    
Another tradition which was launched in Paris with the help of Wassyl is regular public conferences for representatives of media, education, and policy. "We separately worked with French tutors, journalists, and political leaders, because they had an influence on public opinion. Our communication was rather challenging since Ukraine was treated as a part of Russia until 2013, moreover, none of the international French media had its correspondents in Ukraine, so at the very beginning, they covered Euromaidan events from Moscow," Anna explains.
Anna believes Wassyl decided to head for the frontline because he stopped believing in international support. She says he was disappointed by Minsk agreement and thought nobody could solve Ukrainian issue apart from Ukrainians themselves. She avoids criticizing Wassyl's decision but she would rather him stayed in France.
"He was extremely useful for Ukraine here, in France. He was a true intellectual, he spoke seven languages. After Natalka Pasternak [Ukrainian community leader in France – Ed.] had passed away, he was the only person who had potential to unite us, to lobby Ukrainian interests on an international level… But he had a need to be at the forefront, where modern Ukrainian history was being written. So he abandoned work, stopped looking for contracts and sang only occasionally, so that he could send some money to Ukraine," Anna says.
Over nearly 20 years of his life in France, Wassyl never changed his citizenship. At the day of his death, several articles about him appeared in French media and the director of the Paris opera expressed her sympathy.
"Such a reaction of media is very important because only a few sources in France now write at least something concerning Ukraine. According to the official version, the Minsk agreements work and it is relatively calm in Donbas," Anna adds.
Read also: War report: Wassyl Slipak's and Anatoly Koval's last combat mission
Wassyl's commander is now on rehabilitation, having been wounded at the same battle. He says most of Wassyl's comrades are unable to come to the funeral because of the continuing warfare. The farewell to the hero was organized very smoothly. First in Dnipro city, the next day in Lviv, Wassyl's hometown. Thousands of people, including the Dudaryk choir singing at the end of the column, gathered to escort their defender to the last journey.
---
Related:
Tags: Donbas, Donbas war (2014-present), News, Russo-Ukrainian War (2014-present), Vasyl (Wassyl) Slipak