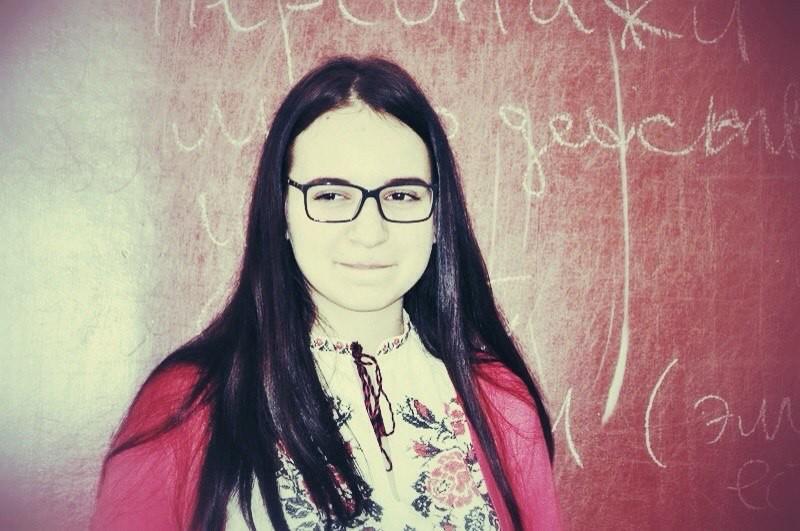 Valeria Rakytianska, Mykolayivka, December 2014. Photo: New Donbas 
Exchange programs for citizens from different regions of Ukraine are a working solution for reconciliation.
Three years after the beginning of the de facto war in Donbas, Ukrainians are starting to fix the fundamental problems in society which made the war possible. Some of these problems were the stereotypes of Ukrainians living in different regions towards each other and their narrow worldview. This worldview was mostly formed by television with no personal experience of life in other countries. An opinion poll conducted in 2012 showed that 77% of Ukrainians had never been abroad. Moreover, 36% had never been outside of their region. Nowadays, civil society initiatives work on organizing exchange projects within the country. The government also has started to organize their own exchanges. The effect of these projects is sometimes magical.
This is a story of a girl from a Donbas town who used to sympathize with the ideas of the so-called "DNR". Three years later, she speaks Ukrainian and is studying in Lviv, the symbolic capital of western Ukraine, which in Donbas is mostly negatively perceived as the capital of radical nationalism and the land of Stepan Bandera-followers. Euromaidan Press talked to her to figure out how these transformations became possible.
I first met Valeria Rakytianska in the winter of 2014, in her hometown of Mykolayivka, Donetsk Oblast. It was the second trip of New Donbas volunteers to Mykolayivka. The group of volunteers came there to rebuild the school and to conduct creative workshops with local students. In the summer of 2014, the town experienced occupation and then was liberated by Ukrainian forces. The school was badly damaged.
It was impossible to not notice Valeria among other 11th-graders. She was in a vyshyvanka, a traditional Ukrainian shirt – for that period, it was quite an unusual scene for Donbas.
"When you [volunteers] came, I wanted to please you and to show that we also have conscious-aware Ukrainians," Valeria said at that time."
However, just a few months before, she believed that the "DNR" ideas of a "Russian world" really could work:
"At the very beginning, when the occupation of local councils and police departments began, I was among its supporters. I think it was because of disinformation and the lack of true information. I was not interested in reading news and did not want to understand them. And nobody could have really explained to me what was going on. I blame my ignorance for that. A lack of education makes it easy to manipulate people. When you can't think critically or analyze the situation, you can easily be influenced by someone.
Did you understand who you are – a Ukrainian or a Russian?
Probably I was young and didn't think about it. However, even a three-year-old child can understand that he is Ukrainian. But maybe because in that region there was no proper education on Ukrainian identity; I did not identify myself as a Ukrainian. I knew that I was a citizen of Ukraine, but could not say that I am Ukrainian at the very beginning [of the occupation of Donbas].
What made you change your mind?
"When you see that what you believed in does not correspond to reality, then you start to look at the situation realistically. And that is what happened during the active warfare in Mykolayivka and Sloviansk. I saw with my own eyes and heard with my own ears that they [the Ukrainian forces] shot at us only because the separatists were shooting at them from the residential areas. These small nuances helped me understand what was going on. Also, I realized that anarchy and other groups cannot go against the established state and its laws."
Later, the visit of volunteers continued to help Valeria to learn more about her country and its people and allowed her to travel to western Ukraine for the first time in her life. Rimma Ziubina, a famous Ukrainian actress, was among the New Donbas volunteers. She wanted to show her home region to older students of the school. She wrote about it on the Internet and collected money for the trip. Not all students agreed to come; some of them and their parents were still under the influence of propaganda messages and believed it was dangerous for people from eastern Ukraine to come to the west and speak Russian there.
But Valeria came. She recalls: "When one Ukrainian channel interviewed us, I said 'This is a small Europe'. At that time, I had only been to Kyiv and had never visited western Ukraine. When I came, I saw sincere people who wanted to establish a dialogue. They understood that only real experiences will help break stereotypes and win the information war."
Later, Valeria decided to enter Ukrainian Leadership Academy, an educational institution which implements a format of study which is unique within Ukraine. The academy was opened in 2015.
"It was the best year of my life, a crucial point which changed the direction of my life. First, because the Academy includes 10 months of living with people from all over Ukraine. My group consisted of 39 students, plus 6 mentors from each region of Ukraine. And when you live with people for ten months, you start to realize each others' education and world view, and that helps you identify with one another. You have the opportunity to look at the traditions of different oblasts.
We traveled a lot across Ukraine. Not as tourists. Exploring was our main task; we were researchers."
There are a lot of negative stereotypes about people from Donbas like they are marginalized and criminalized. What good thing can you tell about the people of your region?
"After they were liberated, I saw that other young people want to study and learn from new experiences. They are curious how to get a grant for studying, but don't know where to get it."
After a 10 month program in the Academy, Valeria became a student of Philosophy and Theology at the Ukrainian Catholic University located in Lviv. She says that while living in Lviv, she encounters nearly no stereotypes about Donbas residents, although some stereotypes towards Russian speakers can be present. Valeriya herself started to speak Ukrainian during the time she studied at the Leadership Academy:
"I can't say that it was a rule there [to speak Ukrainian]. However, we have only one state language. There was another language we could speak there; it was English. We have enough people who speak Russian already."
Do you now face stereotypes about Lviv when coming to Mykolayivka?
"As I study in the Philosophy and Theology department, I face stereotypes about faith. People in Donbas are distanced from faith, they do not trust the church. People ask me whether it is some sect; they think that the Ukrainian church is something related to Bandera. Nonsense. How do I react? I think it is caused by the lack of education. When a person doesn't know what they are talking about, there is no point in discussing. I say 'Learn a bit about the topic and then we will talk,' and explain a bit. If you are ready to listen to others' opinions, then everything is cool. Some people listen to me with open ears, and it's pleasant when people are interested."
In the future Valeriya sees herself as a journalist or an HR manager: "I am even ready to devote some period of my life working as a civil servant. I definitely do not want to go abroad. Maybe for some period, to earn money and to invest it in something here. I dream to do educational projects."

Programs to connect people from different regions of Ukraine should be one of the main instruments of the strategy of the de-occupation of Donbas
Yuriy Harbuz, the head of Luhansk Oblast State Administration is confident that the programs aimed at connecting people from different regions of Ukraine should become one of the main instruments of the strategy of the de-occupation of Donbas:
"We should put seeds in fertile soil. After 2-3 years, the war will end, as any war ends, because it is not caused by religion, but by the intervention of a neighbor with his opinion on how we should live. We can't change the philosophy of those who are 50-60 years old and older. We can't change the past, but we can change the future. The future is with the children."
He also told about the success of the project Zminymo Ukrayinu Razom [We'll Change Ukraine Together] which allows children, teachers, representatives of culture, and journalists from eastern Ukraine to visit western Ukraine.
"Today, nobody is afraid to go. At the beginning there was fear. Parents from the Ukrainian-controlled parts of Donbas were thinking that somebody will eat them [in western Ukraine]," said Harbuz.
And now, new traveling opportunities have opened for Ukrainians: on June 11, the visa-free regime with the EU came into force.
Read also:Would you volunteer teaching English to Ukrainian kids?
Tags: Donbas, Lviv, reconciliation