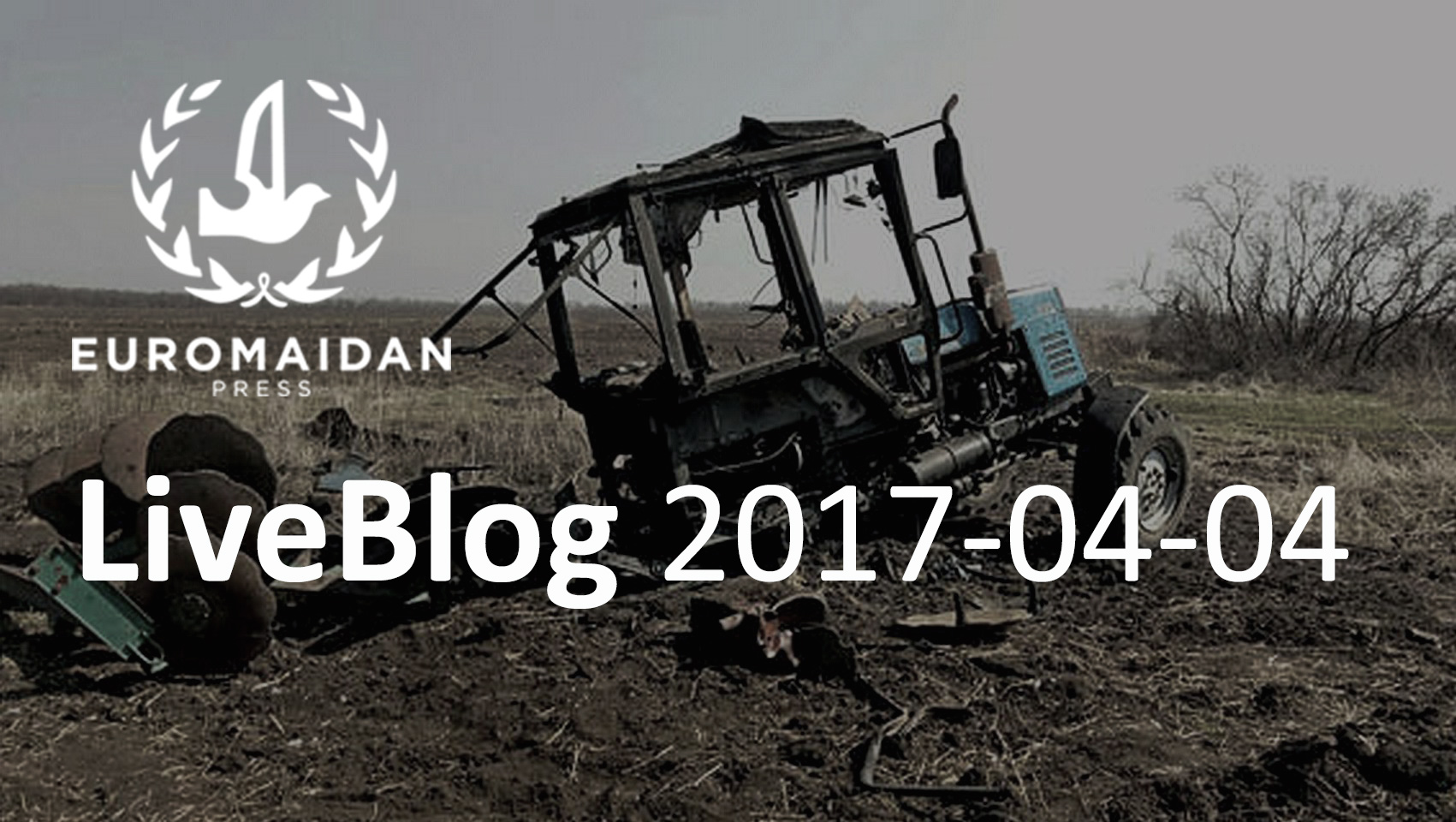 So-called "renewed commitment to the ceasefire" came into force in Eastern Ukraine on April 1. The military activity decreased against the last days of March, however, the ATO HQ recorded 100 attacks on Ukrainian positions over the first 3 days of the ceasefire, 2 soldiers were killed in action, 10 wounded. The OSCE reports fewer ceasefire violations, but the current situation is still far from the real truce. The LiveBlog of March 1-2 can be found here Another ceasefire began in Donbas, 4 wounded soldiers on the first day #DonbasReports
---
Inactive battle northeast of Donetsk
As of 00:00 EET an inactive battle continues in Donetsk, but no heavy artillery is heard by local residents:
20:35 Krasnohorivka: The sounds, faint booms
21:26 Staromykhaylivka: They fired a bit this evening again
22:17 Makiivka: It is the 2nd night as they transport equipment passing by #Kozache #cemetery, tracks scrape
22:38 Donetsk: Periodically, it booms in the north
22:44 Donetsk Proletarskyi: Some salvos are suddenly loud
23:08 Donetsk: Single tangible booms
23:26 Makiivka: Very seldom, but rolls are heard somewhat horrible
23:27 Donetsk: well, how seldom [rolls], once every couple of minutes
23:32 Donetsk: "Oh, ceasefire! Probably an outgoing round, strong & powerful but not nearby, I can't tell its direction clearly, maybe Spartak or bypass"
23:56 Makiivka Gvardeyka: YaBP activated a battle: gunfire and light but frequent booms
00:02 Donetsk: Sounds of battle reach us from the north. Without heavy artillery
No incoming reports from Mariupol and Luhansk Oblast at this moment.
---
OSCE: more ceasefire violations on April 3 than day before, fewer against period before ceasefire
The OSCE Special Monitoring Mission to Ukraine has recorded more ceasefire violations in both Luhansk and Donetsk oblasts from 19:00 April 2 to 19:00 April 3 "compared with the previous 24-hour period, but fewer compared with the period before the recommitment to the ceasefire".
The monitors observed more ceasefire violations in Donetsk Oblast including about 190 explosions, compared with the previous 24-hour period (90 explosions). The Mission says, about 90% of the explosions were recorded in the Avdiivka-Yasynuvata-Donetsk airport area. Military actions were more active also in Luhansk Oblast where the SMM recorded more violations too, including 30 explosions against about 20 explosions recorded in the previous 24-hour period.
A resident of Marinka, a Ukraine-controlled southwest suburb of Donetsk, was injured by a booby trap:
The SMM followed up on a report of a civilian casualty. At the district hospital in government-controlled Marinka (23km south-west of Donetsk) medical personnel told the SMM that an elderly man had been admitted on 1 April with multiple non-life threatening shrapnel injuries to his face, arms and legs. The SMM saw the man, who showed wounds to his legs and face. He told the SMM that he had been walking through a field near 38 Matrosova Street in Marinka when he had heard a click followed by a burst. He added that Ukrainian Armed Forces personnel had warned residents to stay away from the area. Police officers in Marinka told the SMM that the man had been injured by a booby trap.
---
ATO HQ: 26 attacks as of 18:00, 3 WIA
The ATO Headquarters reports 26 "provocative attacks" on Ukrainian positions as of 18:00 today, 3 Ukrainian servicemen have been wounded.
Donetsk sector is the most active today, 82mm mortars were used in attacks near Avdiivka.
Krasnohorivka, a town southwest of Donetsk included by the General Staff in Mariupol sector, was also shelled with 82mm mortars today.
Grenade launchers, small arms were used in attacks on Ukrainian positions in all 3 sectors of the ATO zone today.
---
Donetsk residents report a usual harassing evening cannonade (15:00-21:00)
It was quiet since noon. In occupied Donetsk, two Ural trucks and a BTR IFV carried troops northwest:
15:50 Donetsk #OTsKB: 2 Urals with troops, #27 in circle, with machine gunners on roofs, and a BTR with about 15 troops atop, excellently equipped
15:50 Donetsk Zolote_Kiltse: 2 Ural trucks, tactical sign #27 in circle, with troops in full gear – helmets, vests, glasses, + a BTR marked 400 went along Universytetska northwards
The power supply has been finally restored in frontline Avdiivka, there was no electricity in the town for almost a week:
16:10 Avdiivka: "The light!" [=electricity supply has been restored, power was down since Mar29 as a power line was damaged by a shelling]
Starohnativka, a village between Donetsk and Mariupol, heard a cannonade:
17:41 Starohnativka: It rumbles good, similar to heavy [weapons]
And a "usual" Donetsk evening bombardment begins:
19:10 Makiivka: Distant booms are heard
19:12 Donetsk Kirovskyi: From far north, periodic medium heavy cannonade is heard pretty good
19:15 Donetsk: And here assault rifles begin to rattle. Roughly Pisky direction
19:20 Makiivka: "We rumble"
19:32 Makiivka: The west is just "torn" by strong salvos…
19:40 Makiivka Vostochnyi: Painfully familiar miserable booms started to reach us from the west, medium [heavy]
19:46 Donetsk: [RU] don't stop firing towards probably towards Avdiivka
20:13 Makiivka Gvardeyka: One can hear 82mm mortar working, rarely 120mm, heavy machine gun
20:26 Mariupol: What has it been? Like an artillery salvo towards Sartana
20:35 Donetsk: My "acoasm-o-meter" reads off scale or I should clean my ears – I think the north has been or is rumling
20:40 Donetsk Kirovskyi: What has it been? A powerful rumbling, glass has vibrated, house shaked
---
Local residents of the Donbas report minor military activity on April 4 (00:00-15:00)
Local residents of the Donbas report minor military activity today as of now.
02:19 Donetsk railway station: "It booms somewhere on the edge of audibility, large calibre"
04:15 #H20 highway: 9 kamaz trucks heavily laden went towards Khanzhonkove station
07:33 Donetsk, Makiivka Vostochnyi: At 07:11 something blew up in suburbs like a huge soap bubble burst [= a shot of anti aircraft gun?]
A new artillery position is being prepared in the occupied Dokuchaevsk just near the residential area ('Mikrorayon' stands for 'a micro-district', it is the only high-rise neighborhood in Dokuchaevsk and the word is used as a proper name):
08:50 Dokuchaevsk: Our Mikrorayon is "lucky" now. [RU] are digging a caponier in a woodline near the corner of Polyova street
Guests from Russia in Donetsk?
09:03 Donetsk: Shevchenka Blvd blocked betwith non-ferrous metals institute and #Ulyanovoi avenue, the street blocked for cars & passers-by
09:35 Donetsk: [Lots of RU] in green in the whole city. Assault riflemen every 20m secure perimeter of the Reginal Administration. Shevchenka blocked near MGB [=DNR KGB]
Tanks moved at night east of Donetsk:
09:58 [Khartsyzk]: Concerning the night column: 5+ tanks went to Zuhres from the Khartsyzk direction
Separate artillery salvos north, northwest of Donetsk reported:
10:12 Donetsk Kirovskyi: They have pounded [one time] again
10:38 Novhorodske: "I wanted to write about a sparse cannonade, but it's already not that sparse"
10:58 Donetsk: Circus can hear it from Myrnyi-#Shyrokyi direction. They say it's very loud
11:00 Donetsk: Distant booms at 10:57, 10:59
11:20 Donetsk: Botanic garden can hear dull booms too. Far off. Airport? Avdiivka?
11:51 Donetsk: It sometimes booms
---
6 KIA in last week, 39 WIA, 434 attacks
Statistics of 2 last weeks has been published by Ukraine Crisis media center: 434 shooting attacks occurred from March 27 to April 2, 6 servicemen were killed in action, 39 wounded.
The situation in Donbas during last week pic.twitter.com/fnYE3vfx3E

— uacrisis (@uacrisis) April 4, 2017
---
Donbas ceasefire not observed for a single day by Russian side since April 1 – Poroshenko
President of Ukraine Petro Poroshenko has said that the Russian side hasn't observed the ceasefire regime in Donbas for a single day since April 1. Interfax Ukraine reports. "Today the chief of the General Staff and the defense minister reported me that the Russian side did not observe the ceasefire regime for a single day," he said at a press conference after talks with Latvian President Raymonds Vejonis in Riga on Tuesday.
---
19-year-old soldier wounded month ago died on April 3
April 3 Vladislav Makarov, a soldier of the 72nd brigade, died in the central military hospital in Kyiv. He was wounded on March 2 near Avdiivka. He was 19.
---
Stanytsia Luhanska attacked with grenade launchers and small arms
"Yesterday evening militants fired from the territory uncontrolled by Ukrainian authorities with automatic grenade launchers and small arms at the direction of Stanytsia Luhanska settlement," The Civil–Military Administration of Luhansk Oblast reports. Earlier the ATO Headquarters did not mention this fact in their daily communiqué.
---
ATO HQ reports 48 attacks, 2 KIA, 5 WIA
The ATO Headquarters reported 48 attacks on Ukrainian positions on the third day of the ongoing ceasefire, 2 soldiers were killed in action, 5 more were wounded.
Mariupol sector was "the epicenter of clashes", Berezove (south of Donetsk) was attacked with 82mm mortars, ZU-23-2 anti-aircraft gun, grenade launchers, heavy machine guns. Other hotspots in Mariupol sector were Hnutove, Vodyane, Bohdanivka, Chermalyk.
In Donetsk sector Ukrainian strongholds near Avdiivka and Butovka_airshaft were shelled with 120mm and 82mm mortars, grenade launchers of various types, heavy machine guns. Other Donetsk hotspots were Pisky, Verknyotoretske, Kamyanka.
120mm mortars were used to attack strongholds near Krymske in Luhansk sector.
---
April 3 in the Donbas according to reports by local residents: quiet morning, loud afternoon
No significant reports on military activity were posted by local residents of Donbas at night and in the morning of April 3.
Afternoon Donetsk starts listening to the sounds of war:
15:00 Donetsk: a covered truck went along Leninskyi avenue passing by OTsKB hospital southwards, tactical sign was #35 in circle, # plate was DK3218
15:08 Donetsk: 14:40-14:50 airport direction: a Grad-P launch? at least 5 pieces with rocket aftersound flew towards Avdiivka. Such truce
15:20 Donetsk: a covered truck went from Leninskyi to Tkachenka, after it a fuel truck, #27 in circle on green
15:54 Donetsk: God let me be mistaken, but I hear sometimes heavy ones from YaBP–Promka–Avdiivka direction
16:01 Donetsk Tekstilschik: Over the [first] half of the day there were about 5 [booms] in Staromykhaylivka-Abakumova direction, very strong ones
16:05 Donetsk Oktyabrskyi: Artillery has started to work from us, and it was so quiet
16:07 Donetsk: north Donetsk rumbles "consistently"
16:13 Donetsk railway station: Single artillery rounds, methodic, so far 5-7 shots
Horlivka, a city between Donetsk and Svitlodarsk, reports gunfire heard earlier:
16:17 Horlivka Stroitel: Ozeryanivka – they were shooting from time to time over the course of the day
16:40 Donetsk Oktyabrskyi: F*ckup, it's like salvos of 152mm SPG. By sound, not the mine itself, but slag heaps between it and "ploschadkas" [=northwest Donetsk]
It is not really quiet south of Donetsk too:
16:48 Dokuchaevsk: Something has boomed
More artillery fire from the northwest outskirts of Donetsk:
18:50 Donetsk Oktyabrskyi: They are shelling from us again, from the same slag heaps. Gunfire is also heard
18:55 Donetsk Privokzalnyi: Open windows, north is heard monotonous and distant
19:14 Donetsk: [RU] artillery is shelling uninterruptedly in the northwest, presumably, from #Oktyabrska mine
19:15 Donetsk Viktoria: Rolling "ceasefire" is heard far in the northwest
20:07 Donetsk: "Holubyi2: Wow, I thought it seemed, but it rumbles for 30m from south-southwest" "Tekstilschik: the scattering of booms far off"
20:07 Donetsk Tekstilschik: Shooting outdoors, like AA-guns
20:14 Donetsk: Yesterday they were shooting AA-gun, the same today, but no droning was heard, probably "kids" fool around, "heroes"
A battle escalated near occupied Dokuchaevsk:
20:20 Dokuchaevsk: It rumbles along the entire line from Olenivka to #sovkhoz
20:25 Donetsk Tekstilschik: "We can see something on fire far away Olenivka direction"
20:34 Dokuchaevsk: Here 120mm joins
20:53 Dokuchaevsk: "ceasefire" in full swing [=battle, ]
20:54 Dokuchaevsk: "Ceasefire" f*cking pounds in high gear. For about 2 hours for sure
20:57 Dokuchaevsk: So far it's a BMP shooting like crazy
21:01 Dokuchaevsk: Sometimes they cease for some 5 min, they use [grenade launchers] too
Donetsk has mostly calmed down, but inactive artillery fire continues:
21:14 Donetsk Vetka: That "quiet" has been finished, plangent strong single booms
21:20 Yasynuvata [pro-RU source]: In the center, sparse booms are heard, so far low intensity. Gunfire by times too
21:22 Donetsk Kyivskyi: We listened to constant "ceasefire" afternoon, and now various separate booms
Occupied Kadiivka, the hotspot of March in Luhansk Oblast, reports ceasefire:
22:00 Kadiivka: April 3, 22:00. We really have the 3rd day of silence
An "ordinary" evening shelling is ongoing north, northwest of Donetsk:
22:02 Donetsk: "Orcs celebrate [St Petersburg's] terror attack with artillery in the north"
22:13 Donetsk: Sounds of "ceasefire" are heard from the northwest. Loud booms
22:15 Donetsk: Now gunfire in short bursts in the northwest direction
22:16 [Makiivka]: Equipment moves along Makiivka route for about 10 min so far, the direction is unclear
22:30 Donetsk: Since dinner time until now Gladkovka can hear shots of various artillery from Spartak–Putilovka towards Avdiivka
22:32 Makiivka: "Damn, something is creeping along the bypass"
22:48 Makiivka Gvardeyka: It rumbles further north of Donetsk, yest much less then before the "ceasefire"
23:10 Donetsk: The rumble is reported heard at Mayak and Gvardeyka, Myrnyi and Abakumova. Not so funny to joke about ceasefire anymore
23:21 Donetsk [pro-RU source]: Spartak–YaBP direction is noisy, sometimes loud
Svitlodarsk, a Ukraine-controlled town at so-called "Svitlodarsk Bulge" facing occupied Horlivka in the south and occupied Debaltseve in the east, can hear explosions:
23:36 Svitlodarsk: Single heavy incoming [rounds]
There is still no perfect silence in Donetsk towards midnight:
23:41 Donetsk: "I've opened the window a crack. It rumbles. Not frequent and far"
23:42 Makiivka: "Periodically, heavy single outgoing rounds are heard. It's for those who thinks that a ceasefire is in action"
23:53 Donetsk Kalininskyi: "What has it been? Rumbled great. Thunderstorm? Or the same sh*t?" [=far thunder claps]
---
OSCE recorded fewer ceasefire violations on April 1-2
The OSCE Special Monitoring Mission to Ukraine reported fewer ceasefire violations in both Donetsk and Luhansk Oblasts on the 1st and 2nd April compared with the March 31:
The SMM recorded fewer ceasefire violations in both Donetsk and Luhansk regions since a renewed commitment to the ceasefire came into force on 1 April. In Donetsk region the SMM recorded fewer ceasefire violations but more explosions – the vast majority of them were recorded before midnight on 31 March – between the evenings of 31 March and 1 April compared with the previous reporting period, and fewer ceasefire violations between the evenings of 1 and 2 April compared with the previous 24-hour period. In Luhansk region the SMM recorded fewer ceasefire violations between the evenings of 31 March and 1 April compared with the previous reporting period, and a similar number of ceasefire violations the evenings of 1 and 2 April compared with the previous 24-hour period. An armed man fired two shots in the air 50m away from an SMM patrol in Sakhanka.
In Donetsk Oblast shelling has almost stopped since midnight of April 1, however, there is still no real ceasefire:
In Donetsk region the SMM recorded fewer ceasefire violations, although more explosions (910) between the evening of 31 March and 1 April compared with the previous reporting period (about 660 explosions). About 88 percent of those explosions were recorded before midnight on 31 March. The SMM recorded fewer ceasefire violations between the evenings of 1 and 2 April, when the renewed ceasefire came into effect, including about 90 explosions, compared with the previous 24-hour period.
As usual, Luhansk Oblast was less active than Donetsk:
The SMM recorded fewer ceasefire violations between the evenings of 31 March and 1 April, including 17 explosions, compared with the previous reporting period (about 200 explosions), and a similar number of ceasefire violations between the evenings of 1 and 2 March, including about 20 explosions, compared with the previous 24-hour period.
---
Driver wounded as tractor hit landmine in Donetsk Oblast
The National Police reported that in the morning of March 3 a man was wounded in a blast as his tractor hit a landmine in a field near Verknyotoretske, a settlement north of Donetsk.
March 3, the vicinity of Verknyotoretske. A tractor hit a landmine, the driver was hospitalized. Photo: Donetsk Oblast Police
Since the beginning of the year 6 perished, 6 more injured "due to mishandling explosive objects", Druzhkivka Police report
reads
.
---
Defense ministers of Ukraine and Canada signed a defense cooperation agreement
Minister of Defense of Ukraine Stepan Poltorak in Ottawa has signed with his Canadian counterpart Harjit Sajjan an agreement on defense cooperation, which will improve the provision of the Armed Forces of Ukraine with modern military equipment and weapons, Interfax Ukraine reported.
https://twitter.com/HarjitSajjan/status/848993794162913280
Tags: Ceasefire, ceasefire violations, Donbas, Donbas war (2014-present), DonbasReports, Donetsk, liveblog, News, Russo-Ukrainian War (2014-present)