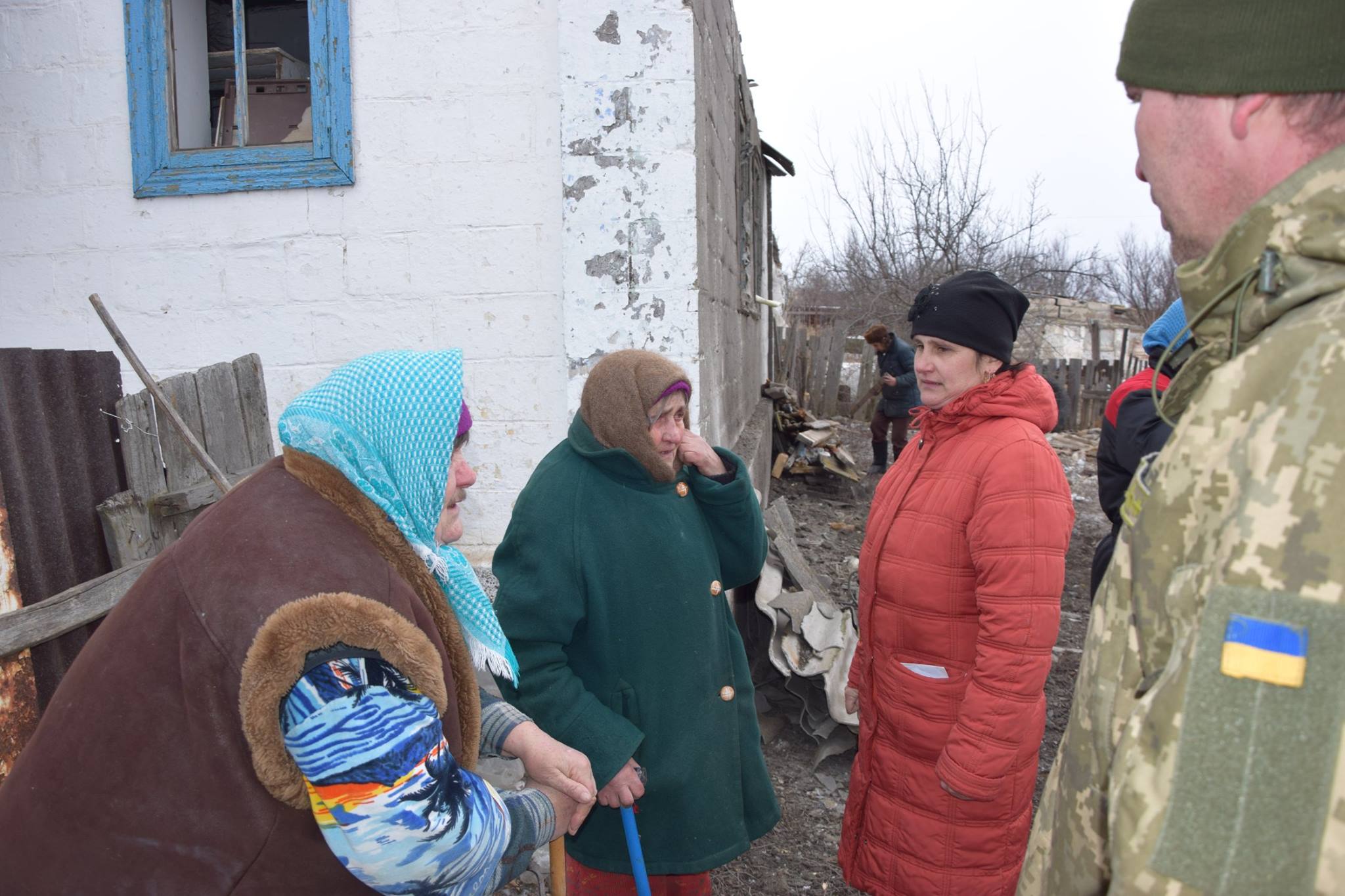 Ukrainian army helps elderly residents of Trudivske to tackle the consequences of the shelling.
Credit: FB ato.news 
In this series, we are teaming up with the tireless social media activist who goes by English Luhansk on twitter to produce open source updates about the military situation in Donbas. We analyze reports from Donbas local twitter accounts and translate it into a comprehensive overview of what's going on on the ground. 
Yesterday's digest can be found here: 
73 attacks, Avdiivka under shelling again, OSCE reports more ceasefire violations
Residents of the frontline cities in the Donbas report, February 18 was not a quiet day at all. Hostilities spread along the frontline from Svitlodarsk to Mariupol. However, Avdiivka remained the hotspot.
Shortly past midnight, an earlier bombardment north of Donetsk still lasted for about half-hour (all time EET, GMT+2):
00:14 Donetsk: They pound as hell
00:19 Makiivka: "Damn, something is falling loud"
00:19 Makiivka Gvardeyka: "F*cking massacre by 'trade partners' [=DNR] has started. Heavy [guns]"
00:20 Donetsk Gladkovka: [fb?] Powerful salvos with echoes and aftersounds. Apparently, impacts. Pretty far away. north, northwest
00:21 Horlivka Stroitel: Far away in the south, "wardrobes are falling" [=low sounds of cannonade]
00:22 Makiivka: Heavy booms from Yakovlivka/Yasynuvata
02:13 Marinka UA positions: "4.5.0 [=code "all quiet"]. Good night"
Then about 5 a.m. the shelling resumed from the area north of Donetsk at Avdiivka southeast outskirts:
04:55 Donetsk: And battle in Avdiivka [direction] is still ongoing
05:09 Avdiivka: Ongoing battle in the area of YaBP or Promka
05:51 Donetsk Schetinina: It is already 30 min as heavy single [booms are heard]
05:51 Donetsk OblGAI: Booms are heard from the north
05:51 Donetsk: Northwest rumbles, battle doesn't cease, artillery joins by times
06:38 Yasynuvata: "Not a quiet morning, restless night"
07:42 Donetsk Kalininskyi ds: Kalinisnkyi is listening to the rumble from the north
07:50 Makiivka Vostochnyi: "Direction of bypass–Vodopad: several loud launches, good morning DNRland"
07:52 Makiivka Cheryomushki: Since 07:30 heavy artillery doesn't calm down in the north
08:00 Donetsk Proletarskyi district, Rozdolna: Loud, listening
08:00 Nyzhnya_Krynka: We're listening to very heavy [guns]
08:04 Yasynuvata: "Mine no. 24: dull shots heard, very loud hits" "Nekrasova St: vibration"
08:04 Yasynuvata: "Block no. 55: loud, impacts somewhere" "Tsentralnyi: close landings" "Vibration indoors"
08:06 [Avdiivka]: [Battle in Promka area] since 5am, just now they've calmed down
08:17 Makiivka K7: It's heard loud. No incoming fire
08:24 Donetsk: Schetinina: far salvos are heard from the north then like even further hits
08:38 Donetsk: "[RU] don't sleep, they boom all the time, probably their march on London failed" [=irony]
08:38 Makiivka center: Very loud, powerful. Unclear direction. It's already 3 times since 08:35
08:49 Makiivka: Fighting, outgoing fire all the time
09:01 Makiivka Zelenyi: One can hear the absolute ceasefire [=cannonade]
Then the bombardment, of course, Ukrainian one according to the "DNR" "officials", suspends as if by enchantment just before another anti-Ukrainian rally in Donetsk (see below for more details):
09:41 Donetsk: An interesing coincidence: as they started to drive state employees to a rally, then shelling stopped…
Afternoon a battle flares up west of Donetsk:
14:28 Donetsk Kirovskyi ds: In Staromykhaylivka area, an active battle flares up by times, mostly large caliber small arms
14:42 Donetsk: Now smth heavier booms, but seldom for now
15:10 Donetsk: YaBP: loud
15:29 Yasynuvata: "it's loud, close combat is heard"
15:30 Novhorodske: Skotuvata became somehow noisy
15:32 Makiivka: "Heavy guns started to work"
16:30 Makiivka Gvardeyka: "On the premises of Pochenkova mine, 4 [RU] SPGs arrived with RU media – Lifenews and RT…"
16:35 Avdiivka: Explosions have started in Opytne–Airport direction
17:04 Avdiivka: It is growing dark, more intense MG bursts, single booms…
17:05 Donetsk: North of Donetsk, airport–Spartak, intense small arms fire
17:18 Donetsk [pro-RU source]: Sounds of artillery, heavy MG are coming from the area of YaBP…
17:34 Makiivka: The evening "disposal" of projectiles goes in full swing
17:40 Horlivka: Battle in southwest, area of Batmanka. SA, BMP fire is heard, red lights in the sky
18:00 Makiivka Vostochnyi: It has begun. The west rumbles. And the same every evening
18:01 Lutuhyne, Luhansk region: Something blew up strong about 2 hours ago
18:15 Makiivka Gvardeyka: Pretty strongly it has rumbled. 18:17 once more
18:24 Donetsk Kirovskyi ds: Staromykhaylivka: the battle activates by times, as small arms are heard, as heavy guns
18:35 Donetsk: Staromykhaylivka: quiet by times, low dark sky is illuminated by yellow, white & blue flashes & starts over
18:36 Donetsk: Southwest: small arms fire and fireworks?
18:37 Yasynuvata: "Outdoors, some flying shining things"
18:40 Donetsk: A red signal flare
18:41 Horlivka: Shooting in the direction of Shyroka_Balka
19:05 Donetsk Kirovskyi: Staromykhaylivka: as of now the low intensity of the battle is compensated by sporadic harsh rumble
19:23 Novhorodske: For more than an hour a battle is ongoing along the line Novoselivka – Ponds. small arms, grenade launchers, light calibres. Not intense
19:26 Donetsk: Where have they started to shell from? From Petrovskyi district?
19:40 Yasynuvata Lager: They lay it smooth, it lands somewhere in the forest
19:50 Horlivka Kalinovka: They strike using heavy guns or AA-guns, probably from the area of the penal colony #27
Another blackout in Avdiivka:
19:51 Avdiivka: No lights
19:52 Avdiivka: "The town is in darkness after heavy impacts. Explosions and illuminating ones. Minsk rules"
Artillery shelling begins from Horlivka towards Svitlodarsk:
19:53 Svitlodarsk: Tube artillery is probably shelling from Horlivka at Novoluhanske outskirts, well-heard in Svitlodarsk
19:54 Horlivka: No [=Novoluhanske isn't shelled from Horlivka]. "Fuss" only in west&southwest here
19:55 Horlivka: They are shelling from us [towards Svitlodarsk], from the area of penal colony #27
19:57 Horlivka: That's it, orcs[=RU] started to fire heavy guns in the north
19:57 Avdiivka: No electricity, glow in the direction of Verknyotoretske or Kruta_Balka
20:03 Svitlodarsk bulge: "Something heavy is f*cking shelling, ground shudders"
20:03 Horlivka: Changing position [=quiet at the moment]
20:04 Svitlodarsk: That's all, reloading. Flashes of salvos were clearly seen and sounds of explosions heard. Fell nearby
20:05 Makiivka Gvardeyka: Series of incoming rounds in YaBP area
20:08 Makiivka: From Yahidka–Lisove, a howitzer battery is working, that rally for Minsk wasn't in vain… [=irony]
20:12 Horlivka: Stir in #Vuhlehirsk [=sounds of war from its direction]
20:16 Avdiivka: About 20:00 power, Vodaphone communication, water supply have been disconnected. Distant booms were heard
20:19 Svitlodarsk: They fired from Mykytivka-Holmivskyi-Zaytseve triangle
20:23 Makiivka: Well, Lisovyi is quiet, they shell from the area of Kordon pond
20:26 Avdiivka: We're listening to artillery
Krasnohorivka comes under shelling from Donetsk:
20:28 Donetsk: Single outgoing rounds from the direction of mine29 – Petrovskyi forestry. Flashes seen, booms heard
20:30 Krasnohorivka: Strong impacts within the town. "Behind the plant" "it falls in the area of #Pushkina, #Nekrasova"
20:34 Donetsk Kirovskyi ds: Heavy outgoing rounds from the area of #mine'29 #cemetery, buzz in the air, distant impacts west
20:34 Marinka: Loud booms
20:34 Donetsk: Area of Biryuzova shelled. #Abakumova heard them flying by
20:34 Avdiivka: Gov. Zhebrivskyi: Power shortage again in the town & at the coke plant… electric generator are being prepared
Mariupol area activates:
20:35 Novoazovsk: We're listening [to a cannonade in the west]
20:35 Sedove: One can hear an uninterrupted cannonade from #Sakhanka direction
20:35 Donetsk: And now from the cemetery of the mine29 [they are shelling] at Krasnohorivka
20:47 Donetsk: Strong booms even behind closed windows
20:51 Makiivka: What's that? Assault rifle's bursts? or what?
20:55 Donetsk Azotnyi: Powerful, loud
20:55 Yasynuvata: Listening to it loud, various [sounds]
20:59 Donetsk Zakhidnyi bus terminal: [Outgoing] Grad at #Pisky from Sarepta storages near DZRKhI
21:00 Avdiivka: Powerful close incoming rounds have started in the west. Loud. Before that in #Vodyane direction
21:01 Avdiivka: Powerful impacts
21:04 Donetsk: Howitzers shelled from Kuybyshevskyi about 10 min ago
21:06 Donetsk ploschadka no. 1: Noisy, water supply "disappeared"
21:07 Donetsk Proletarskyi ds: For about 2 hours we were listening to uninterrupted pounding in the northwest, now it seemingly ceased
21:10 Donetsk Schetinina: The cannonade doesn't cease
21:18 Donetsk: "am laid back here, silence& ruscists start to shell from a mine launching ~10 salvos. Will return fire come?"
21:21 Makiivka Gvardeyka: Regular impacts northwest of Gvardeyka. Started in the area of Yakovlivka moving towards #mine8-8 and  Hryhorivka ettles, like accompanying. Now rarer, like ceasing. Intense shooting was by times  It sometimes seemed that they were shelling from the ettles. PS. Impacts didn't stop, but became rarer
21:31 Donetsk Kyivskyi ds: "Who has heard it too?" Has it been 4 impacts now? And where? Heard like north, loud
21:31 Makiivka: They've calmed down, how long for?
21:37 Starobesheve: Frequent ka-booms, either in or out
21:38 Horlivka Stroitel: It's interesting, no street lights [=usually on], and a BMP is creeping
21:42 Horlivka Stroitel: Southwest: shootouts continue
Another shelling starts in the area between Donetsk and Mariupol:
21:53 Starohnativka: "Party" has started, loud [=shelling]
21:56 Volnovakha: Incoming fire. Again bastards pound Vasylivka or Trudivske?
21:58 Starohnativka: It became even louder
22:02 Donetsk Petrovskyi ds: Very active noise – strong single booms, house trembles, like a tank and small arms
22:07 Volnovakha: "F*ck, it is the first time I hear no return fire by UA forces while RU continue shelling"
22:07 Makiivka Gvardeyka: Another series of impacts has started [=heard]
22:07 Makiivka: Not for long [=silence broke again]
22:10 Svitlodarsk: "Novoluhanske residents said, VostokAgro [=agricaltural enterprise] has been severely damaged"
22:15 Mariupol area: "Kominternove: it's loud" "Vostochnyi: they boom" "Sartana: loud"
A rare report from Luhansk:
22:15 Luhansk: In Verhunka, Luhansk power went down…
22:17 Donetsk Kirovskyi ds: Far southwest has started to rumble heavy, probably, it comes from behind Petrivskyi district
22:17 Donetsk: And it rumbles loud
22:18 Donetsk: Something is rumbling somewhere
22:30 Makiivka: There was a lot of outgoing rounds from various locs, then 3-4 incoming hits in the are of bypass or Gvardeyka
22:30 Donetsk: Donetsk is listening not just rumble, but claps with vibration
22:34 Donetsk: Area of railway station felt 3 strong incoming ones in 1.5-2km radius
22:35 Donetsk Kyivskyi ds: Single booms continue, but further from us
22:37 Donetsk railway station: "Trade partners [=Russians] are making very loud agreements on exchange of products with heavy guns"
22:38 Makiivka: Intense battle resumed, impacts closer to mine8-8, Hryhorivka
22:38 Avdiivka: Red "boot" flew in the east – flashes over Promka–Hospodar
22:39 Donetsk Kyivskyi ds: By sound, several mortar shells have fallen at airport area? and another pause
22:40 Avdiivka: Dachas at quarry are on fire
22:40 Donetsk: 2 more impacts in the area of airport or Zlitna St
22:41 Avdiivka: "By call: #Pervomayska end was shelled, quarry area, gas substation area – smth on fire"
22:42 Donetsk [pro-RU source]: It's loud
22:44 Avdiivka: Incoming rounds have started hitting the old part of the town
22:45 Avdiivka: "[there was an] Impact on Donetska – #74 or 76… all alive"
22:45 Starohnativka: They have reloaded and resumed [shelling]
22:56 Makiivka: AA-gun is actively working in #reservoir direction (Verkhniy_Kalmius)
22:58 Donetsk Proletarskyi: It's about 15-20 minutes [as a distant cannonade is heard]
23:44 [Avdiivka]: [officially] As of 22:00 11 houses are damaged by shelling
23:44 Yasynuvata: "Near Dikanka from road section a pair of mortars are firing now"
23:57 Avdiivka: It is the 2nd restless day, but not much of artillery. However, mortar and small arms fire, as usual
105 attacks, 6 soldiers WIA, 3 injured
The Anti-Terrorist Operation (ATO) Headquarters reported 105 attacks on February 18th, no fatalities, 6 servicemen were wounded in action, 3 more injured.
Donetsk sector:

Nevelske was shelled with use of 122mm artillery.
120mm and 82mm mortars, grenade launchers, large caliber machine guns and small arms were user to attack Novoluhanske, Avdiivka, Pisky, Kamyanka, Nevelske, Troitske, Luhanske, Novoselivka, Opytne and Zaytseve.
Novoluhanske came under sniper fire.
BMP cannon was used to attack Troitske.
About 5 a.m. a firefight occurred near Avdiivka, the attack by militants was repelled.

Luhansk sector:

120mm and 82mm mortars were used to attack Novooleksandrivka, Krymske.
Stanytsia Luhanska, #Novozvanivka were attacked with grenade launchers.
ATGM was used to attack Krymske.

Mariupol sector:

122mm artillery was used to attack Vodyane, Novohryhorivka.
With use of grenade launchers, Maryinka, Starohnativka, Vodyane, Pavlopil, Krasnohorivka, Novotroitske were attacked.
Grenade launchers and small arms were used to attack Pavlopil, Hnutove, Vodyane, Shyrokyne, Talakivka.
An enemy's BMP opened fire on Shyrokyne.
From 20:34 to 21:00, 30 projectiles of MLRS BM-21 Grad hit positions near Vodyane.
Night after Normandie -105 shellings by Ru&militants, 6 UA WIA. Ru cynically escalates situation in Donbas pic.twitter.com/j9JSp36FRG

— Mariana Betsa (@Mariana_Betsa) February 19, 2017
Krasnohorivka under shelling
On February 18 Krasnohorivka was shelled from the direction of Donetsk. Videos show what the residents of Krasnohorivka heard that evening:
20:20 #Krasnohorivka @hyeva_Marinka [Shelling at] 20:20-20:30 pic.twitter.com/oQwk4KsF7g

— English Lugansk (@loogunda) February 18, 2017
Feb18 #Krasnohorivka recent shelling @amdh2012 "My hands quiver with fear" https://t.co/wp9xdxDhyp

— English Lugansk (@loogunda) February 18, 2017
Update, February 19:
#Krasnohorivka: Feb18 shelling aftermath @hyeva_Marinka [fb] pic.twitter.com/8UvDOrYl7F

— English Lugansk (@loogunda) February 19, 2017
Another ceasefire in the Donbas
Russian Foreign Minister Sergei Lavrov announced yet another ceasefire in the Donbas since Monday, February 20:
Ceasefire planned for Eastern Ukraine on Monday, Russian Foreign Minister Sergei Lavrov says. https://t.co/tlxxiZ1B9o pic.twitter.com/jjaYTfsELW

— CNN Breaking News (@cnnbrk) February 18, 2017
According to Lavrov, the deal was settled with input from his German and French counterparts.
"On February 20, the ceasefire regime will start, and withdrawal of heavy military hardware will also start to the places where they are supposed to be," Lavrov said Saturday after the talks at the Munich Security Conference in Germany.

Russia recognizes "DPR/LPR" passports
President of Russia Vladimir Putin signed a decree on recognition of so-called "passports" issued by the pseudo-authorities of the so-called "DNR" and "LNR" in Russia. Both organizations, controlling the occupied parts of Donetsk and Luhansk Oblast, are considered terrorist organizations in Ukraine.
The Secretary of the National Security and Defence Council of Ukraine Oleksandr Turchynov said, "Having signed a decree on recognition of passports and other documents of the so-called LNR and DNR, Putin thereby has left the Minsk process".
The President of Ukraine Petro Poroshenko called Putin's decision to recognize the passports of LDNR "another evidence of Russian occupation and violation of international law". "It is very symbolical and cynical that it happened during the Munich Security Conference," he added.
RU decision to recognize so-called passports of "DPR" & "LPR" – evidence of Russian violation of int law https://t.co/apb5isAPZO #MSC2017 pic.twitter.com/uEZ5bX0or8

— The Bankova (@TheBankova) February 18, 2017
"Rally on the occasion of the 2 year anniversary of signing of UN Security Council Resolution endorsing Minsk accords"
After 4 morning hours of "artillery preparation" (Donetsk could hear an artillery cannonade from 04:00 to 09:00), another anti-Ukrainian rally for the Russian TV started in Donetsk on February 18:
09:41 Donetsk: An interesting coincidence: as they started to drive state employees to a rally, the shelling stopped…
One of the reports reads:
"I was called from Yasynuvata railway station, all night and morning there were loud outgoing [rounds]"
A day before, Donetsk residents reported on preparations for this "spontaneous protest":
10:28 #Makiivka @Dniproazotec Tomorrow [DNR] drives state employees to a rally on Minsk accords in #Krupska lib area, 20 ppl fr/each org

— English Lugansk (@loogunda) February 17, 2017
According to 62.ua, the "turnout quota" was 35 persons per organization.
Buses brought the "protesters" in time to "support Minsk accords":
[10:00] #Donetsk: another staged "rally" for RU TV, buses brought "protesters" @rjpthju62irjkf pic.twitter.com/8ltEQakfqf

— English Lugansk (@loogunda) February 18, 2017
According to the "DNR's" so-called "DAN News Agency", "more than 20.000 participated in the rally", but this video shows way less turnout:
Ну, 20-ти тысяч тут, конечно, нет. Да и 10-ти тоже. Тыщи 3-4, может и есть. А то и того меньше #Донецк #хроники_дурдома pic.twitter.com/3MhiGEfTdx

— Necro Mancer (@666_mancer) February 18, 2017
While shelling Avdiivka and other government-controlled towns for few days, the "DNR" accused Ukraine of unfulfillment of the Minsk accords. Nothing new.
Polish MP visits Avdiivka
A Polish delegation headed by Malgorzata Gosiewska, a lawmaker of Polish Sejm, has visited the frontline town of Avdiivka on February 18. With the governor of Donetsk Oblast Pavlo Zhebrivskyi, Gosiewska attended the sites of recent Russian attacks, visited a local press center of ATO Headquarters, where remnants of a 125mm T-90 tank round were displayed. Reportedly, the remnants were found in ruined houses in Avdiivka.
In June 2016 Gosiewska was a co-author of the report on Russian crimes committed in Donbas.
Tags: Ceasefire, Donbas war (2014-present), Donetsk, Gosievska, Krasnohorivka, Lavrov, News, passports, rally, Russo-Ukrainian War (2014-present)