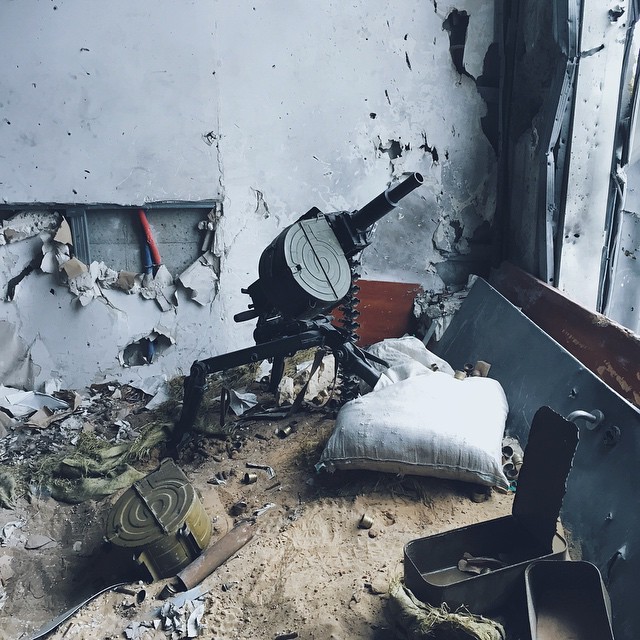 Devastation from the Russian invasion in Donbas, Ukraine 
The Russian-terrorist forces in the Donbas are continuing to attack Ukrainian troop positions and are preparing for assault operations in certain areas, according to the Information Resistance (IR) group, as reported by Dzerkalo Tyzhnia, March 11.
"The most tense situation is in the seaside direction (Mariupol) near the village of Shyrokino, where for the past 24 hours the terrorists have been mounting an assault using mortars and armored vehicles. Similar activities of Russian-terrorist forces have been noted near the towns of Avdiivka, Tonenke, Sokolnyky, Pisky and several other towns and villages," IR coordinator Dmytro Tymchuk wrote in Facebook.
A concentration of Russian artillery forces has been observed in the direction of Mariupol near Bezimenne — 16 multiple launch rocket systems, 28 self-propelled howitzers ( of which at least 12 are the 122-mm 2S1 Gvozdika and the 152-mm 2S3 Akatsiya howitzers). Several columns of transport and armored vehicles have gone through Debaltseve, heading south to the area of Snizhne and Krasnyi Luch. They include 24 tanks, 35 armored combat vehicles, about 25 transport vehicles.
According to Tymchuk, in the area of Maiorsk the enemy has moved a group of armored vehicles, including 6 tanks, 11 armored combat vehicles supported by anti-tank artillery batteries (six 100-mm MT-12 Rapira anti-tank guns).
Against the background of truce violations by Russian forces, the US Department of Defense, along with Ukrainian military leaders, has stated that Moscow could be preparing another large-scale offensive against Ukrainian forces in eastern Ukraine.
Tags: Ceasefire, Mariupol, News, Russian invasion