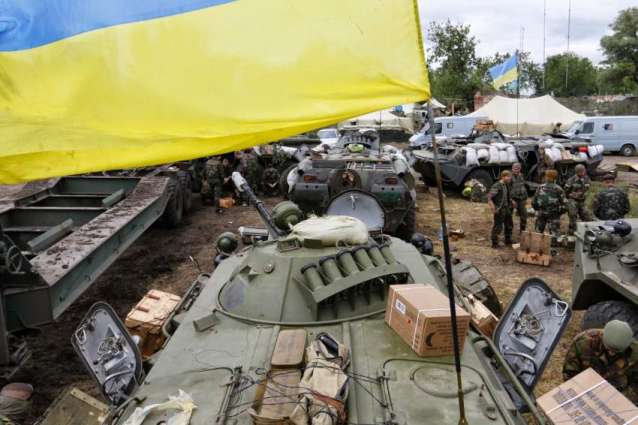 The Trilateral Contact Group in Minsk has agreed on yet another ceasefire, called the "back-to-school" truce. Although Russian-backed militants have somewhat reduced artillery and mortar shelling, gunfire is fairly common and explosions are regularly recorded by the OSCE SMM.
Bohdan Yaremenko, chairman of the Maidan of Foreign Affairs Foundation and Bohdan Bondar, head of the Main Command Centre of the Armed Forces of Ukraine explain…
Oleksandr Lashchenko: Austrian Chancellor Sebastian Kurtz recently expressed hope that this time there would be a real ceasefire. General Bondar, what's happening again? Why isn't the truce observed?
Bohdan Bondar: If the international community could declare more clearly that Ukraine and Russia are both parties to this war, then, perhaps, this so-called truce would be respected by both sides and we'd have better results.
But, we keep hoping… I think that the support of all international organizations will eventually make Russia back away from this negative cycle of ceasefires, which are violated by the Russian Federation the next day, or even in 10-15 minutes, as it was this time. Of course, armed attacks have decreased somewhat; heavy weapons are still being used, but shelling is less intense; small arms and sniper fire are still effective. We're far from a complete ceasefire!
Explosions happen all the time, everywhere. There are armed provocations in Stanytsa Luhanska, Zolote, Svitlodarsk Bulge, Avdiyivka and the Mariupol sector… During such periods of truce, the OSCE SMM patrols aren't able to monitor the whole territory.
Weapons, military hardware, ammunition, fuel and lubricants are regularly supplied although in permissible limits. Threats can occur both locally and on a wider scale. But, we're still hoping for a further settlement. All these ceasefires are aimed at helping both sides to move towards peace. Small steps have been made…
– Mr. Yaremenko, we're entering the fifth year of war – two dozen ceasefires. Not one has been respected. Half a month, at the most. Why?
Bohdan Yaremenko: A truce is signed within the framework of the Minsk agreements, which were drawn up in such a way that they incorrectly represent or dishonestly represent the conflicting parties or parties to the conflict. This is the main reason from the political point of view.
Moreover, Russia doesn't want to end this war. Putin hasn't yet achieved his strategic goals in Ukraine, and still has the possibility and resources to continue fighting. There might be an escalation or there might be silence, but the war will continue. This is quite possible in military terms, because they can't force us to surrender, and we can't force them to respect a truce. And so the war goes on and on…
Ukraine and Russia are very different in terms of diplomacy. For Ukraine, diplomacy is an important tool for resolving the conflict; the Russian Federation uses diplomacy only as a tool for warfare, that is, it uses such methods as deception, manipulation, etc. Therefore, the Minsk agreements represent something different for both countries. In Ukraine, it means never-ending talks and fruitless intentions to achieve something. The Minsk process is a hopeless and disappointing spectacle.
But, the question is to keep the door open and search for more effective military lines of conduct, which might yield some results. For example, instead of just making simple declarations about violations of a truce, some sort of punishment should be applied, like a tactical military advance in that area. The enemy should understand that we are sure of ourselves, that we are strong, and that we're ready to punish them for breaking the truce, but without launching massive blitzkriegs. We should apply such an approach, that is, show them that we don't agree with them, that there's no such thing as a little more or a little less truce. A truce is a truce! However, today we've reached a dead end… and there's no way out!
– General, we know that the truce has been broken dozens, hundreds of times. Is the Ukrainian side actually able to record all the violations?
Bohdan Bondar: This is done at the level of the Joint Control and Coordination Centre, which collaborates with the Military Prosecutor's Office and the National Police. In the event of shelling, gunfire, provocation and destruction, a relevant unit is dispatched to the area in question. About 18 towns and villages came under fire in August… not at all military positions, but civilian settlements. Unfortunately, there's little objectivity, because the enemy doesn't allow OSCE members into their hospitals. It's hard to tally up their wounded and killed in action, record local casualties, etc.…
The Russians left the Joint Control and Coordination Centre in December, 2017. This is a violation of the Minsk agreements on the part of the Russian Federation. In fact, they're obliged to ensure security. We hardly ever work with them. The Minsk agreements offer the only opportunity for cooperation. However, the Russian side tries to put forward representatives from certain regions and then observes how Ukraine works with them. We don't go for that, of course.
– Mr. Yaremenko, many experts believe Putin's just waiting for the results of the presidential and parliamentary elections next year in Ukraine, and that by that time it will be useless to hope for any kind of truce?
Bohdan Yaremenko: It's not only about the next year, but also for some time after. I don't see any possibilities for a radical change.
From the point of view of international law, Ukraine has no allies. Currently, the fighting is not so intense, and it's highly unlikely that UN peacekeeping troops will be deployed to the Donbas. We all know that it's all up to us… we'll have to solve our problems by ourselves.
Tags: Ceasefire, Donbas war (2014-present), International, Minsk protocols / Minsk agreements, Russia, Ukraine