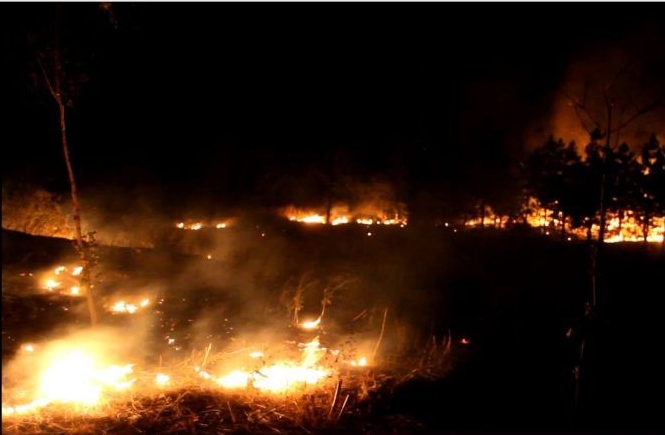 (Mariupol Shelled and Burned. Photo: 0629.com.ua) 
RUSSIAN TROOPS AND MILITANTS BROKE THE TRUCE EARLY MORNING OF SEPTEMBER 7
---
Gregory Zhygalov, TSN journalist who is now in Mariupol, wrote in his Twitter, that the truce is apparently no more. According to Zhygalov, the eastern outskirts were heavily shelled by Russians and mortar bombs were exploding next to civilian housing.
Ceasefire agreement is broken — heavy shelling near eastern outskirts of #Mariupol. #Ukraine #RussiainvadedUkraine

— Gregory Zhygalov (@GZhygalov) 6 сентября 2014
#Мариуполь — заработала артиллерия: грохот на окраинах перекрывает шум свадебного веселья в центре города. — Gregory Zhygalov (@GZhygalov) 6 сентября 2014
#Мариуполь — сегодня ночью снаряды взрывались просто под окнами жилых домов. #russiaviolatedceasefire pic.twitter.com/eMAi7hx39w

— Gregory Zhygalov (@GZhygalov) 7 сентября 2014

 
Gregory Zhygalov's data were corroborated by the BBC correspondents. Will Vernon wrote on the "truce":
Sounds of shelling audible in #Mariupol

— Will Vernon (@BBCWillVernon) 6 сентября 2014
Latest report from @fergalkeane47 – heavy shelling in #Mariupol following ceasefire http://t.co/u4r24Ni7DR #Ukraine pic.twitter.com/AmFg0LCrTs — Will Vernon (@BBCWillVernon) 7 сентября 2014
Fergal Keane's (BBC) account:
#Ukraine Shelling again. Watching civilians run in fear — Fergal Keane (@fergalkeane47) 7 сентября 2014
#Ukraine Foreboding. Best word to describe feeling in #Mariupol this morning. — Fergal Keane (@fergalkeane47) 7 сентября 2014
Richard Galpin (BBC) at this time was in Donetsk:
Just been at #Donetsk airport. Mortar rounds being fired in and out. #OSCE observer said situation serious but did mean end of ceasefire — Richard Galpin (@Richardgalpin) 7 сентября 2014
Shaun Walker (The Guradian) noticed, that DNR's "official twitter page boasts that DNR is not taking the truce seriously:
As far as I understand from what officials there have said, the @press_dnr account is official. So DNR officially admits breaking ceasefire. — Shaun Walker (@shaunwalker7) 6 сентября 2014
The authors of DNR's Twitter, adhering to the best traditions of Russian propaganda first boasted that DNR "is about to lay its hands on Mariupol" and then complained that "our rebel positions were shot at".
Вооруженные Силы Новороссии берут Мариуполь.

— ДНР Новороссия (@press_dnr) 6 сентября 2014
ДНР: под Мариуполем идет бой, позиции ополчения обстреляны из "Градов" http://t.co/G0ImEeFd0h — ДНР Новороссия (@press_dnr) 6 сентября 2014
---
In the meantime, Russian ambassador to OSCE Andrey Kelin publically calls it "natural" that Mariupol should fall under Russia. So what that the people there are Ukrainian citizens living in Ukraine? Minor annoyance. In an interview with Christiane Amanpour (CNN) Kelin said that Mariupol "is the second-biggest city in Donetsk Oblast, probably, and I believe that they are going to liberate. The majority of the area's population are ethnic Russians, although they are bearers of Ukrainian passports."
http://amanpour.blogs.cnn.com/2014/09/05/russian-ambassador-anticipates-liberation-of-mariupol-in-ukraine/

---
"0629 News" kept tabs on the events  in eastern Mariupol that led to the dissolution of the truce.
According to locals, heavy artillery started shelling the "S'hidnyi" area of Mariupol around 22:30. Press-secretary of "Azov" battalion said, that the shoot-outs continued near the town of Shyrokino, where Ukrainian posts were shelled by Russians, Ukrainians, complying with ceasefire agreement, did not respond. The battalion's spokesperson said, that Mariupol is not in danger, and, most likely, the militants were trying to scare off the Ukrainians. Officially, Shyrokino and Mariupol are under control of Ukrainian Army, and DNR controls Novoazovsk.
Chronology of  the broken truce:
23:00:  "Azov" informs that Russian troops and militants shell the outskirts of Mariupol using the "Grads".
23:39: Local man informs "0629 News" that heavy artillery is shooting at the blockpost in "S'hidnyi" area of Mariupol. The meadow near the blockpost is burning. Civilian housing is unharmed.
Question now is whether the shelling gives way to offensive operations. Then the truce really is dead.

— Roland Oliphant (@RolandOliphant) 7 сентября 2014
23:43: The buildings near the TNK gas sation in "S'hidnyi" are on fire. Sounds of gunfire are heard.
00:01: TNK gas station explodes. The fire spreads to the nearby medical emergency station, automechanical plant and garage.
00:30: "Azov" informs that Mariupol is being shelled from "Grads" and howitzers located somewhere near Shyrokino town. Preliminary information suggests civilian casualties. As "Azov" members sarcastically referred to Orwell on their Facebook, "apparently, peace is war".
01:00: Mariupol's Defense Staff officially recognizes the ceasefire broken. Mariupol was attacked. The military retaliated and threw the aggressors back. All civilian services are working, hotline is taking calls and the situation in Mariupol is under military's control.
02:00: The shooting stopped.
07:42: According to Mariupol City Council, the bomb landed into the gas station on Tahanrogska Street as a result of artillery fire. The gas station is destroyed. The fire also harmed nearby buildings, namely the Ordzhonikidze medical emergency station and the Rail and Electric Transportation Dispatcher Offices. The Dispatcher Offices staff and Emergency Station employees moved to secure locations before the start of the fire. One soldier got a superficial wound during the shoot out; no civilian casualties and victims were reported. Some trolley and tram lines in "S'hidnyi" are damaged; the trasportation employees are on site conducting repairs. General situation in town is under control; all utility services work as usual.
---
Finally, Shaun Walker wrote in his twitter, that "Azov" battalion commander considers the truce broken.
Azov commander to me: "They shelling our posts constantly, we have dead & wounded. We didn't reply, now we will. Consider ceasefire over." — Shaun Walker (@shaunwalker7) 7 сентября 2014
Compiled and translated by Anna Palagina
Sources:
1. Andrey Kelin's interview to Christiane Amanpour: http://amanpour.blogs.cnn.com/2014/09/05/russian-ambassador-anticipates-liberation-of-mariupol-in-ukraine/
2. Chronology and featured image (compiled by 0629 News from social network pages of the military, witnesses and Mariupol residents):  http://www.0629.com.ua/news/613704
3. Gregory Zhygalov's twitter: https://twitter.com/GZhygalov
4. Will Vernon's twitter: https://twitter.com/BBCWillVernon
5. Shaun Walker's twitter: https://twitter.com/shaunwalker7
6. Fergal Keane's twitter:  https://twitter.com/fergalkeane47
7. Richard Galpin's twitter: https://twitter.com/Richardgalpin
8.Battallion "Azov": https://www.facebook.com/azov.batalion?fref=nf
9. DNR's twitter: https://twitter.com/press_dnr
10. Roland Oliphant's Twitter:  https://twitter.com/RolandOliphant
---
Tags: Ceasefire, Donbas war (2014-present), Mariupol, Russian military, Terrorism