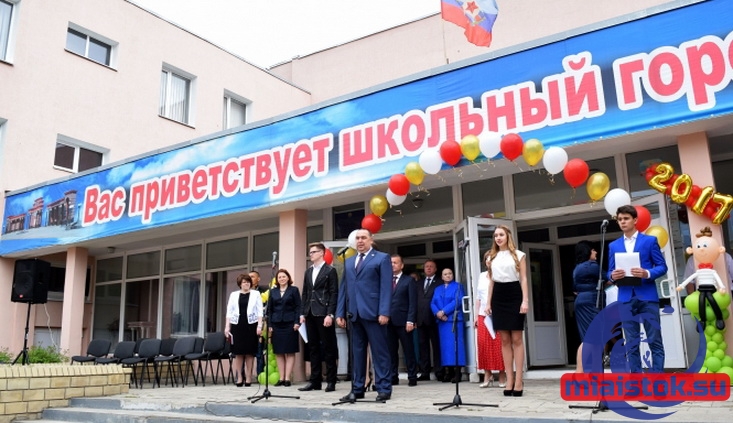 The graduation ceremony in a school of occupied Alchevsk. Photo: miastak.su 
Hundreds of students from the Russia-occupied territories of the Donbas traveled to unoccupied Ukraine in order to take Ukrainian nationwide standard exams.
"Why don't they just leave?" This is a question which people from free Ukraine ask about people from the occupied territories quite often. The answers can be totally different, ranging from no trust in the Ukrainian government to no place to go. Moving is especially complicated for elderly people. There are also those who can't make this decision on their own – children simply follow the way which their parents or guardians chose. However, they are the citizens of Ukraine to whom the government should pay special attention when creating its strategy of de-occupation: to a great extent, the future of the region depends on these children and teenagers.
While many of them plan to enter Ukrainian universities in the future, now they still have to bear the education in the so-called Donetsk and Luhansk "People's Republics."
The Ukrainian government created an opportunity for them to receive Ukrainian graduation certificates. For that, the kids can register to take Ukrainian tests by e-mails during the year. These tests don't include preparation – only taking tests for which the students have to prepare on their own, searching for the information on the Internet. Also, at the end of the 9th and 11th grades, students need to travel to schools located in the non-occupied territories in ordert to pass the Independent External Evaluation, a nationwide standard test. It will allow them to receive Ukrainian secondary education certificates and enter Ukrainian universities.
Recently, another option appeared: to follow the simplified procedure of entering universities through special educational centers without passing the Independent External Evaluation.
740 students from the occupied territories of Donbas registered for the evaluation this year: 524 people from Donetsk Oblast and 216 – from Luhansk Oblast.
As Vadym Karandiy, Head of the Ukrainian Center for Educational Quality Assessment told, last year a total of 1100 school students registered for it – a drop from last year, as more students found out about the opportunity to enter Ukrainian universities through the simplified system.
I've met teenagers from the occupied territories who came to take exams in free Ukraine in a school in Lysychansk, a city in Luhansk Oblast 30 km away from the frontline. There were about 7 students followed by their parents and relatives. Before the exam a teacher asked whether they agree to talk to a journalist from Kyiv. Surprisingly, everybody was interested, the only requirement was not to take pictures.
I came to two guys sitting at the first desk. One of them was wearing a vyshyvanka, a traditional Ukrainian embroidered shirt with a strong national flavor – something you do not expect to see in this situation.
[The names of the young men were changed for personal security reasons]

Why did you decide to come in a vyshyvanka?
Dmytro: Because I like Ukrainian traditional clothing.
But I don't like Russia, its so boring.
And I like borsch [Ukrainian traditional soup].
And why did you decide to take exams here?
Dmytro: Because I want to work in England or America. I can't work in another country if I have a certificate from the "Luhansk People's Republic" ("LNR").
Serhiy: I also want to work in the US with my brother in a big company. And I want to come to him.
Later the boys explained that at first, they want to study in Kyiv, Kharkiv, Dnipro, or Lviv.
Serhiy: I want to study there because I think that I can get better knowledge there than in Luhansk institutes.
How does the educational process go on in the "LNR"?
Dmytro: We have one lesson of Ukrainian a week. There is also one lesson of Ukrainian literature.
And everybody learns Ukrainian?
Dmytro: They sit at Ukrainian lessons but they don't learn it.
How many people speak Ukrainian there?
Serhiy: I don't have friends who speak Ukrainian.
Dmytro: My friends only joke sometimes in Ukrainian. But in the city some old people speak Ukrainian. I like to speak Ukrainian at Ukrainian lessons. It is the only place where I can do it. Because if I speak it in the city, I can get beaten.
So its dangerous to speak Ukrainian on the streets?
Both: Yes.
Serhiy: Maybe it's less dangerous for us than for our families, because the police in our city can destroy our flat, our life etc.
Only because you speak Ukrainian?
Serhiy: Yes.
How is Lysychansk different from Luhansk?
Dmytro: Luhansk is better because it is a big city and Lysychansk is like a village. But people in Lysychansk are better, they are friendlier than in Luhansk. They like students who come here and want to study and live in Ukraine.
What do you learn during history lessons in Luhansk?
Dmytro: We learn Russian history and history of the USSR. We also learn the history of Luhansk Oblast, there it is considered as the "Luhansk People's Republic" ("LNR).
I've heard that there are lessons of patriotism or something like this?
Dmytro: Yes, a lot of patriotic celebrations, a lot of flags with Russian symbols. And the "LNR" ones too.
There are both? So patriots of what country should you become?
Serhiy: A lot of people there know that Russia is equal to "LNR".
So there is no difference?
Serhiy: Yes. If you love "LNR," you love Russia.
Do your teachers in Luhansk know that you take exams in free Ukraine?
Dmytro: Some teachers there help us prepare for them. They want to help us, seeing that we want to study.
Serhiy: There are teachers who know that our classmates want to enter universities in Kyiv and Kharkiv [in free Ukraine – Ed.]. Some teachers want that.
Why?
Dmytro: They want the children to become good people. If you don't want to study after school you will go to a technical school.
Serhiy: If you stay [in Luhansk] you will not receive any education. Even though they say that they accept "LNR" diplomas in Russia, I'll believe it when I see it. Probably you won't get accepted anyway because of the lack of knowledge.
Do many school students join the so-called "militia"?
Dmytro: It is possible to get there after 11th grade. But the smart guys go to the Russian Army. At least there they will get a good salary. Under no circumstance should you go to the "LNR" army.
Serhiy: You are just sent to the frontline with a gun in your hands and that's it. They say that there were no Russian troops in "LNR." But you can easily distinguish Russian and "LNR" soldiers. "LNR" soldiers drive some old car and they don't look good. Russian soldiers are muscled men.
Dmytro: Still, recruits [of the "LNR"] are taught at a range. We were taken to the range. But then they [new soldiers] sit at some village for a few months waiting if suddenly something happens. Then they just get a respite, come back home and work as a policeman or someone in the city. Just walking around in military uniform.
Many of boys and girls like Dmytro and Serhiy have to exist in a reality saturated by propaganda, in danger and fear. Sometimes resisting propaganda is difficult even for adults. However, teenagers are especially under danger: their worldview is formed in such an atmosphere.
Related:
Tags: Crimes of the Russian occupation regime in Donbas, Donbas, Donbas war (2014-present), Education, occupied Donbas, occupied territories, Peace to Ukraine, school, Ukrainian children at war