Russia is shuttling residents of its statelets in eastern Ukraine to vote for the constitutional amendments set to prolong the power of Russian President Vladimir Putin. Russian passport holders who wish to go will be able to take a regular bus to the nearby Rostov-on-Don between 25 June and 1 July, a message on the "ministries of transport" of the Luhansk and Donetsk "People's Republics" informs, as reported by RFE/RL.
RFE/RL gathered some photos of the process from media of the "republics":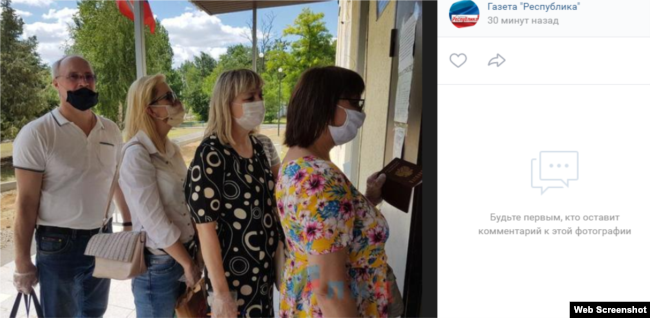 According to the Russian authorities, more than 300,000 people from separatist-controlled territories in eastern Ukraine were issued Russian passports in 2019. In April 2020, Russian President Vladimir Putin exempted residents of Russia's proxy "republics" in Donbas from paying duties to receive Russian passports.
Ukraine continues to consider these people as her citizens, as most of them have retained Ukrainian passports and continue to receive Ukrainian pensions and benefits.
Official Kyiv has repeatedly called the issuance of Russian passports to its citizens illegal, without recognizing such "documents."
The vote for changes to the Russian Constitution will last from June 15 until July 1. In addition to nullifying Vladimir Putin's terms, Russians are being asked to grant the Russian language the status of the "language of the nation-building people," to add a mention of God and the possibility of creating federal territories, to prohibit the "belittlement of the feat of the defenders of the Fatherland" (a.k.a. the questioning of Russia's revisioning of World War II history) – a total of 206 amendments and clarifications.
Russia's top senator, Andrei Klishas, said earlier that one of the planned amendments to Russia's constitution to protect the country's integrity was to make any legislative initiatives that would return Crimea to Ukraine unconstitutional.
Read also: