While Ukrainian soldiers continue their slow advance in occupied Donbas, treacherous individuals are ready to shoot them in the back.
The Security Service of Ukraine (SBU) has exposed a network of "DNR/LNR" agents who for months have been systematically informing enemy forces about Ukrainian defense lines in Toretsk (ex-Dzerzhynsk, only a few kilometers away from occupied Horlivka-Ed.).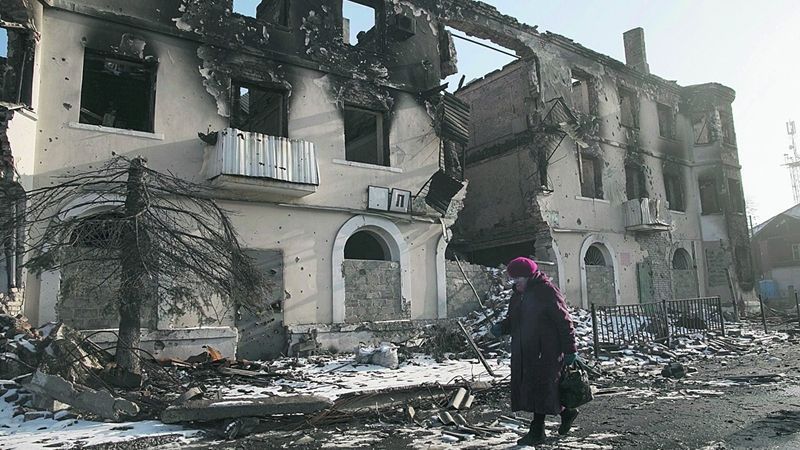 One elderly woman with no hesitation delivered data that was used to kill Ukrainian soldiers. During the day she received a Ukrainian pension, and in the evening, she called her contact and directed enemy artillery towards Ukrainian positions. When asked: "Why?", pensioner Olha Lyubochko replied:
"I don't know. Ukraine's a normal country. Thank God, they pay out my pension…I want everything to be as it used to be back then."
Thanks to Ms Lyubochko's information, Russian troops were able to efficiently adjust their artillery and pound Ukrainian positions. Each phone call that she made killed a few innocent people.
This woman was part of a powerful network that the enemy had organized in villages located along the frontline. Here, it's not difficult to find people whose head echoes and hums with "patriotic Russian nonsense", and whose hands itch to throw stones and grenades at Ukrainian soldiers.
The network of informants had several branches and was composed of many people differentiated by social status and wealth. Some informants dragged family members into their circle without thinking of the danger to their children.
This system worked like clockwork. However, the SBU has managed to dismantle the entire network. It wasn't too difficult as the traitors in these front-line villages felt quite confident and weren't too concerned about their safety.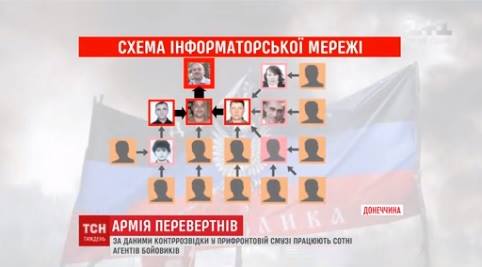 Counterintelligence arrested Anatoliy Prima, who also delivered data about the positions of Ukrainian Armed Forces to the enemy. The agent worked together with his wife and daughter. Viktoriya, his daughter, confesses as tears roll down her face:
"I just shared what I saw with people I loved…"
The father's at work, mining coal. SBU counterintelligence waits for him near the mine. Later, the accused reveals that his son is also fighting against Ukraine. The traitor's last task was to collect information about Ukrainian air defense systems in Toretsk.
Roman Korovin, better known as "Rambo", coordinator of this information network, lives in occupied Horlivka. He is a former officer of the Interior Ministry of Ukraine. He and another traitor, Serhiy Hromenko, created and launched a circle of informants in Toretsk.
In some telephone conversations, these turncoats from Horlivka are heard speaking vehemently against Ukraine to their agents, stirring up hostility and malice. They all speak the same language – the language of hatred. There are many of them. According to the Ukrainian counterintelligence service, hundreds of so-called "werewolves" have been working against Ukraine along the defense lines:
The program was aimed at supplying as much data as possible about Ukrainian defense systems and causing as many losses as possible. A militant known as "Filin" (Owl) mobilized all his contacts in Toretsk – friends, relatives, his wife, and even his former mistress… more than a dozen people:
"Wait till I get to Dzerzhynsk (now Toretsk-Ed.)! I'll kill them all, slit their throats… I took prisoners just once, but no more! That's it, there won't be any prisoners left!"
Another informant, Oleksandr Shevchenko, denied providing information to the enemy:
 "I didn't give them any information. I just spoke with my cousin."
He lied, as evidenced in intercepted telephone conversations:
"A column of military troops and equipment has just moved towards the crossroads –  six BTRs. The other one went down the main road."
The female voice in the video belongs to Viktoriya, the wife of a militant called Filatov. She gives him information over the phone, and he directs the guns accordingly. The SBU visited her at night before she could flee from the city.
None of the informants received money for their dirty work. Most of them express deep nostalgia for the USSR. They say they were born in the Soviet Union and want to return to those days. Unfortunately, there are many people like these left in Toretsk – those who hate the present and, for the sake of a murky past, are ready to kill and sacrifice their own future.
Video report in Ukrainian