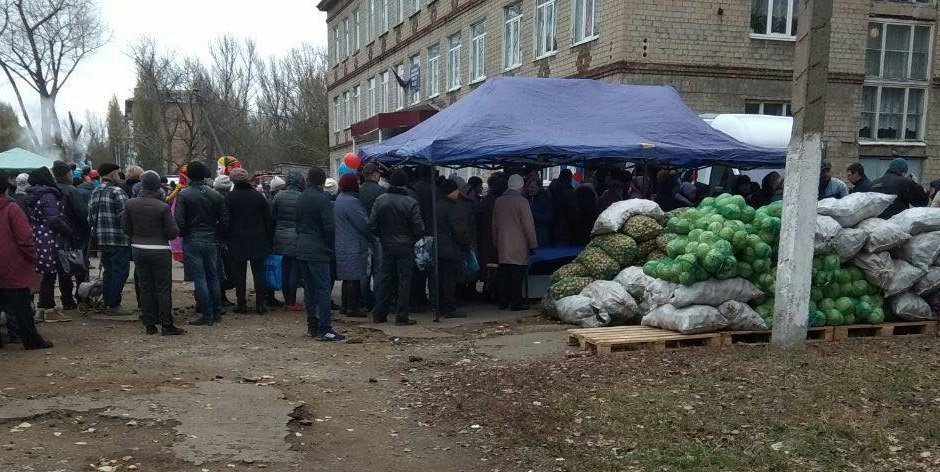 Typical picture of the elections in the occupied Donbas: a queue near a polling station to buy half-price vegetables upon presentment by voters of a coupon they received together with ballot papers. Donetsk Oblast, 11 November. Source: Twitter/hochu_dodomu 
On 11 November, phony elections were held once again in the Russia-occupied parts of Ukraine's Donetsk and Luhansk oblasts. With voters lured in by promises of cheap vegetables, they took place despite condemnation by Western countries and their cautions to refrain from conducting the voting. The results were known in advance, just like at the sham 2014 referendums in Crimea and the Donbas, and at the previous elections in occupied Donbas back in the fall of 2014.
Why was it so important for Russia to hold the fake polling even under the threat of new Western sanctions which may follow?
"Election vegetables"
A number of measures were announced and then taken to attract voters. Among them were "celebrations" on central squares of Luhansk and Donetsk, interactive events, dance and sports shows, contests, lotteries, concerts of Russian pop stars.
No real observers monitored the "elections," together with random pro-Russian foreigners the occupation authorities were able to find in Luhansk and Donetsk, there were several European far-right politicians:
Many of the "observers" at the DNR/LNR "elections" are no-names, but some (minority) represent the far right: Gunnar Norbert Lindemann (AfD, DE), Jan Penris (Vlaams Belang, BE), Christian Verougstraete (Vlaams Belang, BE), Kris Roman (BE), Palmarino Zoccatelli (Lega, IT).

— Anton Shekhovtsov (@A_SHEKH0VTS0V) November 10, 2018
Bribes promised to the voters at the polling places in both oblasts included lotteries, cheap vegetables, and other consumer goods, free top up cards for mobile the Russian-established mobile operators. In Luhansk, they promised a 100 RUB ($1.50) replenishment, in Donetsk – only 50.
Here are typical reports of Luhanskers on the course of the "elections" on social networks,
"Butter for 48 RUB, eggs for 35 [for 10 pcs allowed per customer], I couldn't see the chicken prices – a crowd of all pensioners there."

"In the theatre [at one of the "polling stations"], both sugar and butter were cleaned out, pensioners came before 07:00 to vote and buy sugar, butter, chicken, eggs."

"Luhansk, East End. At phony elections, eggs are sold for 35 RUB [per 10], and sugar for 30 RUB [1kg], it's cheaper than at open markets, where sugar costs 41-45 RUB, eggs 55″
And this is an account by a resident of Horlivka who witnessed the "voting" at one of the polling stations in her city,
"[On the right on the photo, there is] a queue to a shoe-repair shop [located in the same building as the voting place] to buy vegetables – cabbage for 6 RUB; potatoes, beetroots, carrots all for 7 RUB. And they don't simply sell it: when you have voted, they give you a voucher for buying, in short, vegetables on food stamps."

"People arrive bit by bit (what's disappointing somewhat), students who are 18+ should call to their academic institutions and report on visiting this trash [event]."

"People carry bags with the vegetables, so if you're with potatoes then you've voted…"
A man from Donetsk wrote at 10:00,
"I've visited several so-called "polling stations." The flow of pensioners is insignificant. There are younger visitors."
Another Donetsk resident reported some 30 minutes later,
[At a polling station in her microdistrict,] in 5 minutes, 10 people came out, 8 in. There are pensioners, and youth comes too in pairs. That's it.
Another Donetsker wrote a 11:00,
"I've just passed by a school (I can't recall its number) near the Amstor store on Shevchenka St. The orcs [that's a local common derogatory term for the Russian military and paramilitary – Zoria] are standing with assault rifles, speakers sit outdoors. A blue paper is stuck featuring the number of the "polling station," and nobody there."
A resident of occupied Kadiyivka, a city in Luhansk Oblast prior to 2016 known as Stakhanov, visited his polling station and shared his impressions,
"What can I say? I haven't see so few people at elections before. From the early morning, Soviet music playing at schools, rarely cars by some state officials arrive, no queues or crowds at all there."
[slb_exclude]