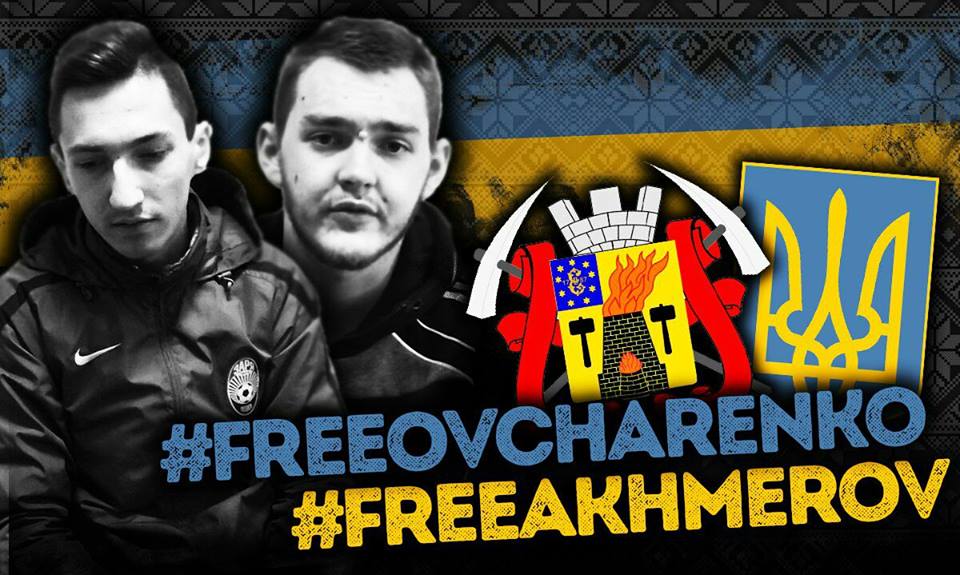 #FreeOvcharenko/#FreeAkhmerov campaign poster. Source: Twitter 
A court of the so-called "Luhansk People's Republic" ("LNR"), a Russian-run puppet state in eastern Ukraine, sentenced Vladyslav Ovcharenko and Artem Akhmerov, two young Luhansk football fans being held imprisoned for a year, to long terms in prison for alleged "spying" for Ukraine. The ultras of Zorya football club have called upon football fan communities around the world to the trumped-up charges the two men face for resisting the occupation of their native Donbas.
On 26 October, journalist Roman Bochkala wrote on Facebook that an "LNR" court sentenced a fan of the Luhansk Zorya football club, blogger Vlad Ovcharenko to 17 years in a strict-regime colony. The occupation authorities of the "LNR" had held Ovcharenko in prison for a year. Bochkala said that Vlad's relatives called him and told that the "court" found Ovcharenko guilty of espionage in favor of Ukraine under Article 335 of the Criminal Code of "LNR" ("high treason in the form of espionage").
Journalist Mariia Varfolomeieva, who spent a year in LNR prisons and was exchanged by Ukraine in 2015, now addresses the issues of the prisoner exchange. She checked the information with Ovcharenko's relatives following a request from Euromaidan Press. Ms.Varfolomeieva said that Vlad's mother confirmed her the court's decision and, moreover, added that another FC Zorya fan, Artem Akhmerov who was also kidnapped by special services of "LNR" a year ago, was sentenced to 13 years in prison.
Being asked what the verdict means for Ovcharenko and Akhmerov after a year of their detainment, Ms.Varfolomeieva explained that first of all, their incarceration conditions would worsen because the two will be now transferred from a temporary detention facility to a strict-regime prison.
The last prisoner exchange between Ukraine and the self-proclaimed "people's republics of Luhansk and Donetsk" occurred on 17 September 2016, a month before the Zorya fans were taken hostage. Afterwards, the exchange process was de facto frozen by the Russian-installed separatist authorities.
Later, on 28 October, the Zorya Ultras official Facebook account confirmed the information in a statement:
They are Vlad Ovcharenko and Artem Akhmerov. They are fans of FС 'Zorya Luhansk. When the invaders came to our city, these guys burned the enemy's flag. Occupants caught our friends and condemned them by the laws of a non-existent state. The verdict was shocking: 17 years for Vlad and 13 years for Artem in maximum security prisons. Guys met the verdict with dignity and understanding that due to complexity of the situation they can hardly count on the miracle of being released. But we are doing everything possible to save them.
During the Euromaidan revolution protests of 2013-2014, Ukrainian football fans had condemned police violence against anti-government protesters and in many cases provided them with defense. After the occupation of Crimea and start of pro-Russian uprisings in southeastern Ukraine, most ultras, although they belonged to rival clubs, professed themselves as supporters of Ukrainian independence and declared a truce. While most ultras living in occupied Crimea or Donbas have retreated to the shadows, fearing persecution, occasionally they do express their pro-Ukrainian stance – for example, in the reaction of the Shakhtar football club (Donetsk) during a mock "parade" of Ukrainian POWs in 2014.
Now, Zorya Ultras addressed the representatives of football movements all over the world asking them to spread the information about Vlad Ovcharenko and Artem Akhmerov "using all permitted and prohibited methods" for drawing the international attention in order to save the lives of captives.
What crimes the "LNR" has ascribed to the fans
Vlad Ovcharenko registered on Twitter in summer 2014 amid the battle of Luhansk. Ukrainian troops were defending Luhansk Airport, had liberated parts of the occupied city including Velyka Verhunka and were about to finish encircling Luhansk. This didn't happen due to a massive invasion of the Russian regular forces: the Ukrainian military and volunteer battalions had to leave the city. Vlad was only 18 then.
As many Luhansk residents, Mr.Ovcharenko reported on social networks what he heard happening in his native town.
Vlad's accounts on Twitter and Facebook were suspended because both of his accounts were hijacked by his kidnappers. However, here are the translations of Ovcharenko's sample tweets he posted in 2015-2016:
01:04 #Luhansk @LUGANSKA_JUNTA Again AA-gun fire in the southeast of the city#donbasreports

— English Lugansk (@loogunda) June 15, 2015
#Luhansk @LUGANSKA_JUNTA "I recalled last summer's D-30 shots, it was from the city" https://t.co/t2ksgz3LSj

— English Lugansk (@loogunda) August 7, 2015
2/X 03:17 @LUGANSKA_JUNTA One can hear AGLs, RPG, small arms and 120mm mortars#donbasreports

— English Lugansk (@loogunda) July 13, 2016
In July 2016, Ovcharenko told in his interview with Julian Röpcke, a journalist for German daily BILD, about his life in the occupied city.
"There are no jobs and if there are some, you must work 13-15 hours a day like slaves for 3000-5000 Rubles [about $50-90 – YL] per month… We completely lost connection with civilization, there is no banking system, no postal service," Vlad Ovcharenko said.
In August 2016, Vlad Ovcharenko and other Zorya fans published selfies made with Ukrainian flags in occupied Luhansk.
Everything Ukrainian has been suppressed in Luhansk since the beginning of the occupation in 2014, except for a Ukrainian theater still operating in the city and the Ukrainian language as a school subject. Both have been kept for propaganda purposes – to show that the unrecognized "republic" is tolerant. Reportedly, Igor Plotnitsky, the Kremlin-installed leader of the "LNR," was enraged when selfies with Ukrainian flags recently emerged on social networks. Separatist special services started hunting the young dissidents.
In October 2016, the so-called "MGB LNR" ("ministry of the state security") detained four Zorya fans in Luhansk. They were Dmytro Kramarenko, Vyacheslav Ukrainiskyi, Vlad Ovcharenko, and Artem Akhmerov. A month later, the MGB admitted that they arrested the four and released a video of searches in their apartments, showing the alleged finds such as stickers with the coats of arms of Ukraine and Luhansk, a stencil of the Ukrainian trident, black and white prints of posters of the Ukrainian volunteer battalion Azov. The videos also showed Zorya fans burning the flag of the "LNR":
The "LNR Ministry of State Security" announced on 5 November 2016 that they had uncovered a group of football fans from the Zorya football club who were as they claimed, a "radical neo-Nazi group, an underground division of the Azov Battalion" which "under the control of [foreign] special services conduct the ideology of radical nationalism, incite interethnic hatred, and conduct reconnaissance operations on the territory of the republic." Ovcharenko and Axmerov were accused of being its leaders and were charged with "state treason in the form of espionage" under the so-called "criminal code of the LNR."
Russian media labeled Luhansk ultras a pro-fascist, neo-nazi group and produced videos of "confessions" showing the fans telling about their work for the Security Service of Ukraine. The media alleged that the Zorya fans "were trained to kill the militants," referring to the armed forces and groups of the Russian proxy "LNR." Moreover, the MGB alleged that the group was involved in "directing artillery fire on Luhansk in 2015; in the mass killings on Maidan in Kyiv, in the Odesa Trade Union House fire and in provocation and attacks on activists during the referendum for 'LNR' independence," repeating several regular Russian propaganda narratives and even inventing a new one – it is no secret that the mass killings during the Euromaidan revolution were perpetrated by the pro-government police forces and not 18-year old boys.
As Halya Coynash, member of the Kharkiv Human Rights Protection Group, highlights regarding this case:
The fact that torture is applied to extract 'confessions' has long been clear.  The Kremlin-backed militants have largely followed the lead taken by Russia's FSB [security service] in producing videos on which men who often look beaten up or under some kind of drugs recite what they have clearly been told to say.
In the end of November, the "LNR" released another video showing Dmytro Kramarenko and Vyacheslav Ukrainskyi telling that they admit their guilt, refuse to be put on the Ukraine's exchange list. Representatives of so-called "LNR" youth organizations said that they go bail for Kramarenko and Ukrainskyi. As a person familiar with the matter, who asked not to be named due to security reasons, explained to Euromaidan Press, relatives of Kramarenko and Ukrainskyi were working in "LNR" structures and helped to release both due to their connections.
20-year-old Vlad Ovcharenko and 19-year-old Artem Akhmerov remain behind bars. A court of the unrecognized "LNR" found both guilty of committing "high treason in the form of espionage." The kangaroo court sentenced Ovcharenko to 17 years, Akhmerov to 13 years maximum security imprisonment in the end of October 2017.
Supporting Ovcharenko and Akhmerov
After the fake Luhansk court's conviction of Vlad Ovcharenko and Artem Akhmerov, FC Zorya ultras called on other football fan organizations to support the two Luhanskers. Fans of several football clubs of the Ukraine's Premier League displayed banners in support of Ovcharenko and Akhmerov, fans of FC Dinamo Tbilisi also joined the initiative.
On 2 November, fans of Ukrainian football in Germany printed and distributed posters in support of the captives during the match Hertha BSC – Zorya Luhansk in Berlin.