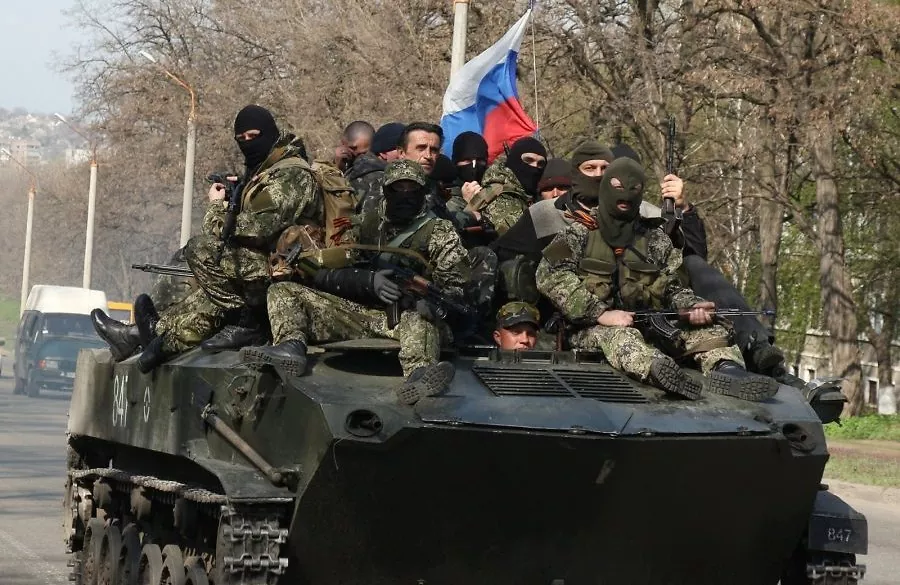 An armed personnel carrier full of mercenaries from Russia in the Donbas, Ukraine (Image: inforesist.org) 
The identification of a pro-Moscow Ukrainian who fought against Kyiv in the first months of Moscow's war in Ukraine as having been among those who suppressed the anti-corruption demonstrations in Moscow on Monday calls attention to a much larger problem: Russian efforts to recruit non-Russian janissaries it can use at home and abroad.
The independent Moscow television channel Dozhd reported that Sergey Kusyuk, the former commander of the Berkut unit that fought in Ukraine on Russia's behalf, was identified as one of those who was used against the Navalny anti-corruption protesters in Moscow this week.
Unfortunately, this does not appear to be a one-time thing: Reuters reports that sources in the Moldovan government say that the five Russian diplomats that Chisinau expelled were undercover GRU officers and were recruiting members of the Gagauz minority for training to fight in Ukraine.
Russian officials have dismissed these suggestions as anti-Russian propaganda, but they are plausible: the 200,000-strong Gagauz nation, a Turkic speaking but Orthodox Christian minority southeast of Chisinau, is historically pro-Russian and has been the object of Moscow's attentions in the past.
For Moscow, the recruitment of such people is especially useful for two reasons. On the one hand, because they have nowhere to go, they are more likely to do what the Kremlin orders than even Russian law enforcement personnel. And on the other, because they are irregulars, Moscow can disown them in order to deflect responsibility if it needs to.
Further, the Reuters report suggests that Moscow which tends to apply the same policies across the board may very well be seeking to recruit other non-Russians in the so-called "frozen conflicts" of the post-Soviet space, either to use them in its wars against Russia's neighbors or possibly, as in Kusyuk's case, against Russia's own population.
---
Related:
Tags: Donbas war (2014-present), Gagauz, Gagauzia, GRU (Russian Military Main Intelligence Directorate), International, Military analysis, Moldova, Moldovans, Russia, Russia-Moldova relations, Russian diplomacy, Russian mercenaries, Russian special services, Russo-Ukrainian War (2014-present), Ukraine-Moldova relations