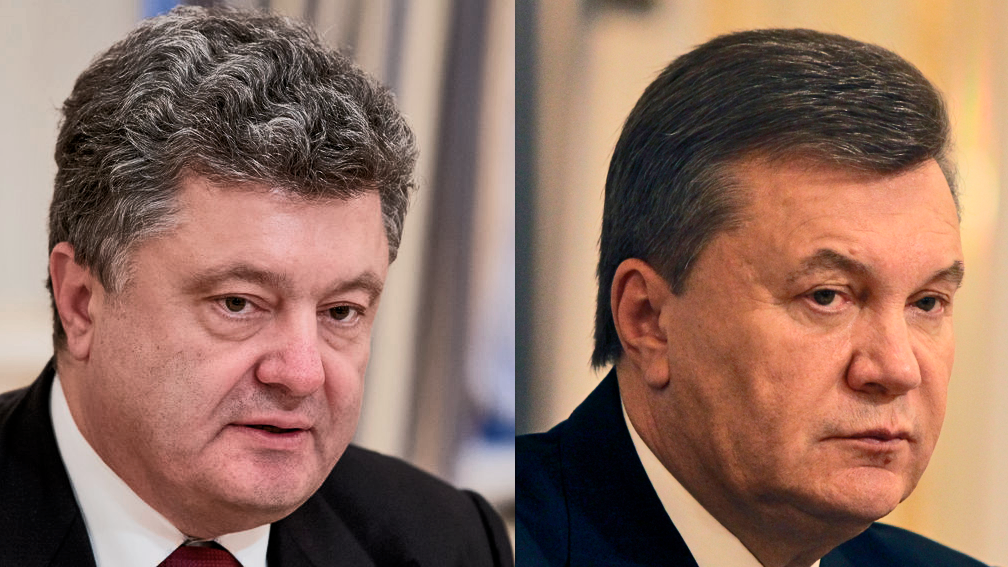 Three years have passed since Petro Poroshenko was inaugurated as President of Ukraine. Only two years of his presidential term are left. The closer to the end, the more talk there is that Poroshenko is following the path of the runaway dictator, Viktor Yanukovych. We collected arguments in support of the statement that Poroshenko is indeed very similar to Yanukovych. But after the Euromaidan Revolution, many things changed in Ukraine. Society became more mature and the war against Russia made Ukraine look more towards the West. So we also gathered arguments why Poroshenko can't be another tyrant like Yanukovych.

Four similarities between Poroshenko and Yanukovych
Let's take a look what it's like to be Yanukovych and whether Poroshenko matches those features.
1. His wealth comes first
Viktor Yanukovych was never considered a classical oligarch. However, his son Oleksandr was. In general, talking about Viktor Yanukovych's fortune, we always mention his "family," the name given to his retinue ruling the country. The "family's" hands extended to all possible spheres. Their business interests, if they can be called so, included also banking and heavy industry. As far as they had their people in the law enforcement, courts, and tax offices, they easily could get rid of any competitor. This is how he was able to amass an ever-growing fortune. This business management style resembled an incursion of predatory tribes – they came to a land, robbed it, and went farther, leaving no proper management and development behind them.
The shady deals of the Yanukovych family have yet to be investigated by Ukraine and its international partners. It is estimated that during the Yanukovych regime his so-called family stole $40 bn from Ukraine. In 2014, as Yanukovych just run away, acting Prosecutor General Oleh Makhnitskiy estimated that $100 bn were stolen.
Unlike Yanukovych, Poroshenko was a better businessman in terms of management. However, he promised to sell his assets when he became president, save for the Channel 5 TV channel, which used to be an opposition channel in the times of Yanukovych and earlier during Leonid Kuchma's times before the Orange Revolution of 2004.
The confectionery concern Roshen was Poroshenko's main business over long years. Having become president in 2014, Poroshenko didn't sell Roshen despite his promises to do so. [He transferred his confectionery company, Roshen, to a blind trust instead – ed.] Until March 2017, one of the concern's factories even operated in Lipetsk, Russia. Recently, its production was halted there.
Read also: Petro Poroshenko, the oligarch president of Ukraine
Poroshenko has also interests in agriculture, insurance, banking, shipping, the defense industry, food manufacturing and other spheres. He controls the areas he can't cover alone through people loyal to him.
Refusing to give up his business after becoming president may confirm that Poroshenko prioritizes his own money, with which the interests of Ukraine can't compete. Which makes him appear to be pretty much similar to his predecessor.
2. Gets his people in all institutions, tries to get as much power as he can
During the Yanukovych presidency, one would be hard-pressed to find an area uncontrolled by the so-called family. Due to bribes and electoral fraud, his Party of Regions was everywhere and it seemed that there was no alternative force to oppose the political force that gained power only to rob the country. Additionally, Yanukovych made the Parliament less influential by changing the Constitution to boost the powers of the president when he came to power in 2010. This marked the start of his path as a dictator. The corrupt Constitution Court enabled the amendments.
In 2014, Ukraine reverted to the parliamentary-presidential system of government. Legally, Poroshenko is prevented from having as much power as Yanukovych had. But he also has a network of loyal people through which every sphere of the government is within his reach. After several appointments in 2016, it became clear that Poroshenko will not share his power. First, as Prime Minister Areseniy Yatseniuk (People's Front Party) resigned, Volodymyr Hroysman, said to be Poroshenko's man, was appointed to the position. Conditions making it seem there was no alternative were established before the appointment. Second, when Yuriy Lutsenko, who is totally loyal to the president, was appointed as Prosecutor General because Poroshenko wanted it. A special law was passed making it possible for Lutsenko to head the office without having legal education.
It is clear that if Poroshenko really wants something, he will use all the leverages to get it. This gives reasons for concern that he is following in Yanukovych's footsteps, but less brutally and with more tricks.

3. Says what they want to hear, does what he wants
The most telling example of Yanukovych's unfulfilled promises is, of course, the epic story with the signing the Association Agreement with the EU. For several months, he fooled Ukraine's European partners and Ukrainians with empty promises, and refused to sign it at the very last moment. In fact, he probably knew that he would not sign it from the very beginning. This fatal decision led people to the streets, sparking the Euromaidan revolution.
Among the broken promises of Poroshenko, there are:
Fighting corruption. The old corrupt system seems stable nowadays, supported by politicians from

the old guard. Moreover, three years after

the Euromaidan revolution, politicians from Yanukovych's surrounding are

also recovering after the knockdown. There are signs of

their cooperation with the new government.
Reasonable currency rate. To be precise, he said that the exchange rate for $1 would not exceed 10

hryvnias. Now it is around UAH 26 for $1.
Energy independence in 2 years. The energy blockade of the Donbas introduced by activists in 2017 revealed Ukraine's weak points in the area. The main obstacles on the way to the progress are inertia and desire to get more money from

 those who are involved in the business.
Finishing the Anti-Terrorist Operation in the Donbas over a year. A promise which actually can't be fulfilled with Ukraine's efforts alone.

4. Protects corruption
In Yanukovych's time, the entire law enforcement system was involved in covering up corruption. However, only the schemes of the "family" were protected. A war was waged on all others, no matter whether they were involved in corruption or not. All the enterprises or companies could become victims of raider seizures.
The total lawlessness of that period is over. However, there are dangerous signs which show that Poroshenko does not really want to fight corruption, despite all the proclamations made by him and others in power.

No major corrupt official has yet been punished. The most significant anti-corruption cases during these 3 years included the detention of the Tax Office head Roman Nasirov and the gray cardinal of Ukrainian politics Mykola Martynenko in 2017. Neither of them was arrested. In 2016, aware the threat of being arrested, the oligarch and MP Oleksandr Onyshchenko ran away from Ukraine.
Recently, Poroshenko signed a bill on Amendments to the Law of Ukraine on Prevention of Corruption. According to it, anti-corruption NGOs and their contractors, candidates for the positions of Deputies of the Parliament or local councils, or the president

, and civil activists who fight corruption should submit their e-declarations on their property and income. The anti-corruption activists believe that this step was done to put pressure on them. The provision was criticized by the international community.
Read also: Supporting transparency or fighting it? New law on assets declarations for NGOs raises scandal in Ukraine
Also, the

situation

with the NGO Anti-Corruption Action Center became a reason for concern that the state can use its hard leverages to pressure NGOs. For example, a fake protest was organized near the house of NGO's head Vitaliy Shabunin. There is evidence that it was organized by the Security Service of Ukraine. Also, a video was published revealing alleged corruption within the Anti-Corruption Action Center. The activists believe that it was an attack aimed to pressure the NGO by threatening to take away its non-profit status.


Four differences between Poroshenko and Yanukovych
Even though Poroshenko's steps are often directed to preserve the old system rather than to support progress, equating him with his predecessor would be a step too far – not because Poroshenko wants less power than Yanukovych had, but because the times have changed.
1. Poroshenko can't totally ignore society
Inevitable processes were launched in Ukraine after the Euromaidan Revolution. Ukrainian society has become more mature and powerful. Organizations which expose corruption and advocate for its eradication have become stronger and more numerous. Even though the old guard is still in power, now there are more alternative voices among the politicians as well. Taking the country under total control became a much harder task.
2. Moving towards Russia is no longer an option
The pro-Russian orientation of Yanukovych and some of his predecessors made the war in the Donbas and occupation of Crimea possible, as the Kremlin influenced many aspects of life in Ukraine. Though it's hardly Poroshenko's achievement alone, but joining the Customs Union with Russia or any other integration with it is not on Ukraine's agenda. Some political forces in Ukraine attempt to manipulate with this topic: some have business interests in Russia, others even play for Russia in the peace settlement of the conflict in the Donbas. Despite all of that, Ukraine has chosen its general direction to move away from Russia.
3. Poroshenko has a pro-European position
It took three years of promises for Ukraine to receive the visa-free regime with the EU (the decision will come into force on June 11). The Association Agreement is de-facto working since 2014. Still, conditions for European investors in Ukraine are far from perfect today. Nevertheless, Poroshenko has no other choice than to look for cooperation with the West – which was impossible with Yanukovych.
4. He can speak English and clearly expresses his thoughts
Ukrainians used to laugh at Yanukovych's speaking blunders in Ukrainian. His legendary expressions gave plots for jokes. Speaking English was out of the questions. When he spoke in public, especially abroad, Ukrainians felt shame because this person represented the whole country. That is why Poroshenko's first interview after his election, given in passable English, earned him points with Ukrainians: not only did they gain a reason to respect the new president, but they were released from the feeling of shame.

Reforms or imitation of them?
Ukrainians can describe the times of Yanukovych in only one word, "pokrashchennya," translated as improvements [it was a word from the slogan of Yanukovych's presidential campaign, 'Improving your life already today' – ed]. The ironic use of this word can tell about all the frustration and burdens Ukrainians carried during that period. Yanukovych and his gang endlessly talked about improvements – economic development, reforms in medical sector, raised of salaries – but in reality, Ukrainians experienced more and more pressure in every area, a lack of jobs, monopolization of enterprises and general deterioration of the quality of life.
The presidency of Petro Poroshenko was marked with the launch of the reforming process in Ukraine – not because Poroshenko wanted to change the system, but because the time had come and Ukraine had changed.
Ukraine's positive transformations over the last three years include the introduction of e-declarations for state officials and the ProZorro system for tender purchases, the public administration reform, and launch of the new police. New bodies have been established to fight corruption – the National Anti-Corruption Bureau and National Agency for Prevention of Corruption. However, the key areas remain problematic. Despite the fact that the judicial reform has been launched, the corrupt judiciary system has not been really changed and blocked the transformations in other areas. For example, it put the police reform in danger. The lack of reforms in the Prosecutor General's Office is also an obstacle for reforms in other areas and for the fighting corruption.
According to Vox Ukraine, the index for monitoring of reforms remains consistently low for the third year in a row.
So the important question is whether Poroshenko will join the transformation process in Ukraine or whether society will have to do it despite his resistance.
[democracy id="7″]

Read more:
Tags: Business, Featured, International, Petro Poroshenko, reforms in Ukraine, Yanukovych