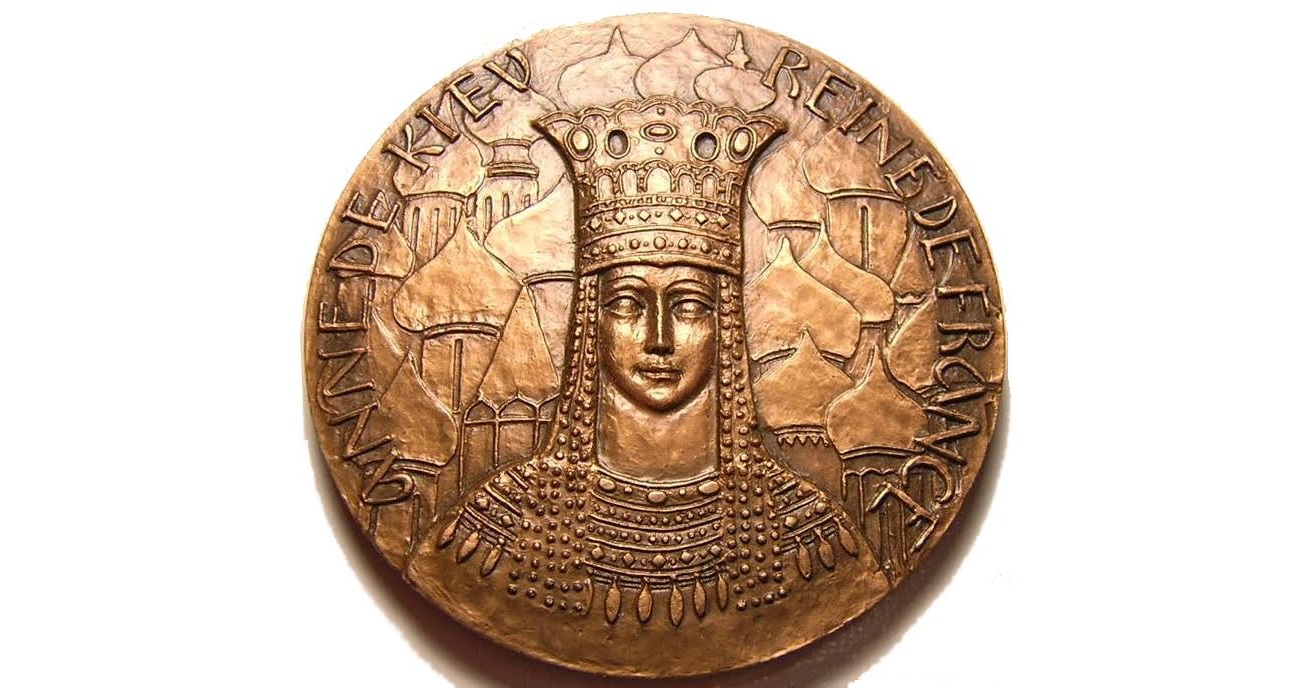 Anna of Kyiv, Queen of France (born 1024/25 or 1032 in Kyiv, died after 1075) was daughter of Yaroslav the Wise of Kyivan Rus and queen consort of Henry I of France, and regent of France during the minority of her son, Philip I of France, from 1060 until 1065. Art medal (bronze) by Suzanne Aubert, 1980 (Paris Mint). 
In Paris, Vladimir Putin said that "the enlightened French public knows about the Russian Anna, queen of France, the younger daughter of our Grand Prince Yaroslav the Wise who was the wife of Henry I and who made a significant contribution to the development of France being one of the founders of a minimum of two European dynasties."
Dmytro Shymkiv, the deputy head of the Ukrainian Presidential Administration, responded on Facebook by pointing out:
"My dear French friends, the Russian president has tried to confuse you: Anna of Kyiv, the queen of France, was from Kyiv and not from Moscow." Indeed, "at that time, Moscow didn't even exist."
A Ukrainian writer, Oksana Zabuzhko, went further and explained what Putin was about. He "knows his intended audience perfectly well," she wrote. The French don't connect Anna with ancient Kyiv or Rus: they connect her with Russia, the result of long efforts by Moscow to "appropriate" someone who doesn't belong to it.
Now is the time, she continued, for the Ukrainian government and its foreign ministry to call Putin on this, to point out to the French and everyone else that Putin is prepared to lie and to "cynically" seize a historical personage just as he seized Crimea. "I hope that our diplomats will find an elegant way to do this, she concluded.
But a Russian commentator, Dmitry Shagiakhmetov, may have come closest to explaining why Putin said what he did. Putin, the Moscow writer said, "feels himself up to now to be the Communist Party general secretary and the leader of the USSR." For him, everything that was part of that empire is part of his.
Editor: Ukraine's Foreign Minister Pavlo Klimkin addressed the issue next day in the following tweet:
The problem with Russia is not about trying to «expropriate» the figure of French Queen Anne of Kyiv but truly believing her to be Russian.

— Pavlo Klimkin (@PavloKlimkin) May 30, 2017
---
Related:
Tags: Anna of Kyiv (Queen of France), Distortion of history, France, historical politics, Historiomor, History, International, Kyivan Rus, Russia, Russia-France relations, Ukraine-France relations, Ukrainian history